St. Baldrick's Creates a Buzz for Childhood Cancer Awareness
Posted in GUMC Stories
Visitors to Georgetown University this month might see a few more bald men and women than they'd expect. That's because students, faculty, staff and even some visiting children turned out to participate in the St. Baldrick's head-shaving event on the Medical Center campus Thursday, April 11. Participating "shavees" asked friends and family to make donations "on their heads" and in return would have their heads shaved to show solidarity with children with cancer who sometimes lose their hair during cancer treatment.
According to the St. Baldrick's Foundation, more children are lost to cancer in the U.S. than any other disease, more than many other childhood diseases combined. 
St. Baldrick's Foundation volunteers have made it possible to fund more childhood cancer research grants than any organization besides the U.S. government. The Foundation estimates it provides more than 230 grants to institutions for laboratory and clinical research to help make clinical trials available to more children than ever, giving those children treatment that offers the best chance for long-term survival.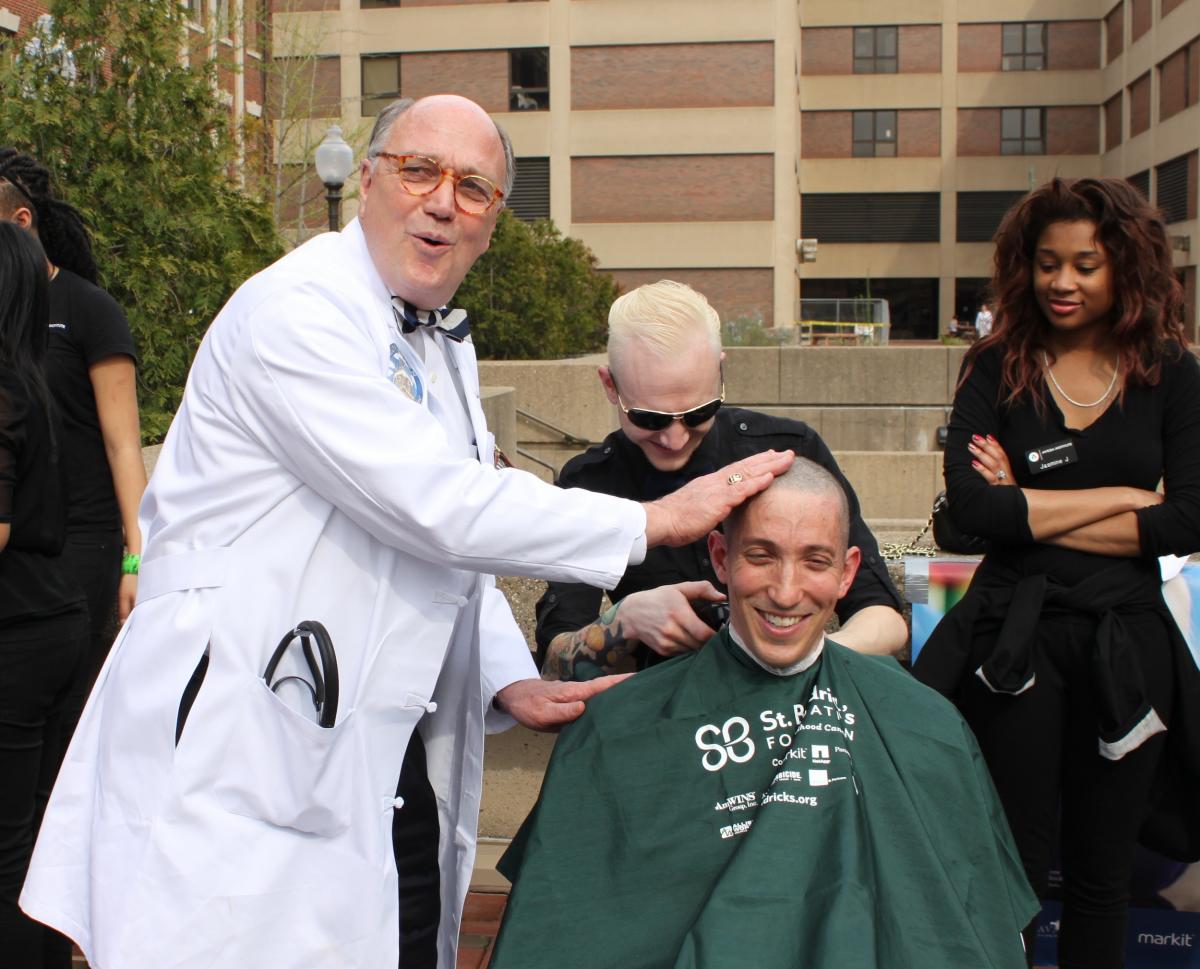 Hair today, gone tomorrow. Participants get their heads shaved as a gesture of solidarity in support of those with childhood cancer, survivors and those who have passed. Dean of Medical Education, Stephen Ray Mitchell, was on hand to provide an encouraging hand of support.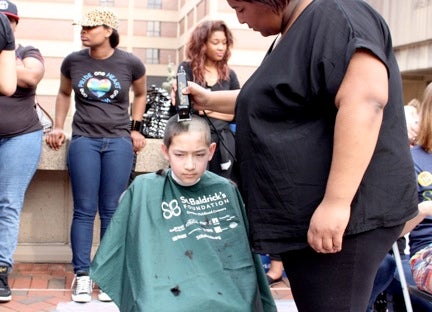 Participants ranged from long-haired females (and males) to young children. The clippers buzzed away and took all those who dared to step in line.
The cover band made up of 2nd-year medical students and one attending physician (left to right: Geoff Kaump, Jeffrey Bien, Dr. Joseph Timpone and Chris Thomas) provided a backdrop of entertaining songs as volunteers, donors and shavees participated in the event.
Alex Bachman let his hair grow out for a year in anticipation of this day. The fifteen-year-old says he knows what it's like to be treated for cancer. He was diagnosed in July 2011 with aplastic anemia, a disease of the bone marrow that is treated like cancer. Alex is cared for by Dr. Aziza Shad at Georgetown Lombardi Comprehensive Cancer Center and knows many of the children who are undergoing treatment for cancer. He wanted to shave his head to show solidarity with them.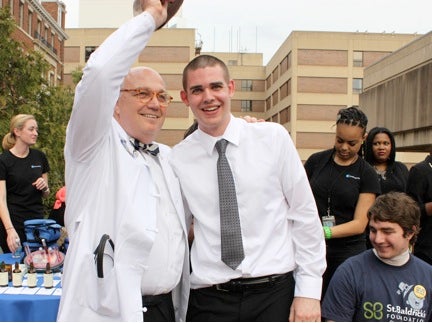 The event touched a perspective medical student touring the Georgetown campus. Sean O'Sullivan jumped in line to have his head shaved – Dean Mitchell took notice.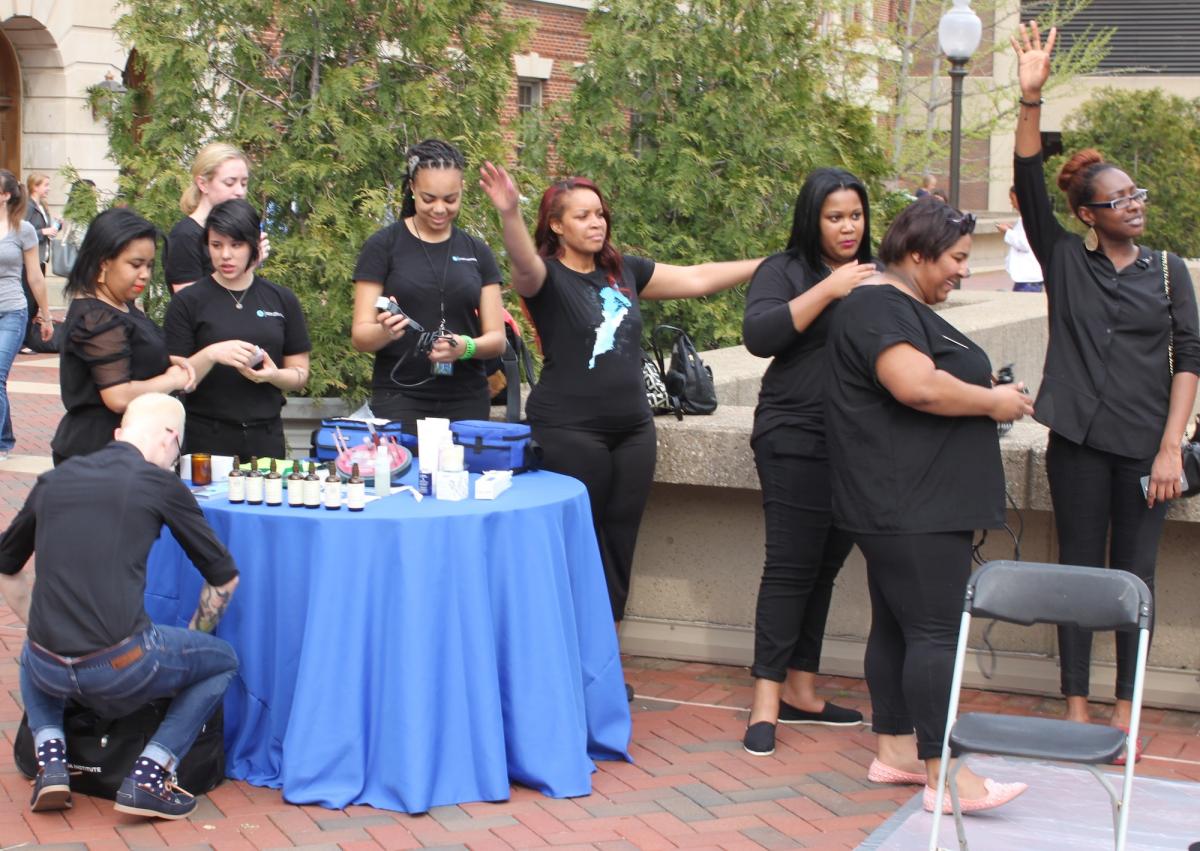 The hair flew off of participants with the help of a team of volunteer student stylists from the Aveda Institute.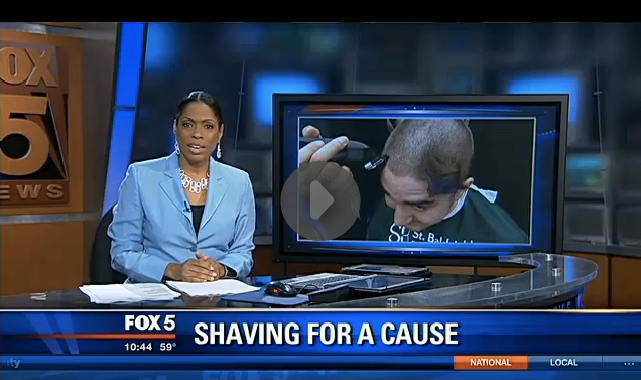 The St. Baldrick's Georgetown event was covered later that evening by the Washington FOX affiliate, showing the festivities and enthusiastic crowd who had gathered on the GUMC campus to support the fight against childhood cancer.
Click here to watch the WTTG – FOX 5 Washington, DC news coverage of the 2013 St. Baldrick's Georgetown event. 
(Published April 25, 2013)