Autism Initiative With New Muppet "Remarkably Positive," Georgetown Study Shows
Posted in GUMC Stories
April 4, 2017 – A Sesame Workshop initiative, which includes a new Muppet called Julia, invokes "remarkably positive changes" for parents of children with and without autism spectrum disorder (ASD), according to preliminary study results released today by Georgetown's Bruno Anthony.
Anthony, deputy director of the Georgetown Center for Child and Human Development, presented the findings at a Sesame Workshop event in Washington.
**Watch the presentation here on CSPAN.
"Our preliminary findings show that [the initiative's materials] help a parent or other people work to reduce biases and stigma, increase acceptance and inclusion, and empower ASD children with knowledge and positive information about themselves against many negative messages," Anthony said.
Delivering Hope
The organizers of "Sesame Street and Autism: See Amazing in All Children," at Sesame Workshop turned to Georgetown to lead real-world testing of the online materials it developed, which include videos, daily routine cards and an e-book, We're Amazing, 1,2,3!
Sesame Workshop is the educational organization behind Sesame Street, where Julia makes her television debut on April 9.
Increase in Acceptance
More than half of parents in the study whose children don't have ASD "showed significant increases in their knowledge about ASD … and in their feelings and acceptance of ASD children," Anthony told an audience of autism advocates and legislative aides gathered at the US Capitol Visitor Center.
"More than half of the parents of those with ASD felt more hopeful about involving their ASD child in the community one month after their exposure to the [See Amazing] website," he added. "Even more striking, there was a very large increase in parent's community engagement score."
The score represents the likelihood that parents with ASD children will involve them in community activities.
Reducing Stigma
According to the Centers for Disease Control and Prevention, one in every 68 children in the United States has been diagnosed on the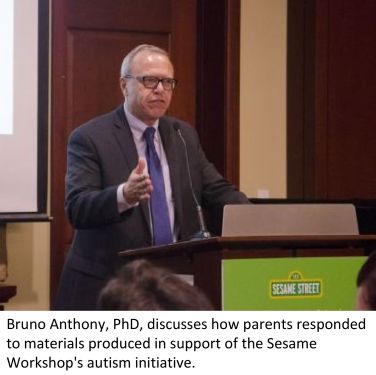 autism spectrum.
The mission of Sesame Workshop's initiative is to reduce stigma and build understanding about autism spectrum disorder.
Anthony collaborated on the project with his wife, Laura Anthony, a clinical psychologist at the Center for Autism Spectrum Disorder at Children's National Health System.
'Besties with Elmo'
Following the presentation, the Anthonys were joined by Jeanette Betancourt, senior vice president of U.S. social impact at Sesame Workshop, and Julia Bascom, executive director of the Autistic Self Advocacy Network, for a panel discussion on the autism initiative.
Actress, author and philanthropist Holly Robinson Peete, founder of the HollyRod Foundation, moderated the discussion.
"The idea that there is a Muppet who is besties with Elmo who has autism is a game changer," said Peete, whose son has autism.
A New Standard
The study's preliminary results provide early insight into the usefulness of the initiative's resources for parents, Anthony says. More than 1,000 parents, a third of whom have ASD children, took part in the web-based evaluation.
All the study participants were asked questions before and after viewing the initiative's materials about their children's behaviors, services received, knowledge about autism, empowerment and engagement with community and advocacy.
"The Georgetown study gives empirical proof and backing to the work [Sesame Street] has done," said Rep. Chris Smith (R-New Jersey) at today's event.
Smith is co-founder and co-chair of the Congressional Autism Caucus, also known as the Congressional Coalition for Autism Research & Education.
A New Level
More detailed findings from Anthony's study will be published later this year.
Anthony praised Sesame Workshop's initiative, and says he was "very privileged" to work with Sesame Workshop on the study.
"I think in all ways Sesame Street has been at the forefront of talking about not just differences, but similarities in kids and families," he said. "This is taking it to another level."
Karen Teber
GUMC Communications