Anderko Tapped for Advisory Committee on Children's Vision
Posted in GUMC Stories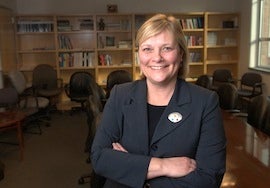 A Georgetown University faculty member has been selected for membership on an advisory committee for the National Center for Children's Vision and Eye Health.
Public health expert Laura Anderko, PhD, RN, the Robert and Kathleen Scanlon Chair in Values Based Health Care at the School of Nursing & Health Studies, will begin her three-year term on Jan. 1, 2013.
The center is an initiative housed at Prevent Blindness America.
"The [committee] is a body of nationally recognized leaders in children's health, vision care, public health, early education and childcare, vision research and family advocacy," said committee chair M. Kathleen Murphy, DNP, RN, FNP-BC, in the letter of appointment.
Committee members, "will advise the National Center for Children's Vision and Eye Health in the implementation of a uniform strategy for universal screening of children prior to school entry," she said.
The group will work to improve vision screening practices and policies for preschool-aged children, improve state level and national surveillance of vision screening and follow-up care, and collaborate to develop strategies and resources that will enhance children's vision and eye health, Murphy said.
Anderko holds academic appointments in the Department of Human Science and the Department of Nursing, both at NHS.
By Bill Cessato, NHS Communications
(Published January 10, 2013)