Annual Colloquium Addresses Health Disparities in D.C.
Posted in GUMC Stories | Tagged health disparities, population health
November 21, 2017 — At "Strategies for Reducing Health Disparities," a colloquium held as part of the 10th annual GUMC Fall Convocation, Georgetown faculty members spoke about the ways they are working in the community to decrease health disparities in the District of Columbia.
Moderated by Phyllis Magrab, PhD, director of the Center for Child and Human Development and co-director of the University-Wide Initiative for Health Disparities, the November 16 colloquium, held in the Research Building auditorium, brought together participants from Georgetown's School of Medicine, School of Nursing & Health Studies, Law Center and Lombardi Comprehensive Cancer Center.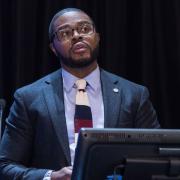 To kick off the colloquium, Christopher King, PhD, director of the on-campus master's in health systems administration program and assistant professor at the School of Nursing & Health Studies, summarized his research on health disparities in DC. While residents are generally healthy, African Americans in Washington experience higher rates of obesity, diabetes, unemployment, food insecurity, poverty and chronic diseases compared to their white counterparts, King said.
"The most stark statistic is around life expectancy," King said. "There's a 15-year difference in men and a nine-year difference in women. So we have to ask ourselves, why is this? And when we think about the factors that shape health, it's important to note that our health is shaped mostly by social and economic conditions."
A Deep Disconnect
The colloquium participants were joined by Harold P. Freeman, MD, president, founder and chief executive officer of the Harold P. Freeman Patient Navigation Institute and recipient of the 2017 Cura Personalis Award, Georgetown University Medical Center's highest honor.
As a cancer surgeon working in Harlem, Freeman developed patient navigation programs to alleviate health disparities in his community. "Patient navigation has to do with trying to assure that people get in to the health care system in a timely way for whatever their complaint is and get through it to the end point," he said. "It's not enough to know what to do as a surgeon. You have to also connect with people who can help a person get through the health care continuum to a resolution."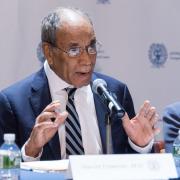 Research on cancer prevention and treatment is important but health disparities will persist without a high quality health care delivery system, Freeman said.
"There's a deep disconnect in America between what we discover and what we deliver," he said. "A deep disconnect between what we know and what we do. And I think that's a critical answer because health disparities would not occur to the degree they do occur if we did everything for everybody according to what we know."
Partnerships to Reduce Health Disparities
As the medical director of the Student Health Center at Anacostia Senior High School, Ana M. Caskin, MD, has helped increase health care access for students in an underserved community, yet she and her colleagues frequently found themselves running into legal issues. And now, she's benefiting from Georgetown University's newly established Health Justice Alliance (HJA).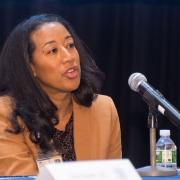 "We were bumping up against a lot of these barriers — health care providers, physicians, nurse practitioners, nurses, administrators —
trying to figure out how to navigate some of those challenges and we wound up really banging our heads against the wall a lot of the time," said Caskin, who also serves as deputy medical director of the HJA and associate medical director of community pediatrics for MedStar Georgetown University Hospital.
The HJA is an alliance between Georgetown Law and the medical center designed to prepare future generations of lawyers, doctors, nurses and other health professionals to work together to help promote health and well-being of vulnerable individuals and families in order to prevent legal crises that could have health effects and contribute to health disparities.
Vicki Girard, JD, co-director of the HJA, asked Caskin about having law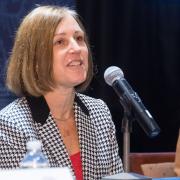 students help patients at the student health center with legal issues. "Rather than coming in as adversaries with our doctor partners, we come in and say to them, let us work together to help you identify when your patients have an issue that's affecting their health where there may be a legal solution," said Girard, who is also a professor of legal research and writing at Georgetown Law.
The medical-legal partnership "has been a huge benefit" for students, Caskin said.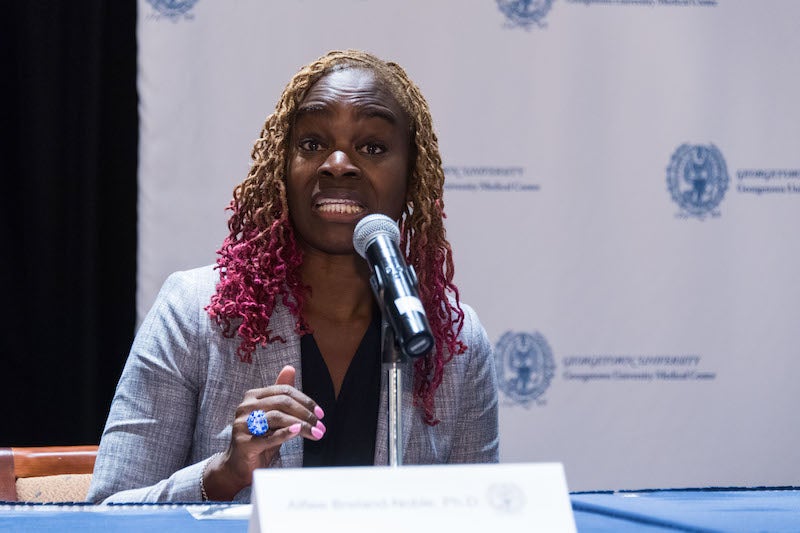 In her role as director of the AAKOMA (African American Knowledge Optimized for Mindfully-Healthy Adolescents) Project, Alfiee Breland-Noble, PhD, partners with faith communities to educate minority populations about mental health.
"For the work that we do, churches are everywhere and faith communities are everywhere," said Breland-Noble, who is associate professor of psychiatry at Georgetown. "So when we're out in communities talking with people in churches, in different faith communities, we're able to talk to people from a personal perspective."
Shifting the Paradigm
Lucile Adams-Campbell, PhD, associate director of Minority Health and Health Disparities Research and co-director of the University-Wide Initiative for Health Disparities, oversees the Capital Breast Care Center which helps women access breast cancer screening services through patient navigation regardless of their ability to pay.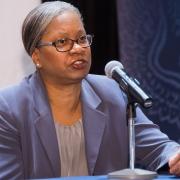 "Our navigators have been trained by Dr. Harold Freeman's institute and we do screening throughout DC," Adams-Campbell said. "We take care of the underserved, the uninsured, those people that are disenfranchised that would otherwise not receive mammograms. And more importantly, they're educated about breast health. But we need to expand that."
When patients receive regular screenings including mammograms, Pap smears, colonoscopies and lung cancer screenings, it is more likely that their cancers will be caught at an earlier stage when they are treatable. "If we can even detect people at an earlier point in time, we can stop saying, blacks die at a higher rate than every other group," Adams-Campbell said. "And we know that in our screening, we're finding more and more people in the earlier stages than the late stages."
"It doesn't matter whether you're black, white, pink, green, poor, rich — a lot of people do not get colonoscopies," Adams-Campbell added. "So we need to increase the health literacy."
Kat Zambon
GUMC Communications