Annual Symposium Fosters Love of Science in Youth
Posted in GUMC Stories
Georgetown hosted more than 130 area high school students recently for two packed days fueled by a shared love of the sciences, friendly competition and academic camaraderie.
For the fifty-second continuous year, the 2014 Junior Science and Humanities Symposium (JSHS) took place Jan. 9-10 on the campus of Georgetown University Medical Center (GUMC). The annual event provides a forum for some of the most promising young minds in science, technology, engineering and mathematics in the greater Washington metropolitan region.
Joy Phinizy Williams, who has directed the regional JSHS program since 1997, says she looks forward to the opportunity to encourage and interact with students who are so engaged and curious about their scholastic pursuits.
"It's an opportunity to touch the future," says Williams, senior associate dean for students and special programs, and director of the office of minority student development at Georgetown University School of Medicine. "As a Jesuit institution, Georgetown has an obligation to do whatever it can to improve the lives of people here and around the globe. This can only happen if we push to expand our knowledge and service—otherwise we'd still be doing the same things we were doing 50 years ago."
All high schools in the region are invited to participate, and this year 26 public, private and parochial high schools sent representatives—both students and teachers. Students are invited to submit papers describing a research project they have designed and executed—the topics can be "whatever captures the student's imagination, as long as it is original work," says Williams.
The papers are judged by a multi-disciplinary panel of Georgetown faculty, and five are then selected to be presented at the symposium in front of the judges and the students' peers.
Shining the Light on Strawberries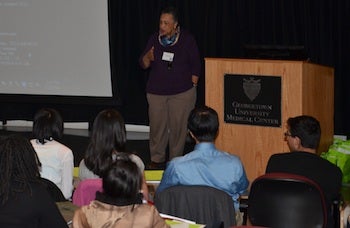 This year's presenters tackled topics ranging from Alzheimer's diagnosis methods to fungi that break down polyurethane to the effects of different lighting setups on the quality of strawberries.
The presentation that took top prize this year—and a $2,000 tuition scholarship—was that of Kristi Kan, of Centennial High School. Kan's research project, "The Effects of LED Light Exposure on Strawberry Quality in a Simulated Retail Setting," impressed the judges with its simple yet meticulous design.
Besides the scholarship, Kan wins the right to present her project at the National JSHS, which will be held this April in Washington, D.C. The second- and third-place presentations were awarded $1,500 and $1,000 tuition scholarships, respectively.
Kan said she was excited to be able to design an experiment involving this common fruit—the project combines her love of food, a passion for science and her interest in combatting hunger. By testing the way strawberries respond to different lighting in a carefully controlled environment, Kan concluded that LED lights—which are increasingly adopted by retail grocers—may accelerate the decline in food quality and freshness.
"Strawberries are so mundane, but I was able to design a comprehensive experiment with regard to all these different attributes," Kan says.
Noting the vast global hunger problem and the amount of food that goes to waste, Kan queried in her presentation: "What if our latest environmental technology is exacerbating the hunger issue?"
Harnessing Youthful Curiosity
The beauty of this competition and the entire event lies in "the innocence of scientific discovery" and in "catching these kids while they are still curious," according to Douglas Eagles, PhD, former chair of Georgetown's biology department who directed the program prior to Williams.
"Many young students are pretty much natural scientists. They are curious and inquisitive, and yet somehow that can get deflated as they go through their studies—this is a way to get to them before that happens," Eagles says.
There have been just four directors in the program's 52-year history. Edward J. Finn, PhD, professor emeritus and former chair of the physics department at GUMC, was the second program director after it was started at Georgetown by the late Francis J. Heyden, SJ, a Jesuit priest and astronomer who was known for his passion for fostering a love of science in young people.
"I had a lot of roles and did a lot of other things at Georgetown, but this came out of a pure love of trying to help these incredibly bright students," Finn says. "And as a teacher it helped me a great deal—I was able to see how these students' minds worked."
Besides the presentations, all attendees were treated to lectures by a variety of Georgetown and visiting faculty, and tours of labs and off-campus destinations including the Army Research Laboratory, the National Museum of Health and Medicine, National Academy of Sciences, the Koshland Science Museum of the National Academy of Sciences and NASA Goddard Space Flight Center.
Launching Scientific Careers
Yet part of the real value stems from the interactions among the students—showing them that science can be fun and exciting, and "letting the ideas flow back and forth freely," Eagles says.
David Moore, a graduate of St. Vincent Pallotti High School in Laurel, Md., was a 2001 finalist in the JSHS symposium. Now a PhD in computer science who designs college-level curricula, Moore came back to Georgetown to hear this year's crop of presentations.
He says the JSHS experience was pivotal in that it exposed him to the rigorous process of conducting a scientific experiment at a young age. The lessons, he says, have stayed with him throughout his career thus far.
"When I think about projects I am working on now, it all started with science fairs and the JSHS symposium," Moore says. "I even listed Dean Williams and other teachers I had early on in my acknowledgments for my [doctoral] thesis."
By Lauren Wolkoff
GUMC Communications
(Published January 14, 2014)