Annual Program in Argentina Highlights Translational Science
Posted in GUMC Stories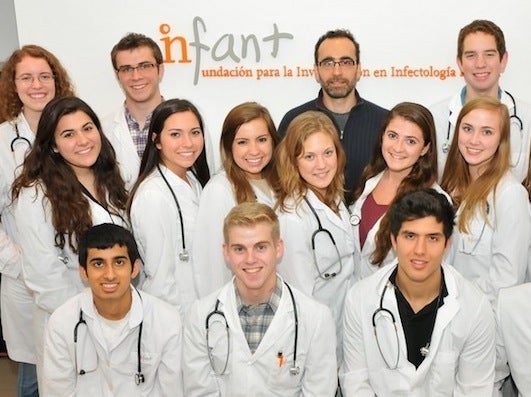 Ever since she dressed as a physician for Halloween at six years old, Jessica Gaudiosi (NHS'15) has known she wants to practice medicine.
"I truly enjoy working with children and have coached a swim team for the past six years," says Gaudiosi, a human science major and member of Georgetown's NCAA Division I swim team.  "In addition, I shadowed a number of doctors, including a pediatrician, last summer."
From May 24 to July 5, Gaudiosi continued to fine-tune her skills through participation in the Translational Health Science Internship – a six-credit program that the Department of Human Science at the School of Nursing & Health Studies has sponsored since 2007 at the INFANT Foundation in Buenos Aires, Argentina.
'An Incredible Opportunity'
"This summer program offered an incredible opportunity for me to gain valuable research experience, work with children and doctors, learn about a different, unique culture, make new friends, [and] further enhance my studies," says Gaudiosi, who hopes to become a pediatric surgeon.
Microbiologist Pablo Irusta, PhD, associate professor of human science, says he enjoys hearing success stories like this.  He created the program six years ago to provide undergraduates with the chance to learn bench-to-bedside research in an international setting.  Sixteen students participated this year.
"Fostering collaboration among physicians and basics researchers is essential as we seek to translate scientific discoveries made in the lab into treatments that impact patients in the clinical setting," he says.  "Teaching students early on in their careers to understand the dynamic nature of this discovery continuum is very important."
From Bench to Bedside
During the course, students work alongside local and U.S.-trained researchers and physicians who are "studying the basic science and clinical effects of viruses that cause respiratory infections in infants, children, and adolescents," according to the program brochure.
Students learn in classroom and laboratory settings, as well as shadow physicians at pediatric hospitals.
Nadeen Hussain (NHS'15), also a human science major, says the trip was the perfect combination of her academic interests in research, medicine, and Spanish.
"The experience was incredible," says Hussain, who plans to go to medical school.  "I've never been able to do so many things in such a short period of time. Between working in the lab, visiting hospitals and clinics, and participating in new cultural experiences, we hardly had a minute to let it all sink in."
By Bill Cessato, NHS Communications
(Published August 22, 2013)