AAKOMA Project Spotlights Mental Health Disparities in Minority Youth
Posted in GUMC Stories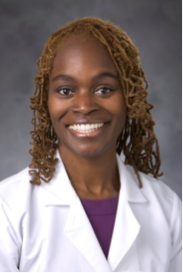 APRIL 17, 2014—When it comes to treating mental health, Alfiee M. Breland-Noble, PhD, MHSc (new window), is a firm believer that race matters.
Breland-Noble, an assistant professor of psychiatry at Georgetown University Medical Center (new window), directs the African-American Knowledge Optimized for Mindfully-Healthy Adolescents (AAKOMA) Project (new window) at Georgetown University. AAKOMA's team of academic researchers and community volunteers uses a community-engaged, patient-centered approach to figure out how to get African-Americans and other minority adolescents into treatment for depression.
AAKOMA's mission is to reduce mental health disparities for youth through community-based participatory research (CBPR), faith-based mental health promotion and other methods such as focus groups and surveys.
Breland-Noble, who came to Georgetown in 2012, became inspired to pursue this research when she noticed that African-American and Latino youth were less likely to seek clinical treatment for depression.
"A disproportionate number of African American and Latino kids do not receive mental health treatment," says Breland-Noble. "If we have treatments available, we want kids to benefit from them and we don't want kids to continue to suffer in silence."
Started at Duke University Medical Center, AAKOMA grew out of a grant from the National Institute of Mental Health. Through continued research and community work, Breland-Noble and her fellow research team members have identified a variety of factors that can impact why African-Americans are less likely to seek mental illness treatment. These factors are not always tied to income or availability of resources, she says, indicating there are other social and cultural variables.
"We find that even when you control for socioeconomic status, you still find statistically different rates of African-Americans who seek treatment compared to whites," Breland-Noble says. "Whites, regardless of socioeconomic status, are more likely to go see someone as long as they have access."
There is a social stigma related to seeking treatment that is hard to overcome within communities, she adds.
Training Student Researchers
AAKOMA's Georgetown research assistant team comprises current and former undergraduate students as well as postdoctoral fellows.
Michele Wong (new window), who graduated with her bachelor's degree in psychology from Ithaca College, was referred to Breland-Noble and AAKOMA after volunteering with another lab at Georgetown.
"I was always interested in furthering my psychology studies after undergraduate, but wanted to gain more research experience first to make sure it was the right path for me," says Wong. "I was especially excited to gain more research experience in CBPR, an area that I felt really bridges the gap between research and its application to the community."
Breland-Noble is focused on ensuring the students receive "work product" that will help them as they go on to graduate or medical school.
"I want them to be able to generate papers, create posters and have something tangible they can put on their resumes," she says.
AAKOMA Making Strides
Breland-Noble has tracked AAKOMA's progress over the years, and still hears from people she worked with in the early days.
Sometimes, families who were part of the research years ago call to ask questions regarding their other children, she says.
"We also hear parents say, 'Before, I thought this was just something my child needed to get over, and now I realize this is an illness and it can be treated,'" says Breland-Noble.
As a testament to the impact of her work, in April 2013 Breland-Noble was selected to join the Patient-Centered Outcomes Research Institute (new window) (PCORI)'s Advisory Panel on Addressing Disparities (new window).
PCORI is an independent, nonprofit organization authorized by Congress in 2010 to fund research emphasizing evidence-based information leading to better-informed health care decisions. The advisory panel's mandate is to identify research priorities, support new research topics and establish the disparities research agenda for PCORI.
"It is an honor and a joy to have the opportunity to learn from people who are impacted by depression and to be able to effectively utilize the information they share to inform the kind of work that I do," says Breland-Noble. "It's a natural blend working with both AAKOMA and PCORI and it is such a good fit for me to wear both of those hats. They both offer me the opportunity to do what I love."
The research described received initial funding from the National Institute of Mental Health (K01MH073814). This research has also received federal funds (Grant # UL1TR000101 previously UL1RR031975) from the National Center for Advancing Translational Sciences, National Institutes of Health, through the Clinical and Translational Science Awards Program.
By Sarah Reik
GUMC Communications