A Total Response for Stroke
Posted in GUMC Stories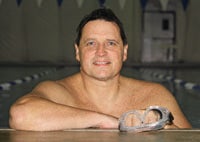 Last summer, southern Maryland's Gary Willis was enjoying a bike ride when he felt a sudden, overwhelming heaviness in his arm. Unable to react, he collapsed on the side of the road—Willis was having a stroke.
A stroke occurs when one of the blood vessels that carry oxygen and nutrients to the brain is either blocked by a blood clot (ischemic stroke), or bursts (hemorrhagic stroke), causing parts of the brain to die.
Luckily for Willis, a passerby called for the paramedics and he was rushed to nearby MedStar St. Mary's Hospital in Leonardtown, Md., a certified primary stroke center.
When a patient such as Willis exhibits signs of a stroke, there is a very small window of opportunity for treatment that can prevent and reduce the effects of stroke and reduce permanent disability.
"When I arrived at St. Mary's, I underwent a full assessment that included a comprehensive exam that looked for brain damage," said Willis. "When the neurologists saw that I had a hemorrhagic stroke, they knew I needed emergency treatment right away."
They made the quick decision to transport Willis to its sister Hospital, MedStar Georgetown University Hospital (MGUH), where they could provide medical intervention specific to the bleeding in his brain.
Access to Life-Saving Treatment
Willis was transported to MedStar Georgetown via the MedStar Transport helicopter where a specialized team was already in place and awaiting his arrival. The Georgetown team was able to repair the cause of his bleeding and prevent further complications and damage, but his road to recovery will take months.
For the next nine days, Willis remained under the observation of his stroke team at MedStar Georgetown, which earned the American Heart Association/American Stroke Association's Get With The Guidelines®-Stroke Silver Plus Quality Achievement Award in 2011. The award recognizes MedStar Georgetown's commitment and success in implementing a higher standard of stroke care by ensuring that stroke patients receive treatment according to nationally accepted standards and recommendations.
For Willis, being under the care of such a strong team made all of the difference.
"I can't say enough about my team of doctors at MGUH," said Willis. "People came to check on me constantly, and each time they did they were so kind and made sure I was receiving the best care I could."
Also, as a result of MedStar Georgetown's close relationship with its research partner, Georgetown University Medical Center (GUMC),Willis was given the opportunity to participate in clinical a trial.
Willis enrolled in a study investigating the effectiveness of a drug to help reduce the swelling in this brain. The results of this clinical trial may help establish better treatments for future patients who suffer from a hemorrhagic stroke.
Dr. Chelsea Kidwell, director of the Stroke Center at GUMC, says collaborative research is critical to making advances in stroke care and treatment.
"At Georgetown, we conduct a full spectrum of research from prevention to acute treatment of new strokes to prevent ongoing damage and improve the chances of a good recovery," says Kidwell, who is a national leader in clinical and outreach research. "While Mr. Willis' recovery appears promising, many people don't have good outcomes. Stroke can often lead to permanent and devastating disabilities."
One specific area of Kidwell's research focuses on communicating the signs that a person is having a stroke and the importance of seeking emergency care immediately. For example, for some strokes, a clot-busing treatment called tPA can reduce a stroke's permanent effects, but it must be given within the first few hours following a stroke.
"If you suspect a stroke, call 911 immediately," Kidwell says. "Time is critical."
The Road to Recovery
Because Willis needed rehabilitation services as soon as possible, he was transferred to MedStar National Rehabilitation Hospital and Outpatient Network (MNRN). MNRH cares for one of the highest volumes of stroke patients in the country—there are more than 500 discharges from MNRH each year, and 75 percent of patients are able to go home directly. The Network offers state-of-the-art rehabilitation therapies, enhanced by their active research in finding the best ways to rehabilitate the various problems that having a stroke can cause.
"We help people make the quickest possible recovery from their stroke, while keeping them medically stable, and teaching them how to avoid having another stroke," said Dr. Brendan Conroy, medical director of the Stroke Recovery Program at MNRH. "We also teach our patients how to avoid 'bad habits' during their recovery and we work with their family and friends on how to help the stroke survivor during the recovery period."
As part of that recovery, Willis was able to choose his own therapeutic goals and ultimately learn how to lead his own recovery. With his familial, emotional and physical support taken care of, Willis knew he could return to having fun and doing the things he loved.
"While physical therapy, occupational therapy, nursing and psychology are the mainstays of treatment, having fun can be very therapeutic and for Gary that made a big difference," said Conroy.
Willis has returned to work, and is swimming, riding a stationary bike, lifting light weights, and practicing yoga occasionally.
The Power of "Staying within the System"
"Staying within the MedStar Health system made it easier for me as a patient. I didn't have to deal with a lot of the issues other patients may have to deal with when being transferred," said Willis. He added that having his wife Robin act as his advocate was critical.
While it's been a long process for Willis, and he knows he still has some time before he makes a full recovery, he is not going to let that stop him. "I plan to keep working at it until I make a full recovery, having a second chance keeps me going," said Willis. "Luckily for me, I'm in good hands with MedStar Health."
By Tressa Mattingly, MGUH Communications
(Published May 3, 2012)