A Remarkable Story Highlights the Progress and Promise of Cancer Research
Posted in GUMC Stories
June 28, 2017– The patient was a 49 year-old woman with cancer that had spread to her liver and right lung who had received treatment for a small tumor in her mouth two years earlier. Louis Weiner, MD, director of Georgetown Lombardi Comprehensive Cancer Center, estimated that she had about three months to live. However, three months later, Weiner and his patient were doing a "victory waltz" around the clinic at Georgetown Lombardi.
At the Men's Event, an annual fundraiser attended by about 200 of Georgetown Lombardi's male supporters, Weiner explained that investments in science made the difference for this patient and others.
"This is what happens when you invest in science," Weiner said. "This happened because the research that was funded was applied to clinical care."
Sponsored by K&L Gates and Nelson Mullins, the 18th Annual Men's Event took place June 19 at Morton's Steakhouse in Washington, DC. The event raised about $200,000 for cancer research.
More Work to Be Done
Weiner's patient received molecular tumor profiling which showed that her tumor had a large number of mutations; the more mutations a cancer cell has makes it appear more alien to the immune-fighting cells and therefore, a more focused object of attack. With that knowledge, the patient was treated with immunotherapy. But what works for one patient doesn't work for all patients, and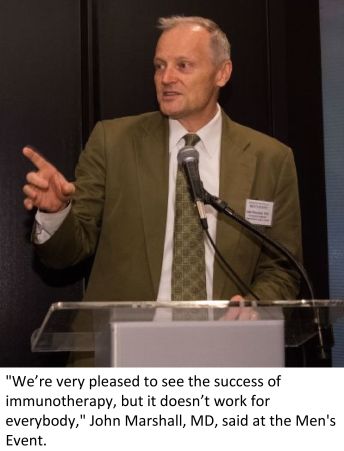 researchers at Georgetown Lombardi are trying to figure out why.
"We're very pleased to see the success of immunotherapy, but it doesn't work for everybody," said John Marshall, MD, director of the Ruesch Center for the Cure of Gastrointestinal Cancers. "We are using molecular profiling with almost every patient at Lombardi to find the patterns that are emerging. This will tell us why one patient does well with one treatment but not with another."
The First Proton Therapy Center in Washington, DC
By the end of 2017, MedStar Georgetown University Hospital, Georgetown Lombardi's partner in care, will have the first proton therapy center in Washington, D.C. John Lischalk, MD, chief resident for the department of radiation medicine at Medstar Georgetown University Hospital, explained that proton therapy allows doctors to deliver really high doses of radiation directly to a tumor target compared to traditional radiation therapy.
"Our goal is to kill more cancer cells and improve clinical outcomes, but we also want to try to decrease toxicity," Lischalk said. "We can decrease toxicity by limiting the excess radiation the body is exposed to."
Leigh Ann Sham
GUMC Communications