A 'Powder Keg' for Infectious Disease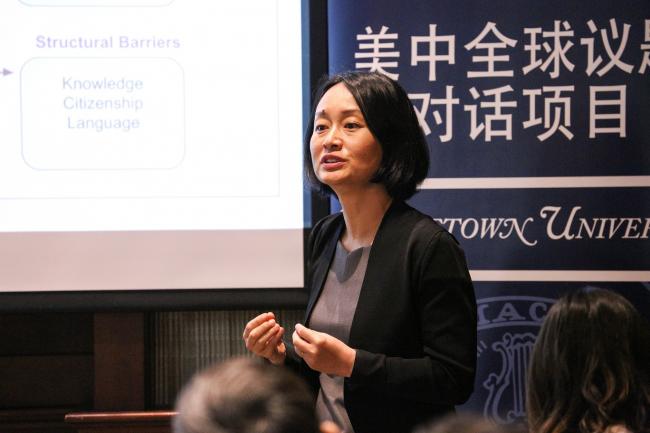 Posted in GUMC Stories | Tagged global health
Backed by mainland China and facing Southeast Asia, and sitting at the nexus of the Pacific, Indian and Atlantic oceans, Guangdong is critical to China's development, globalized economy and marine industries.
(June 12, 2018) — The Chinese city of Guangzhou, the capital of Guangdong province, is known as a bustling metropolis and a vital port city on the South China Sea.
In late 2002, Guangdong gained notoriety for another reason: It was home to the first reported cases of severe acute respiratory syndrome, or SARS. Within three months, SARS had infected more than 305 people and caused five deaths in Guangdong. Ultimately, the outbreak infected more than 5,300 people and killed 349 in China alone. The virus also spread rapidly to neighboring Hong Kong, Vietnam and around the world.
The Guangdong and the central government, slow to acknowledge the outbreak's severity at first, has been criticized widely for a perceived lack of transparency and failure to respond more aggressively. It would prove to be a wakeup call for the country, according to Jennifer Huang Bouey, PhD, MPH, MBBS, associate professor of epidemiology in the Department of International Health at Georgetown's School of Nursing & Health Studies (NHS).
"SARS was really a big shock to China's public health system. It really changed the mentality of the central government towards public health in China," Bouey said.
After SARS, the Chinese government began to invest heavily in surveillance, emergency preparedness and response, and strengthening the capacity of public health institutions at the provincial and national levels. The government's capacity for crisis management has been further enhanced by a series of public health system restructures in the post-SARS era.
U.S.-Chinese Research Collaboration
Bouey is studying these issues closely as the convener of the U.S.-China Global Health Working Group, a bilateral, multidisciplinary team of U.S. and Chinese researchers who collaborate on a shared agenda focused on pandemic preparedness and migration, and the challenges these issues pose for health systems and health security. Bouey co-leads the working group along with Cheng Feng, a professor at Tsinghua University in Beijing.
The working group falls under the auspices of a broader university-wide initiative called the Georgetown Initiative for U.S.-China Dialogue on Global Issues, established in 2016 through a $10 million gift to Georgetown from the Hong Kong-based Spring Breeze Foundation.
The global health team has met virtually and in person over five semesters, alternating between the U.S. and China, to generate joint research and publications with the aim of informing better policy and advance cooperation between the countries.
In addition to Bouey and Feng, the working group includes: Rebecca Katz, PhD, MPH, director of the Center for Global Health Science and Security at Georgetown University Medical Center; Michael Stoto, PhD, professor of health systems administration and population health at NHS; Hao Yuantao, PhD, professor of biostatistics and dean of the School of Public Health at Sun Yat-sen University in Guangzhou; Zhang Linqi, PhD, professor and vice dean of the School of Medicine at Tsinghua University; and Elanah Uretsky, PhD, visiting assistant professor of anthropology at Brandeis University.
Guangdong as a Case Study
In 2013, about a decade after SARS first hit, China's public health investments were tested by the emergence of a new threat — an outbreak of the H7N9 strain of avian flu in humans.
China's response to H7N9 has yielded rich insights about what has worked well — and where the gaps still exist — across the country's health systems in the post-SARS years. Bouey and the working group are looking closely at those insights, on the premise that Guangdong should serve as a case study for donors and governments worldwide.
"The health systems side of pandemic preparedness in Guangdong could have great interest to Europe and the U.S. — to see what they have done and look at the evidence as to what works," she said. "Understanding their public health system, disease surveillance and assessment systems could have a global impact."
For example, "Guangdong's experience on implementing disease control efforts in the wet markets and poultry farms would be very interesting to southeast Asian countries that have similar cuisine," Bouey added.
Guangdong's prominence in pandemic preparedness is rooted in a confluence of variables, including its geography, climate and importance in regional trade, according to Stoto. The province's attractiveness to international migrants, particularly those from Africa, offers an added layer of complexity.
"Because of its geographic location, demography and role in China's economic development, Guangdong province and Guangzhou in particular are a powder keg for emerging infectious disease," Stoto said at a May 14 event convened by the working group.
The event, "Addressing the Twin Challenges of Pandemics and Migration: Research Findings of Global Disease Surveillance, Healthcare Systems, and Humanitarian Development Funds," showcased some of the team's research to date on these very issues.
Demonstrating the interdisciplinary nature of this work, faculty from across Georgetown served as discussion moderators, including Ranit Mishori, MD, MHS, associate professor of family medicine at the School of Medicine; Bernhard Liese, MD, MPH, chair of the Department of the International Health at NHS; and Matthew Kavanagh, PhD, visiting professor at Georgetown University Law Center and director of the Global Health Policy and Governance Initiative at the O'Neill Institute for National and Global Health Law.
'Hidden' Populations
A major focus of the event was on international migrant populations. While China's domestic rural-to-urban migrant population has attracted a lot of attention, the increasing migrant populations coming to China from neighboring countries and Africa present a unique challenge for researchers, because they basically remain "hidden" from view and policy.
There is no formal mechanism to track Chinese immigration, including who is entering the country, how long they are staying, and where they go once they enter, according to Bouey.
This blind spot amounts to an Achilles' heel in China's pandemic preparedness, Bouey said.
"As public health researchers, we see risk factors of disease transmission in migration patterns and how people move from place to place. The fact that the international migrants [in China] go underground and become marginalized poses a threat to the public health system — there is a significant barrier to reach these people through traditional surveillance or response channels, and hard to provide the necessary basic healthcare services for those in need," she said.
"This presents problems for local public health officials to understand real disease patterns and to address the needs of these vulnerable populations. We know it's a ticking bomb."
Finding Common Ground
Events such as the recent one at Georgetown help illuminate these challenges, spur dialogue and generate evidence to inform sound policymaking around the critical issues of migration, pandemic preparedness and global health financing.
"Even though we are all coming from different backgrounds with different research interests, the one overarching theme is the global health and security issue," Bouey said.
Beyond the overseas collaboration, the nature of the research has sparked multidisciplinary interest at Georgetown among faculty and students alike. It exemplifies how people from different research backgrounds can find common ground around multidisciplinary strengths such as those in the area of refugee health and pandemic preparedness and response. It also dovetails with the priorities of Georgetown's university-wide Global Health Initiative.
"There is a lot of talent and a lot of interest across Georgetown, but we are usually very busy and work in silos," Bouey said. "I hope through events and other opportunities, we can continue to bring people together to work on these common global health interests."
Lauren Wolkoff
GUMC Communications