In Memoriam Maeve McKean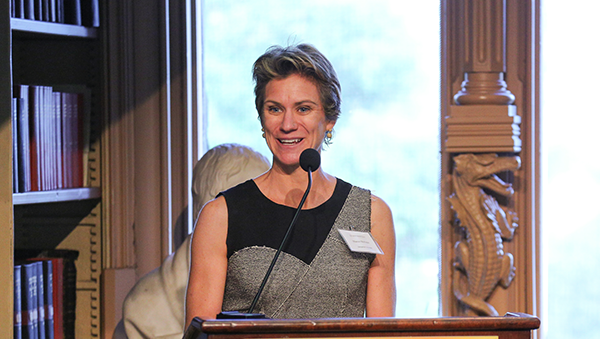 Posted in Announcements | Tagged Global Health Initiative
April 4, 2020
Dear Members of the Georgetown University Community,
We write today with profoundly sad news about a colleague and friend to many of you. On Friday night we learned from her family that Maeve McKean (MSFS/L'09) passed away, along with her 8-year-old son, Gideon, in a tragic accident on Thursday, April 2.
Maeve, a double alumna of Georgetown University, rejoined us on the Hilltop in 2019 as executive director of Georgetown University Global Health Initiative, a university-wide platform for supporting faculty, students and staff who are contributing to global health through research, teaching and service. Earlier this year, she also was appointed associate director of the HIV Policy Lab at the O'Neill Institute for National and Global Health Law. In addition, Maeve taught Bioethics & Social Justice at Georgetown Law and Conversations in Global Health at the School of Foreign Service.
A public health and human rights lawyer, Maeve dedicated her career to working at the intersection of global health and human rights. Prior to joining Georgetown, she was an associate research professor and senior policy advisor at the City University of New York's School of Public Health where she helped establish the Center for Immigrant, Refugee and Global Health. Previously, Maeve served as a political appointee within the Obama Administration at both the Department of State's global AIDS program, where she was the first senior policy advisor for human rights, and at the U.S. Department of Health and Human Services Office of Global Affairs leading the work on vulnerable population human rights policy issues, including women and children's health, in particular issues of violence, and LGBT health.
Maeve received her B.A. from Boston College. At Georgetown University, she earned a J.D. from Georgetown Law and a master's degree in international negotiations and conflict resolution from the Walsh School of Foreign Service. She worked for United States Senator Dianne Feinstein (D-CA) in California as well as on Capitol Hill and was also a Peace Corps volunteer in Mozambique.
Maeve was a passionate and energetic advocate for human rights and social justice, especially for women and girls and communities impacted by HIV/AIDS. As executive director of our Global Health Initiative, she skillfully brought together faculty and students across disciplines and schools in order to advance our shared mission for improving health and advancing justice.
Maeve also brought her characteristic enthusiasm to engaging, inspiring and mentoring a new generation of Georgetown global health students through her teaching in the classroom and her leadership of an innovative fellowship program for aspiring leaders.
Our hearts are heavy today for Maeve's family, friends and colleagues, and especially for her husband, David, her 7-year old daughter, Gabriella, and her 2-year old son, Toby. We extend our condolences to all who have been impacted by this news.
Sincerely,
Edward B. Healton, MD, MPH
Executive Vice President for Health Sciences
Executive Dean, Georgetown University School of Medicine
Georgetown University Medical Center
Co-leader, Global Health Initiative
Thomas Banchoff, PhD
Vice President for Global Engagement
Professor, Department of Government and Walsh School of Foreign Service
Co-leader, Global Health Initiative
John Monahan, JD
Senior Advisor to the President of Georgetown University
Senior Fellow, McCourt School of Public Policy
Senior Scholar, O'Neill Institute for National and Global Health Law
Georgetown University