Vanessa Taylor Georgiadis
Posted in Staff Spotlight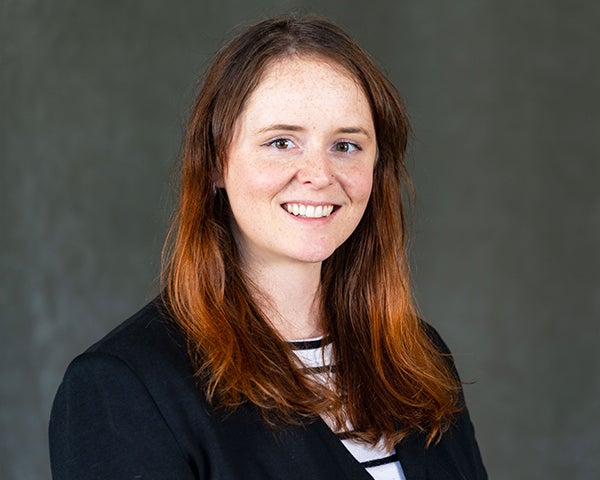 November 14, 2021
Name

Vanessa Taylor Georgiadis

Title

Administrative Assistant

How long have you worked at GUMC?

3 years

What led you to your position here at GUMC?

That is a long story! The short version, however, is that I had always seen myself working in higher education after being a peer mentor in my undergraduate days at University of South Florida. After college, I pursued my other passion for a while (theatre) as I simultaneously looked for a job and a master's program in higher education. I happily found both at Georgetown, working for the Dean of the School of Nursing & Health Studies and being accepted into the Master's in Higher Education Administration program through the School of Continuing Studies.

In your role, how do you interact with the GUMC community?

I feel like I was immediately immersed in the GUMC community from the beginning, considering the central role of the Dean's office and the constant communication with faculty, staff and students, both within NHS and across GUMC. I love being able to interact with so many different people and observe the way all these different roles integrate and collaborate.

What do you enjoy most about your job?

The best part of my job is the students. Even though most of the time my work is more operations-centric, I take every opportunity to incorporate more student-centric work. Advising CURA, building the St. Mary's Hall receptionist team, and co-teaching Colloquium have been some of the most rewarding experiences I have had. It really reminds me why we all come to work each day — the students are so impressive and unique!

What is a skill you have that might surprise people?

I am not sure if this will surprise most people or if I have told it too many times, but I was a theatre performance major in my undergraduate years and had the opportunity to be part of a theatre company after graduation that toured nationally and internationally. I guess theatre encompasses more of a skillset than just any one skill, but it has definitely helped me grow in all aspects of my life and career.

What did you learn about yourself as a professional during the pandemic?

The pandemic really tested my motivation and adaptation. What I learned is key to both is to have a strong communication plan with everyone, and also to take moments to breathe, refocus, and keep moving — always forward, never back.

What do you like to do in your free time?

My friends and my family are my life, so I take every opportunity that I can to plan time with them. However, I also enjoy doing yoga, discovering new foods around DC, and sometimes just the simplicity of watching a TV show on the couch with my husband and kittens.

What is your greatest achievement (personal or professional)?

I am not sure what my greatest achievement is, but I think it is an amalgamation of all the experiences I have had in life that have led me to this moment — including my theatre history, yoga teacher training, working in many different offices and also for a stretch as a dog walker — all leading me here to my current position in higher education, a field that I love to work in and that I am pursuing a master's in. Each piece has let me learn a little more about myself, what matters in life, and how to give back to others and the community.

What is the best lesson you have learned from working at GUMC?

The best lesson that I have learned is that even when things do not go exactly as planned, the environment and community that you become a part of is one of the most rewarding aspects of a career. GUMC welcomed me into the wonderful world of higher education, and I will always be grateful for those I continue to learn from here!