Sumaira Akber
Posted in Staff Spotlight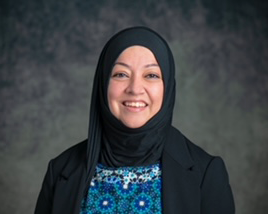 January 13, 2023
Name

Sumaira Akber

Title

Assistant Dean, School of Health

How long have you worked at Georgetown?

Almost two months

What led you to your position here at GUMC?

What led me to my position here was the opportunity to work directly with students in a leadership capacity and help them achieve their personal and professional goals.

In your role, how do you interact with the GUMC community?

In my role, I will liaise with campus partners to connect students with services that will help them with their distinctive needs. Additionally, I will represent the school on various committees, projects and events.

What do you enjoy most about your job?

I enjoy being part of a team that is genuinely dedicated to helping students achieve their academic goals and facilitating their growth.

What did you learn about yourself as a professional during the pandemic?

The pandemic has profoundly impacted the way I perceive time and given me opportunities to reassess the way I use it. It helped me to prioritize the things that matter the most.

What do you like to do in your free time?

I love to cook and try out new recipes, travel and spend time with family and friends.

What is your greatest achievement (personal or professional)?

A professional achievement that I value is having contributed to a diversity, equity and inclusion (DEI) space in higher education. I was involved with committee work and honored with an inclusive excellence award at my previous institution. I believe it is vital to observe matters through a DEI lens in all aspects of our work.

What is the best lesson you have learned from working at GUMC?

While I have not been at GUMC for very long, I will say that I am looking forward to promising connections at GUMC as we embark on the new year and spring 2023 semester.