Ryan Dempsey
Posted in Staff Spotlight
March 24, 2023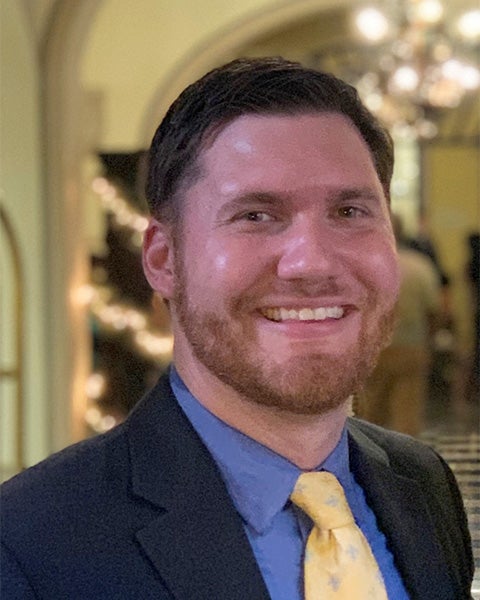 Name

Ryan Dempsey

Title

Manager of Global Health Research Development

How long have you worked at Georgetown?

6.5 years

What led you to your position here at GUMC?

The opportunity to lead change and honor Georgetown Jesuit values

In your role, how do you interact with the GUMC community?

I engage with the community in multiple roles. As a Georgetown employee, I am the administrative liaison to two global health centers, providing support to faculty both on campus and across the globe! I work with many different administrative departments to facilitate change in our administrative tools and processes. I also serve as a member of the GUMC caucus for the Staff/AAP Advisory Council, which allows me to hear thoughts and ideas from staff across GUMC. In 2019, I represented GUMC in the Hyundai Hands On Hope contest, engaging with faculty and members of the community on the importance of cancer research. Lastly, I am a recent graduate of Georgetown, receiving my master's degree in 2022.

What do you enjoy most about your job?

I have a different answer for my job versus my role. To get to be an indirect part of Georgetown's incredible research initiatives is extremely humbling and rewarding. For my role, I most enjoy the level of trust given to move ideas forward and be an instrument of positive change to drive efficiency and mitigate risk.

What is a skill you have that might surprise people?

I am able to pick up on very nuanced flavors in foods and love to cook. My wife and I even won a wine blending competition and had our blend produced at a Virginia winery!

What did you learn about yourself as a professional during the pandemic?

Stepping into a role supporting faculty around the world while working remotely often means the need to be responsive when needed. I had to learn to find the proper balance of home in terms of the space and timing.

What do you like to do in your free time?

I have an almost-2- and 4-year-old, what free time (insert smile)? Creating memories with my wife and kids is everything to me.

What is your greatest achievement (personal or professional)?

Besides becoming a father, my greatest achievement was losing 74 pounds to be at my goal weight for my wedding.

What is the best lesson you have learned from working at GUMC?

If you see an opportunity to make a difference, speak up or take it; those opportunities may never come back around.