Angie Wilkins
Posted in Staff Spotlight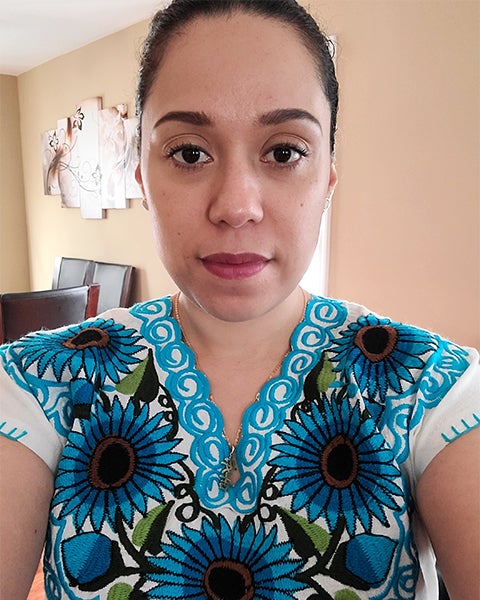 January 12, 2022
Name

Angie Patricia Wilkins

Title

Program Manager

How long have you worked at GUMC?

I have been working at Georgetown University for a total of 13 years, the first six of those years at the Main Campus and the other seven years at the Medical Center.

What led you to your position here at GUMC?

I started working as a custodial worker at the Main Campus while also going to college. I wanted to continue working and growing professionally within the university and started looking at different job openings. After several applications, I was given the opportunity by a GUMC member who to this day I'm extremely grateful to, for believing in my capabilities and for all her support throughout the years.

In your role, how do you interact with the GUMC community?

In my role, I interact with many GUMC community members. I work closely with study coordinators and principal investigators who want to utilize Clinical Research Unit (CRU) resources. I also interact with members from different departments such as Accounts Payable.

What do you enjoy most about your job?

I enjoy working with the CRU staff because they are a wonderful group of individuals who care deeply for the well-being of all of our patients. I also enjoy working at the CRU because we are playing an important role in the discovery of new medicine and treatments that can improve and change the lives of many.

What is a skill you have that might surprise people?

Many people might be surprised to know that I'm a licensed tax return preparer, and I recently passed the real estate salesperson exam. Working in real estate will be my next adventure for 2022.

What did you learn about yourself as a professional during the pandemic?

The pandemic has taught me a lot of things at both personal and professional levels. I've learned to adjust to this constantly changing environment. I learned that I'm resilient and that I can accomplish whatever I set my mind to even in the most difficult situations.

What do you like to do in your free time?

In my free time, I enjoy hiking in Cunningham Falls State Park and Sugarloaf Mountain.

What is your greatest achievement (personal or professional)?

There are actually quite a few personal and professional achievements that I am proud of, such as graduating college and obtaining a bachelor's degree in accounting, passing the tax return preparer class and Maryland exam, and passing the real estate salesperson class and Maryland exam.

What is the best lesson you have learned from working at GUMC?

The best lesson I've learned from working at GUMC is the concept of cura personalis, care of the whole person.