Lucile Adams-Campbell Honored for Life's Work in Health Disparities
Posted in News Release
PHILADELPHIA (April 19, 2015) — The world's oldest and largest professional organization dedicated to advancing cancer research, the Amerian Association for Cancer Research (AACR), awarded Lucile L. Adams-Campbell, PhD, associate director of minority health and disparities research at Georgetown Lombardi Comprehensive Cancer Center, with its its 10th annual Minorities in Cancer Research Jane Cooke Wright Lectureship.
AACR recognized Adams-Campbell "for her scientific contributions in the area of cancer epidemiology and health disparities, which have the potential to influence cancer care nationally and internationally, and for her dedication to fostering the development of minorities in cancer research."
Adams-Campbell presented her lecture, "A Prospective Approach to Breast Cancer Risk in Black Women: A View from Two Cohorts – Womens' Helath Initiative and Black Women's Health Study," at the AACR Annual Meeting 2015 in Philadelphia on April 19.
The AACR-MICR Jane Cooke Wright Lectureship was established in 2006 to recognize an outstanding scientist who has made meritorious contributions to the field of cancer research and who has, through leadership or by example, furthered the advancement of minority investigators in cancer research.
"It is truly an honor to receive this lectureship in the name of Jane Cooke Wright, a pioneer and role model for all women and African-Americans in the field of medicine," says Adams-Campbell, who is also associate dean of community health and outreach at Georgetown University Medical Center.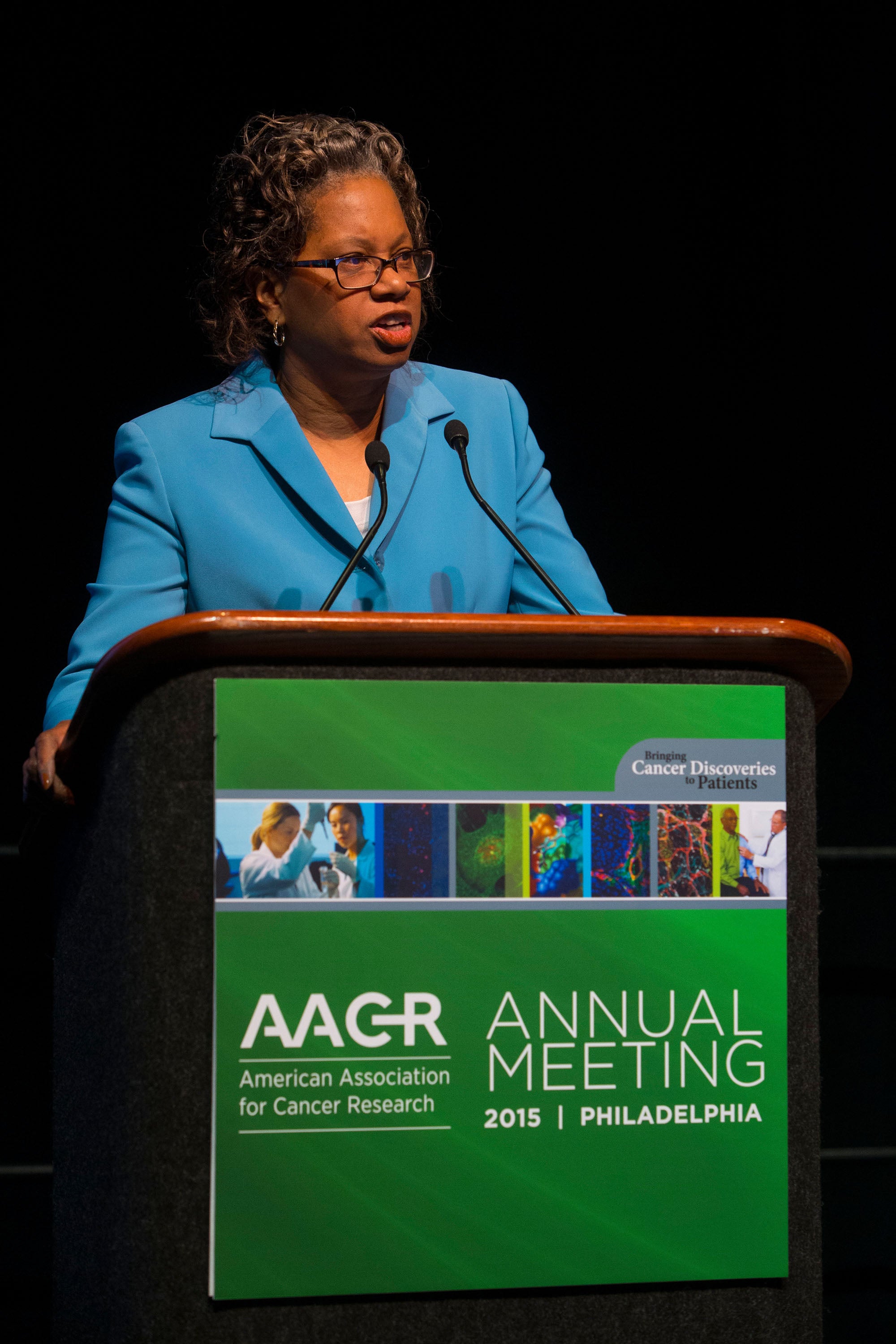 In 1983, Adams-Campbell became the first African-American woman in the country to receive a doctorate in epidemiology and is known for her important contributions to the field. Her research focus has been diseases that disproportionately affect African Americans, including breast, prostate and colon cancers, and identifying ways to overcome health disparities through disease prevention. She leads Georgetown's Center of Excellence for Health Disparities.
Adams-Campbell is co-principal investigator of the Black Women's Health Study, which led to the identification of obesity, diet and physical inactivity as factors influencing risk for diseases disproportionately affecting African-American women such as cancer, lupus, high blood pressure and diabetes. She also served as co-principal investigator of the Women's Health Initiative. Additionally, Adams-Campbell served as principal investigator for the National Cancer Institute's Minority Based Community Oncology Program, which was implemented to increase the number of black participants in clinical trials. Her research is inclusive of clinical trials, cancer epidemiology and etiology, and lifestyle interventions.
Adams-Campbell is an elected member of the Institute of Medicine and has received gold medallions from both of her alma maters, Drexel University in Philadelphia, where she received her bachelor's and master's degrees, and the University of Pittsburgh where she completed her doctoral degree.
The AACR lectureship is named in honor of Jane Cooke Wright, MD, a pioneer in clinical cancer chemotherapy and an exceptional scientist who made important contributions to research in this field. She passed away in 2013 at the age of 93. Wright, a member of the AACR since 1954, became the highest ranking black woman at a nationally recognized medical institution in 1967, a time when only a few hundred black, female physicians practiced in the United States.
About Georgetown Lombardi Comprehensive Cancer Center
Georgetown Lombardi Comprehensive Cancer Center, part of Georgetown University Medical Center and MedStar Georgetown University Hospital, seeks to improve the diagnosis, treatment, and prevention of cancer through innovative basic and clinical research, patient care, community education and outreach, and the training of cancer specialists of the future.  Georgetown Lombardi is one of only 41 comprehensive cancer centers in the nation, as designated by the National Cancer Institute (grant #P30 CA051008), and the only one in the Washington, DC area.  For more information, go to http://lombardi.georgetown.edu.
About Georgetown University Medical Center
Georgetown University Medical Center (GUMC) is an internationally recognized academic medical center with a three-part mission of research, teaching and patient care (through MedStar Health). GUMC's mission is carried out with a strong emphasis on public service and a dedication to the Catholic, Jesuit principle of cura personalis — or "care of the whole person." The Medical Center includes the School of Medicine and the School of Nursing & Health Studies, both nationally ranked; Georgetown Lombardi Comprehensive Cancer Center, designated as a comprehensive cancer center by the National Cancer Institute; and the Biomedical Graduate Research Organization, which accounts for the majority of externally funded research at GUMC including a Clinical and Translational Science Award from the National Institutes of Health.
###