Georgetown Lombardi Receives Renewal as DC's Only Federally Designated Comprehensive Cancer Center
Posted in News Release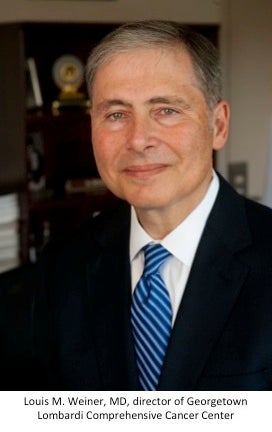 WASHINGTON (Sept. 10, 2014) — The National Cancer Institute (NCI) today awarded a five-year, $11.25 million P30 Cancer Center Support Grant to Georgetown Lombardi Comprehensive Cancer Center, and renewed its designation as a "comprehensive cancer center."
Federal designation as a comprehensive cancer center indicates that Georgetown Lombardi excels in laboratory science, clinical research and population-based programs, along with robust translational research that bridges these areas. It also demonstrates expansive public education and outreach capabilities, focusing on the Washington, D.C., community the cancer center serves.
"Our designation as a comprehensive cancer center has a direct effect on our community," explains Louis M. Weiner, MD, director of Georgetown Lombardi. "Most top oncologists choose to practice at comprehensive cancer centers like ours because it allows them to pursue research that can directly benefit their patients through clinical trials or laboratory discoveries. When someone has cancer, they want the best doctors and cutting-edge treatments. That's what Georgetown Lombardi offers."
Georgetown Lombardi is one of only 41 NCI-designated comprehensive cancer centers throughout the country. Others include MD Anderson Cancer Center in Texas, Memorial Sloan Kettering Cancer Center in New York, Johns Hopkins' Kimmel Cancer Center in Maryland and the Dana-Farber/Harvard Cancer Center.
"Georgetown Lombardi is an incredible asset for patients in our region because of the top-tier cancer research and unparalleled care it provides," says Howard J. Federoff, MD, PhD, executive vice president for health sciences at Georgetown University Medical Center. "The NCI designation of 'comprehensive cancer center' reaffirms the high quality and impactful work conducted by a cadre of dedicated cancer researchers here at Georgetown. In addition, the successful collaboration with MedStar Health has yielded a clinical and research enterprise of great significance to both organizations."
With MedStar Health, Weiner has led an expansion of the cancer center in the region by creating the MedStar Georgetown Cancer Network. The network facilitates access to cutting-edge clinical trials for patients throughout MedStar Health's network of hospitals.
"The renewal of the National Cancer Institute designation recognizes the invaluable asset the Lombardi Comprehensive Cancer Center is to the community we serve both locally and nationally," says Joy Drass, MD, MedStar Health's executive vice president for operations for the Washington region. "As Lombardi's clinical partner in providing world-class cancer treatment and care to patients across the region, this re-designation further demonstrates the strength of our joint activities in research, community education and outreach. By linking scientific discovery and expert and compassionate patient care, MedStar and Lombardi will continue to prevent, treat and help cure cancers."
An area that received a particularly high rating from NCI reviewers is Georgetown Lombardi's cancer prevention and control program, which conducts population-based and translational research across the spectrum of cancer control, ranging from early detection to lifestyle intervention to survivorship issues.
Georgetown Lombardi operates two offsite facilities—the Capital Breast Care Center and the Office of Minority Health and Health Disparities Research, both in Southeast DC—that anchor its community-based screening and research efforts among underserved populations. This work is a supporting pillar of Georgetown's prestigious Center of Excellence for Health Disparities in the Nation's Capital grant awarded by the National Institutes of Health.
"The research contributions made by the scientists, clinicians and educators in our program to prevent and control cancer are significant to our mission of maintaining a local focus while having a global impact." Weiner says. "The work from these dedicated professionals will be important for years to come."
Lombardi conducts its research through four programs: cancer prevention and control, breast cancer, experimental therapeutics and molecular oncology, which are supported by nine research-enabling shared resources facilities.
About Georgetown Lombardi Comprehensive Cancer Center
Georgetown Lombardi Comprehensive Cancer Center, part of Georgetown University Medical Center and MedStar Georgetown University Hospital, seeks to improve the diagnosis, treatment, and prevention of cancer through innovative basic and clinical research, patient care, community education and outreach, and the training of cancer specialists of the future. Georgetown Lombardi is one of only 41 comprehensive cancer centers in the nation, as designated by the National Cancer Institute (grant #P30 CA051008), and the only one in the Washington, DC area. For more information, go to http://lombardi.georgetown.edu.
About Georgetown University Medical Center
Georgetown University Medical Center (GUMC) is an internationally recognized academic medical center with a three-part mission of research, teaching and patient care (through MedStar Health). GUMC's mission is carried out with a strong emphasis on public service and a dedication to the Catholic, Jesuit principle of cura personalis — or "care of the whole person." The Medical Center includes the School of Medicine and the School of Nursing & Health Studies, both nationally ranked; Georgetown Lombardi Comprehensive Cancer Center, designated as a comprehensive cancer center by the National Cancer Institute; and the Biomedical Graduate Research Organization, which accounts for the majority of externally funded research at GUMC including a Clinical and Translational Science Award from the National Institutes of Health.
###