Center for Child and Human Development Honors Renowned Pediatrician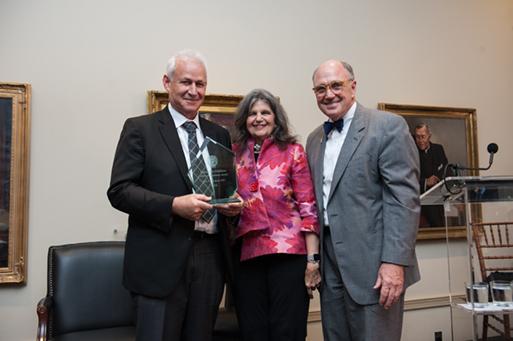 Posted in News Release | Tagged university awards
July 14, 2016 — Georgetown University Medical Center honored Jack Shonkoff, MD, with the "Caring for Children Lifetime Achievement Award" at a special ceremony here June 29. Shonkoff is the director of Harvard University's Center on the Developing Child.
The selection committee, led by Phyllis Magrab, PhD, director of the Center for Child and Human Development, highlighted Shonkoff's "success in bridging the research-to-practice gap and providing a new narrative for policy makers to understand the importance of early childhood brain development."
Shonkoff is a renowned pediatrician and author of "From Neurons to Neighborhoods: The Science of Early Childhood Development."
Stephen Ray Mitchell, dean for medical education, presented the award on behalf of GUMC. Shonkoff delivered a talk titled "United States Contribution to the Global Early Childhood Agenda. "
Past recipients of the award include Hillary Clinton and Rosalynn Carter.