Women and Men for Others: Healing A Voluntary Military
Posted in GUMC Stories
May 22, 2016 — Twelve men and women from Georgetown University School of Medicine's 2016 graduating class are clear about the mission that lies ahead: to heal volunteer military service members and their families.
On Saturday, Armed Forces Day, three Navy, four Army and five Air Force officers, who received their medical training at Georgetown through the Health Professions Scholarship Program (new window) (HPSP), were promoted. They took the military oath, just a day before taking the medical Hippocratic Oath.
Georgetown is second only to the Uniformed Services University at producing military physicians.
Changing Challenges
"There is no greater patient population than those who have served in the armed forces," says Navy Lt. Jeffery Gray, MD, (SOM'16). "The ability to take care of those individuals who have sacrificed so much is incredibly humbling."
Their needs depend on the battlefield on which they fought.
"Health challenges change depending on the types of conflict we're involved in," says Air Force Capt. Paul Elsbernd, MD, (SOM'16), pointing to the rise in traumatic brain injuries and amputations as a result of improvised explosive devices (IEDs) used in recent Middle East conflicts.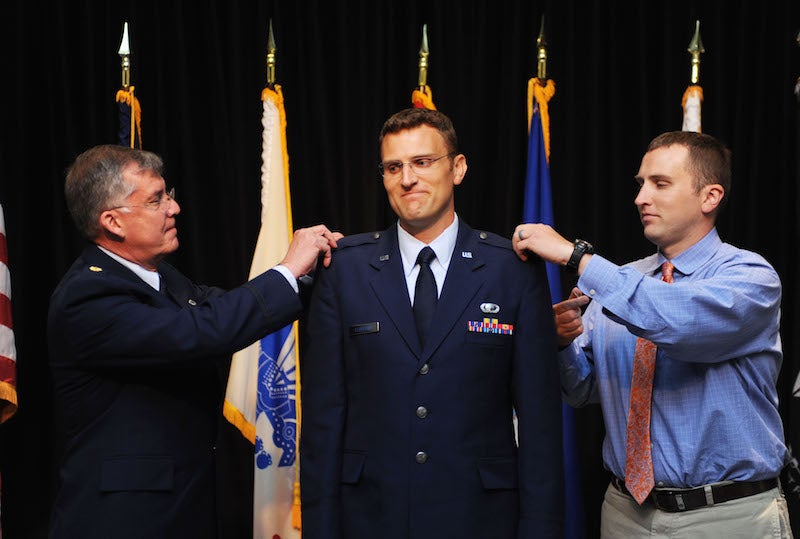 But other less obvious injuries concern the physician officers.
"The invisible wounds of depression, anxiety, addiction and grief related to the stresses of combat, training and other drastic life changes are becoming more and more apparent not only in those who serve our country, but also in their families," says Army Reserve Capt. Kimberly Fabyan, MD, (SOM'16).
Benefits of Military Service
Against the background of health challenges, these newest military doctors recognize an important ally in the delivery of military care.
"Military clinicians can make patient-centered, evidence-based health care decisions without the economic or bureaucratic barriers that clinicians in the civilian sector may face." Gray says.
"From ground-breaking research facilities around the world to a commitment to humanitarian support after natural disasters, military medicine provides an exciting and unique opportunity," he adds.
Oaths to Humanity
Retired Army Col. Christian Macedonia, MD, delivered the keynote address and told the officers that their oath was for life. He added that while both the military oath and Hippocratic Oath are to humanity, the military oath carries the force of the Constitution.
"May great honors be bestowed upon you for serving, and for offering your service to the greatest nation on the planet," Macedonia said.
For Elsbernd, serving in the military and practicing "is a rare honor and privilege."
Cura personalis
Fabyan says "staying true" to the Georgetown model of cura personalis is important to succeed in the challenges ahead.
"Who knows what adventures await for the twelve of us?" she says.
"Whether we are in the military for our long careers or pay back our time and become civilian physicians, there is no doubt that our military experience will help mold us into stronger and more diverse physicians."
By Karen Teber
GUMC Communications