'What Makes You More Than Medicine' Emphasizes Student Wellness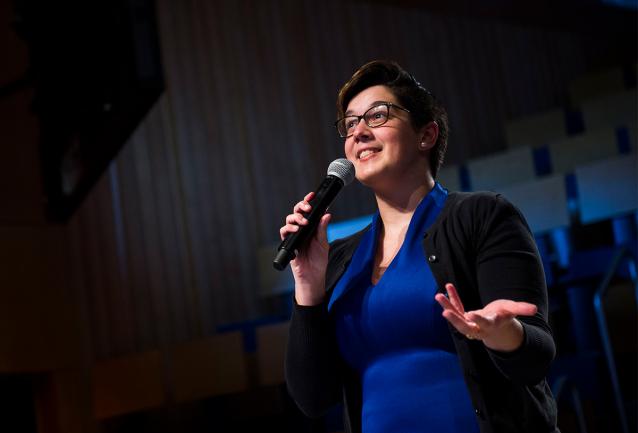 Posted in GUMC Stories | Tagged medical education, School of Medicine
(November 2, 2018) — Organized by Georgetown Arts & Medicine and the Office of Diversity and Inclusion, "What Makes You More Than Medicine?" brought together students, faculty and staff to express themselves through dance, song, poetry, spoken word, and even the culinary arts. The October 22 event transformed the W. Proctor Harvey Clinical Teaching Amphitheater into an artistic forum, celebrating the creative talents of the Georgetown University School of Medicine (GUSOM) community and serving as a safe space for artistic expression on serious topics such as student mental health and wellness.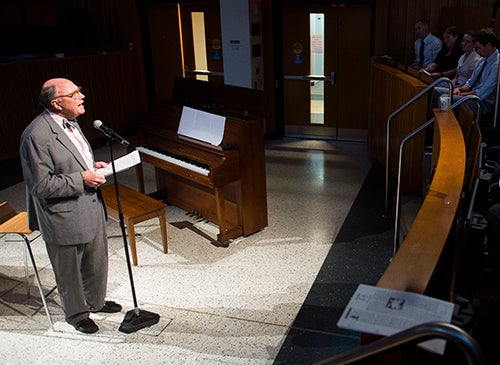 Stephen Ray Mitchell, MD, MBA, dean for medical education at GUSOM, opened the evening by sharing his submission to Cura Conversations, a published collection of personal essays on identity written by members of the GUSOM community. In "Namaste," Mitchell discussed his background as a clinician and educator, shared stories of some patients with whom he has worked, and offered advice to rising doctors on their journeys and interactions with patients.
"It is the bright light in each of us as it interacts with the light within the patient's soul that creates a unique power," Mitchell said, adding, "Move beyond empathy to compassion and you may find the joy and wellness every day of this wonderful profession ahead."
Nellie Darling (NHS'11, M'21) and Michael Paolini (M'21) co-hosted and organized the event with help from a planning committee that included Susan Cheng, EdLD, MPP, senior associate dean for diversity and inclusion at GUSOM, and a program manager who works with Cheng, Araba Dennis.
Darling felt proud that the event brought together people from across the Georgetown University Medical Center community, including medical students in all classes and students in the Special Master's Program in Physiology (SMP), as well as faculty and deans.
"Wellness isn't just making time for the occasional yoga class or buying an extra tub of ice cream for the week — although that doesn't hurt. It is finding outlets for the creative side of your brain and opportunities to connect with others about those things that make you more than a medical student," Darling said.
Self-Care is Not Selfish
Growing up in Albania, Griselda Potka (M'20) absorbed her parents' work ethic, watching her mother work from morning until night washing dishes, clothes, caring for farm animals and cooking all of the meals, and listening to her father repeatedly say, "Don't wait until tomorrow to finish what's on your plate today." After suffering a head injury, Potka was forced to slow down, she shared at the event.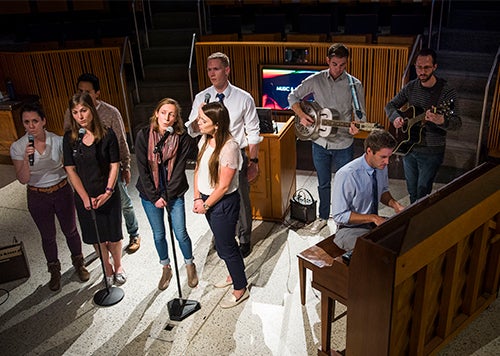 "I wasn't used to taking the day off or practicing what my friends called self-care," said Potka, a Georgetown Arts & Medicine board member. "I was raised in a household where your productivity was used as a strict measure of your worth."
In her first semester of medical school, Potka was on her way to meet a friend and prepare for a genetics exam when a large vehicle rear-ended her Uber. She was taken to a hospital where a doctor diagnosed her with a concussion and recommended that she rest for a full week before she return to her studies.
But after only two days of resting, she started to feel "lazy" and "inadequate," craving the feeling of productivity. She decided to take her genetics exam early even though she had been given an extension — ultimately failing the exam.
"I had been holding on to the thinking that I was only seen and valued for my achievements and successes," she said. "Self-care seemed selfish and antithetical to my personal worth."
Since then, Potka has learned to be more forgiving and compassionate toward herself, recognizing that she will need to remind herself that self-care is vital as she continues her medical education and pursues a career as a practicing physician.
Maintaining Your Flicker
Along with classmates Herminio "Jet" Navia (M'20) and Karin Collins (M'20), Marilyn McGowan (M'20), former president of Georgetown Arts & Medicine, performed two songs: "Yellow" by Coldplay and "I Can Change" by Lake Street Drive. She began her musical piece by explaining why she chose the songs.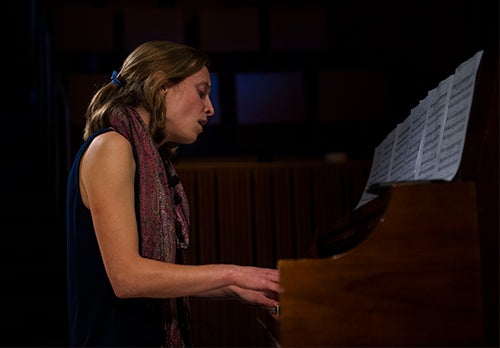 "Like most people here, I got to medical school by being hard on myself and by pushing myself to accomplish more and more," McGowan said. But when she started rotations, it was so challenging that for the first time she didn't really know how to succeed, until she remembered advice she received from a doctor she worked with previously. Analogizing the experience to a Bunsen burner, the doctor explained that sometimes you can be bright and shine at full power. "But other times, you have to pull back, leaving just a little flicker — and that's OK, but you have to both be forgiving to yourself and be able to maintain that flicker."
Performing "Yellow" by Coldplay was McGowan's way of forgiving herself, by way of the song's deeply personal and uplifting lyrics. Similarly, "I Can Change" by Lake Street Drive is a reminder to herself that she can indeed be adaptable, know her limits and still attain success. "I am scared that I won't get it right, but fear won't rule my heart tonight," she sang. "I can change, I can still change."
Seren Snow
GUMC Communications