Nobel Laureate Watson Reflects on Seminal Discovery
Posted in GUMC Stories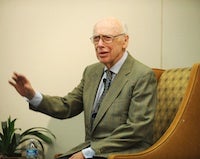 Renowned scientist James Watson, PhD (new window), who won the 1962 Nobel Prize for having co-discovered the structure of DNA along with Francis Crick, PhD, visited Georgetown this week to reflect on the revolutionary impact his discovery has had on science and human health.
Watson sat down with Robert Clarke, PhD, DSc (new window), dean for research at Georgetown University Medical Center, for a Nov. 6 discussion, which was held to commemorate the 60th anniversary of Watson's and Crick's discovery. Their finding is widely viewed as the catalyst for unlocking the many secrets of the human genome.
Focus on Big Objectives
The 85-year-old, who grew up in poverty in Chicago's South Side, dreamed of becoming a naturalist as a young boy. He encouraged today's students to focus on "having a few high objectives in life" and then pursuing those wholeheartedly.
"You need to be focused, and you need to know more [about your subject matter] than anyone else," Watson said. "You can't be satisfied with minor things … everyone should aim as big as they possibly can."
Watson said his own passion for science was ignited by his love for "big ideas."
"I just love ideas. You read a lot and suddenly you think you might understand why something is happening," said Watson, who added that he still spends about three hours a day reading to learn new facts.
'Save the Wildness for Science'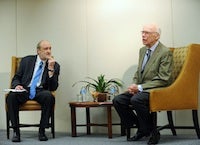 Watson grew up with not just a passion for knowledge and ideas, but also an intensive drive to succeed. Failure was not an option, he said.
"In my family we were too poor to make mistakes. Nonetheless I got the best education in the world, which was an enormous sacrifice for my parents," he said.
He advised students not to squander the opportunity they have been afforded at Georgetown.
"Save the wildness for science," he advised.
Watson received his undergraduate degree in zoology from the University of Chicago and went on to receive his doctorate in zoology from Indiana University.
At the end of the event, many students in attendance swarmed to the front of the room for the chance to take a photo with the legendary scientist. 
Translating Discoveries to the Clinic
Elliott Crooke, PhD (new window), who chairs the biochemistry and molecular and cellular biology department at Georgetown, joined Watson and Nobel Laureate Carol Greider, PhD (new window), on a Nov. 7 panel discussion hosted by the Library of Congress.
The trio discussed translational medicine and how the discovery of the structure of DNA has facilitated the translation of basic science into new treatments for patients.
"It is not only bench to bedside, but also bedside back to the bench. Part of it comes from a passion to understand the fundamental biological processes involved, but you also can see how a discovery can have real implications in medicine," Crooke said.
By Lauren Wolkoff, GUMC Communications 
(Published November 08, 2013)