Volunteer Physicians and Medical Students Train to Evaluate Asylum Seekers
Posted in GUMC Stories
May 8, 2017- In her work with asylum seekers, Ranit Mishori, MD, MHS, FAAFP, director of global health initiatives for family medicine, has heard reports and seen evidence of atrocities experienced by those seeking sanctuary in the US, including sexual assault, beatings and female genital mutilation.
Moved by her experiences, Mishori serves as the faculty advisor for Georgetown University School of Medicine's chapter of Physicians for Human Rights, which trains physicians, residents and medical students to work together to evaluate asylum seekers and submit affidavits supporting their request for asylum. On May 6, Mishori led a workshop that showed five medical students and 15 physicians how to use their medical training to help victims of torture and persecution attain legal asylum in the US.
Clients, Not Patients
Urging attendees to think of them as "clients" instead of patients, Mishori walked them through how to take a trauma history and to do a head to toe physical evaluation.
Physicians that do evaluations don't treat asylum seekers, though they can refer them for medical treatment, which is exactly why participant Kathleen Barnard, MD, wants to conduct asylum evaluations.
"In my work as a family doctor, I've spent a lot of time with patients who have had very difficult lives," said Barnard. "But in my role, I do a lot of usual health parameters like adjusting medications and it sometimes feels superficial given the bigger issues going on in their lives."
As for medical students, they play an important role in coordinating with the lawyers and doctors, taking detailed notes during the evaluations and writing the first draft of the affidavits.
"From a student's perspective, I think it's good to get these skills ingrained in us now," said Ryan Lion (M'19) asylum clinic coordinator. "We will be constantly attuned to this throughout our careers."
"… It's important to take care of everyone in the room"
Asylum seekers are referred to Georgetown's asylum clinic by their lawyers, who request a medical legal evaluation. The medical student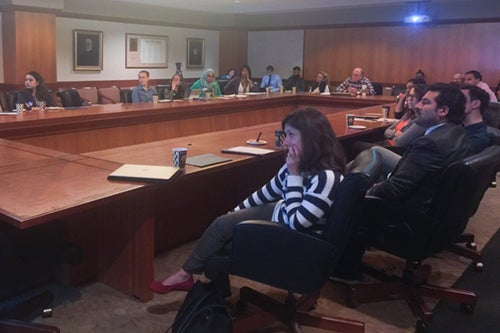 coordinators reach out to the volunteer physicians and schedule the evaluation.
Often the asylum seeker doesn't speak English, and an interpreter is needed. Because telling their story can be very difficult, clients might prefer a female or male interpreter, or someone who speaks a specific dialect. For that reason, the asylum seeker should be involved in choosing the interpreter, according to Nima Sheth, MD, MPH, medical director of the Georgetown psychiatric partial hospitalization program, who led the training on psychiatric evaluations.
The interpreter also needs to be prepared to hear about trauma.
"During the first evaluation I did, we had to take a break because the interpreter was crying," said Sheth. "She was from the same country as the client, and was upset about a trauma that her family member had experienced. When clients are telling these stories, it's important to take care of everyone in the room."
Documenting Trauma
Azadeh Erfani, Esq. attorney at the Capital Area Immigrants' Rights Coalition, led the session on the legal process that her clients have to go through to be granted asylum. Erfani went through examples of real affidavits, identifying effective and ineffective passages.
"The physician's role is to educate the judge, and many times the lawyer, about the medical and psychological evidence they uncover," said Erfani. "A trauma-informed evaluation can tip the scales tremendously."       
Leigh Ann Sham
GUMC Communications