Virginia Steen Receives ACR's Excellence in Investigative Mentoring Award
Posted in GUMC Stories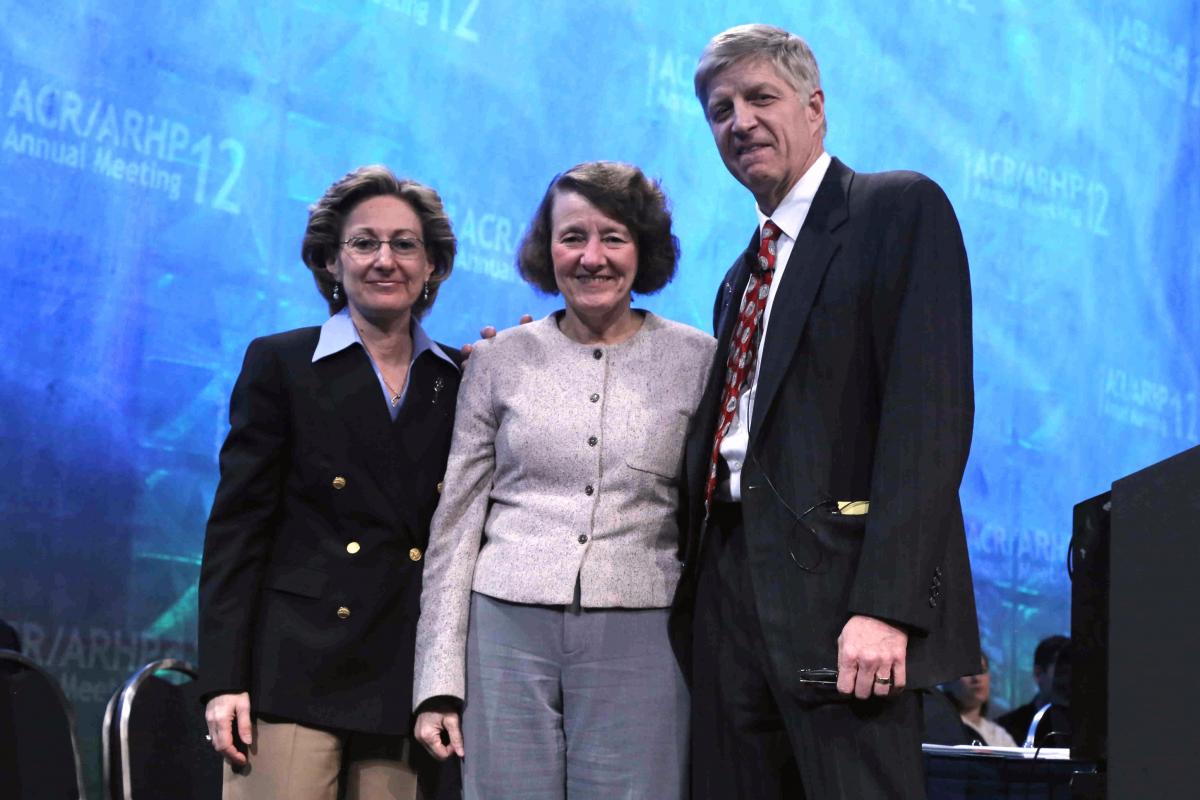 Virginia D. Steen, M.D., a professor of medicine at Georgetown University Medical Center, has received the Excellence in Investigative Mentoring Award from the American College of Rheumatology (ACR) and the Association of Rheumatology Health Professionals (ARHP). The award was presented at the ACR/ARHP's annual meeting in Washington, DC, November 10.
The Excellence in Investigative Mentoring Award recognizes the importance of the mentor/mentee relationship and honors recipients for their contributions to the rheumatology profession through outstanding and ongoing mentoring.
In recognizing Steen, the ACR wrote, "She has served as an outstanding role model for many clinical investigators and used her own recognition and leadership roles in professional societies to provide opportunities for young faculty to participate in committees and to be recognized."
"This award is very special since I was nominated by young investigators, but it is even more special to see these young investigators succeeding, presenting podium presentations at national meetings, receiving NIH RO1s, and getting promoted," Steen said the day before receiving the award. "I am confident that patients with scleroderma will have a whole new generation of committed physicians focusing on this difficult disease, and I am honored to have been able to play a role in helping them to get started."
The ACR also recognized Steen's commitment to developing the next generation of clinical investigators. "Dr. Steen's passion for clinical investigation and specifically in scleroderma research has led her to tirelessly work toward achieving success for young scleroderma investigators."
Steen has made significant contributions to the understanding of the epidemiology and natural history of systemic sclerosis or scleroderma, a rheumatic disease. Before joining Georgetown in 1995, Steen co-developed a scleroderma database at the University of Pittsburgh that has tracked more the 3,000 patients over 30 years. This ongoing database has contributed to more than 150 research publications — many of which are sentinel studies on risk factors and outcomes for kidney and lung involvement.
In 2008, she co-authored one of the first studies to document the existence of exercise-induced pulmonary hypertension in scleroderma. Pulmonary hypertension is a common cause of death in people with the scleroderma. To further understand this deadly complication, she became coordinating investigator of the Pulmonary Hypertension Assessment and Recognition of Outcomes in Scleroderma, an ongoing 8-year observational study. Her studies on auto-antibodies, pregnancy and survival are some of the most quoted references in the field.
Steen serves as a consultant in rheumatology in the arthritis division of the National Institutes of Health. She is a member of the medical advisory board of the National Scleroderma Foundation and has received eight Scleroderma Foundation Research Grants during her career. In 2010, Steen received the Scleroderma Foundation's 2010 Doctor of the Year award for her service to the scleroderma community and the Foundation, and in 1998, she received the American College of Rheumatology Clinical Science Award.
Steen completed her MD at University of Pittsburgh, her residency in internal medicine at the University of Pennsylvania, and was a fellow in rheumatology at the University of Pittsburgh.
By Karen Mallet, GUMC Communications
(Published November 18, 2012)