Values to Guide a Graduating Student's Career
Posted in GUMC Stories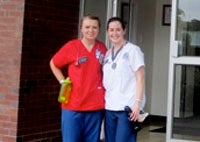 Georgetown graduate Megan Berard (NHS'12) said she could not imagine having gone somewhere else for her bachelor's degree.
"Looking back I couldn't imagine myself at a different school given the experience I gained here at Georgetown," she said. "The professors here are amazing. This whole sense of community – at NHS and on campus – is really wonderful."
After graduation, the nursing major from outside of Boston will begin her career as a professional nurse within the Cardiology and Thoracic Surgery Intermediate Care Unit at MedStar Georgetown University Hospital.
A Values-Based Model
Berard said one of the reasons she is happy with her college choice is the Jesuit value of cura personalis, or care for the whole person: mind, body, and spirit.
"I am so glad I chose Georgetown because everything is so values-based," she said. During their education as nurses, Berard and her classmates regularly reflected on their work with patients through the lens of these values.
"You have to look at the whole person," she said. "If your patient is homeless, what does it mean when they are discharged? The values helped me see the bigger picture. You definitely see patients as affected not only with a specific disease condition, but also by so many other social issues that will impact their health."
Committed to Serve
While at NHS, Berard extended her desire to serve through participation in Georgetown's chapter of Alpha Phi Omega, a national service fraternity.
In 2011, she served as president of the organization, which runs 12 different service projects around Washington.
During her time with the fraternity, she focused her efforts on service efforts – such as Food & Friends – that work with individuals who have HIV/AIDS. She has also worked to involve more people.
"A lot of people on campus didn't know what we did," she said. "So we did this service week where we invited different organizations on campus and alumni to come and do a service project with us."
During the first service week, more than 60 participants completed over 400 hours of service. At the end of the second week, about 70 participants completed close to 700 hours of service.
"This is something I hope continues in the future to get other people involved in what we do and who we are," she said.
Into the Future
Berard is excited to begin work at the hospital – an experience that will allow her to draw on her Georgetown education.
"Georgetown has taught me how to think in a different way," she said. "The way that Georgetown runs its classes makes you think critically about issues through the lens of its values. I am … to see my patients as more than just the disease process."
By Bill Cessato, NHS Communications
(Published June 04, 2012)