Undergrads Showcase Diverse Research at Georgetown Conference
Posted in GUMC Stories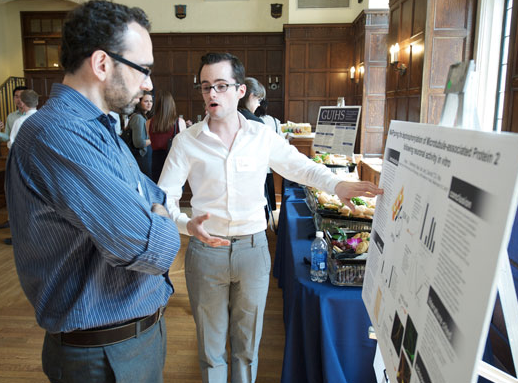 Anika Khan (C'13), who presented research on ways to prevent child marriage in Bangladesh, was one of several Georgetown students participating in the university's Undergraduate Research Conference.
The conference, organized by the Department of Human Science at the School of Nursing & Health Studies (NHS), also featured a keynote speech by Dr. Carolyn Clancy, director of the Agency for Healthcare Research and Quality at the U.S. Department of Health and Human Services.
Quality and affordable patient care has emerged as a top priority for health care systems around the country, she said.
"We've made progress, but we have to put our foot on the gas," Clancy said. "It's time to close the quality gap."
Student Scholars
Khan, a biology of global health major, presented at the conference along with Wardah Athar (C'13), a neurobiology major researching the role a gene in dendritic spine formation and Caitlin Koury (NHS'13), a health care management and policy major who talked about accountable care organizations and health care quality improvement.
This year's event included 82 student research posters from Georgetown, American, George Washington universities, as well as the Catholic University of America and the University of Maryland.
The three Georgetown students were selected from the poster presenters to deliver oral presentations.
"Our students are scholars," says conference staff advisor Nikki Elston, an assistant director of student academic affairs at NHS. "I think they really like presenting their work. Many students have been doing research on these particular topics for a few years."
Award Winners
Samuel Dowling (C'13), a biology of global health major, won the award for the best poster presentation, "The Role of Nitric Oxide Synthase (NOS) in Hormone-Independent Breast Cancer."
Anthar won the award for best oral presentation, "The Role of EphA7 in Dendritic Spine Extension."
"It's a huge honor, and it's great to have an audience so engaged and receptive," Athar says. "I've always been fascinated by the brain, and it was a privilege to share our research."
Scientific Conversation
Elston organized the conference with the student-led planning committee and Alex Theos and Jan LaRocque, both assistant professors of human science.  Human science majors Faith Svigos (NHS'14) and Alexandra Pietraszkiewicz (NHS'14) co-chaired the committee.
The undergraduates displayed posters on everything from the impact of shellfish aquaculture to adolescent smoking prevention.
"To produce the work they put into these posters and oral presentations is a significant amount of time," Theos says. "The most important thing is to give the undergraduate students a forum in which to engage in a conversation with a wider group of scientists and to realize they're a part of that conversation."
Theos added that the conference drew strong participation from women scientists, ranging from the student presenters to the keynote speaker. About 70 percent of poster presenters were female, he says.
An award – named for longtime NHS professor Allan Angerio – was also given for faculty mentorship to Heidi Elmendorf, associate professor of biology.
Celebrating a Decade
The conference celebrated its 10th anniversary this year.  The first took place in 2003 with only 10 student poster presentations.
Dr. Sheila Sahni (NHS'06, M'10) served on the inaugural planning committee along with eight other undergraduates and conference founder Dr. Charles Evans Jr., who retired as chair of the Department of Human Science in 2009 and for whom the presentation awards are named.
"My work with NHS and the conference laid a vision in my mind and made my research endeavors all the more inviting," says Sahni, who is completing her internal medicine residency at Mount Sinai Hospital in New York City.
Dr. Erin Conroy (NHS'05, M'10), an ob-gyn resident at Albert Einstein College of Medicine also served on the inaugural committee.
"I learned a lot from working on the conference," she says. "That's really what got me interested in research. I hadn't realized before how important and relevant research, both clinical and bench work, was to medicine."
By Tiffani Haynes, NHS Communications
(Published April 17, 2013)