Two New "Tracks" Highlight Discrete Interests of Medical Students
Posted in GUMC Stories
March 25, 2015 – Individualized medicine requires individualized doctors, some might say. No patient is alike, nor are physicians. One might want to specialize in understanding and overcoming infectious disease in the developing world, while another might devote a career to bettering health outcomes in diabetic patients. When melded together, these interests produce a vibrant medical community.
That's why medical schools around the country are developing specialized "tracks" that students can choose during their four years. These tracks focus on a particular field that leads to a certificate, certifying their interest, as well as a medical degree in their final year.
Last year, Georgetown's School of Medicine (new window) offered two tracks — the Medical Education Research Scholar Track (new window) and the Health Justice Scholar Track (new window). This coming academic year, two more have been added — the Population Health Scholar Track (new window) and the Literature and Medicine Track (new window).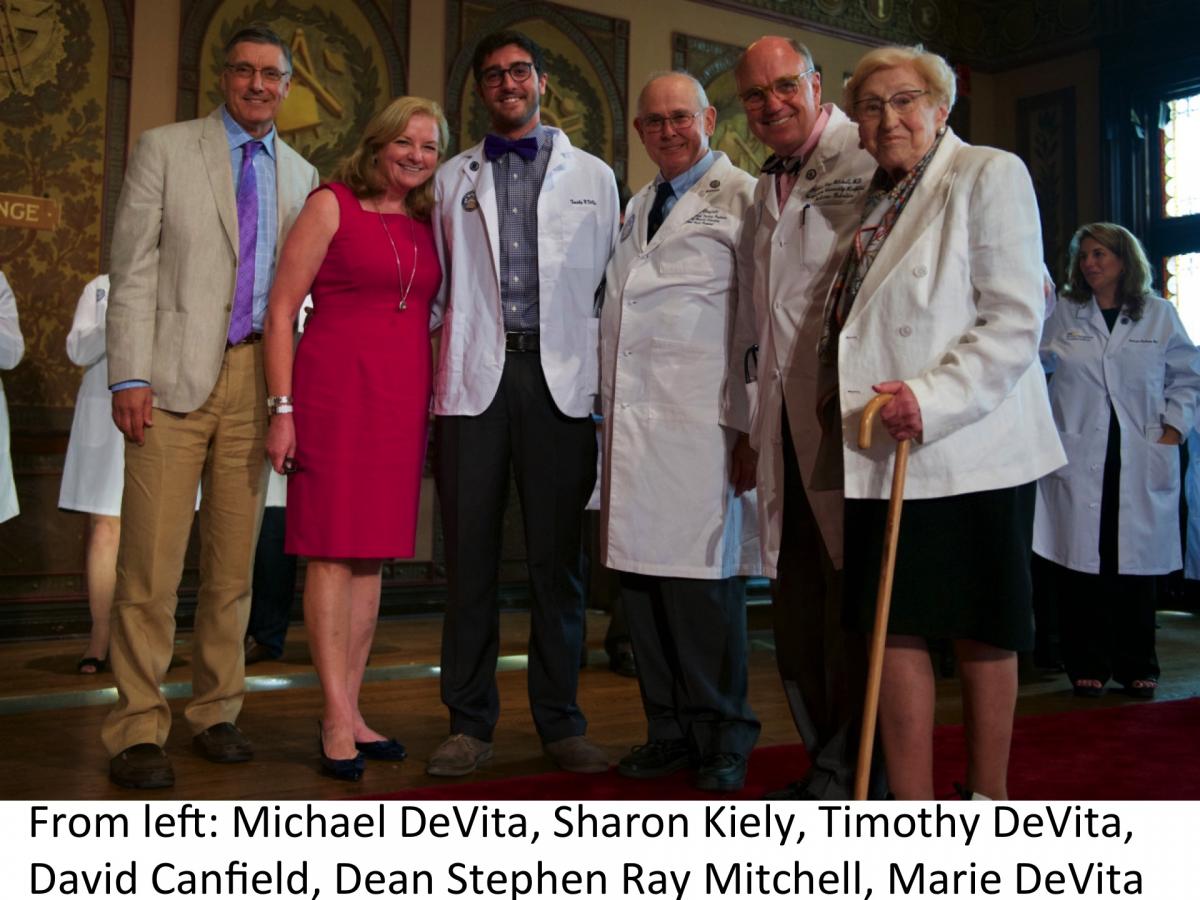 Together, all four will likely enroll less than one-fourth of medical students, but this is only the beginning, says Yumi Shitama Jarris, MD (new window), who heads the new Population Health Scholar Track.
"Not all medical students need to be trained in the same way. Georgetown is creating learning opportunities that align with the topics medical students are interested in," Jarris says. "We are recognizing the future — and more tracks will come."
Addressing challenges in medicine
Jarris has directed the course, Patients, Populations and Policy since 2009 — an experience that led her to develop the new track. She is a family medicine physician with 25 years of practice. While working at a high school-based clinic in the disadvantaged southeast corner of the District, Jarris saw how important "social determinants" are in health.
"A high school education is one of the major determinants of health — those who didn't achieve it are in much poorer health," she says.
The track will enroll six to eight rising second year students in its first year, which begins June 1. They will start the track with an eight-week summer practicum and seminars that will provide skills on research and use of population health data.
Each student will have a research mentor as well as an adviser, and is expected to have a field experience in which they can apply the population health principles to clinical practice.
The projects will be varied, but relevant to population health. One project could query a practice's electronic medical records to identify asthmatic patients. The student can look at those patients who have multiple visits and refills on their medications and use population health data to determine if the patients live in substandard housing and are exposed to environmental triggers, like mold and cockroaches, Jarris says. They could then work with the local health department to address the issue.
"Students who complete this track will have a greater understanding of the context in which a patient lives and the impact of social and environmental factors on health," Jarris says.
Literature with or without medicine
For the past three years, Georgetown urologist Daniel Marchalik, MD (new window), has been teaching a literature in medicine elective course to first through fourth year students. His class had one simple rule, he says — no medical literature.
Dennis Murphy, MD (new window), assistant professor of medicine at the School of Medicine, who shares in teaching the new track, delves directly into what the course title connotes — narrative writing by doctors. His side of the track deals with experience, while Marchalik's handles the abstract.
The two different approaches, and the synergy between them, has been so well received by students that Marchalik and Murphy decided to develop the Literature and Medicine Track to offer even more to students. 
"From everything I heard from the students, the elective is a transformative experience, both in having an opportunity to discuss these texts and in the relationships the students form with each other in the process," Marchalik says.
The first group joining the track will be starting next year, although rising third year students who had completed two years of the Literature and Medicine elective course can join as well. The track consists of four years of the Literature and Medicine course (half time in the third and fourth years), narrative medicine seminars with Murphy in the clinical years and a capstone. 
Stories about the lives of people — and patients
Marchalik, who directs the new track, says that medicine and fiction fit well together. "The medical profession, in a large part, draws those who are interested in people's lives and their stories.
"And on a deeper level, I think that fiction teaches students to identify moments of tension — to become more comfortable with the nuances of narrative structure. Understanding what someone else — in this case, a patient — is saying is necessarily contingent upon a certain narrative competency, a comfort with the movements and particularities of stories," says Marchalik. "Reading, especially in the way it's done in our class, cultivates this competency. We take a story, we approach it from multiple points of view, we see how changing a detail can change the bigger picture. That, I think, is what crystallizing and utilizing moments of tensions is all about."
Faculty often attend Murphy's lunchtime elective sessions, which had been separate from Machalik's elective course.  For example, a recent well-attended discussion was on a New York Times op-ed (new window) penned by British neurologist Oliver Sacks, MD, in which he discusses his terminal cancer.
"These discussions tackle the narratives created by doctors — an altogether different medium," says Marchalik. "This is vitally important for students to become more in touch with their own experiences. By taking place in the students' clinical years, these discussions are rooted in hospital experiences and deal much more with the concrete."
What ties the reading of fiction and the reading of medical narratives together? "You cannot help but empathize with a world that you've been granted access to," Marchalik says.
By Renee Twombly
GUMC Communications