Transforming Physicians of the Future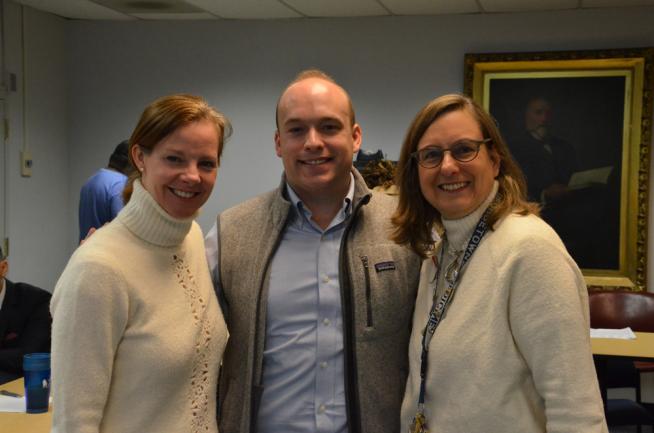 Posted in GUMC Stories | Tagged medical education
(March 1, 2018) — According to the New England Journal of Medicine (NEJM), "burnout rates are now twice as high in medicine as in other fields" and, in a national survey, 54 percent of U.S. physicians reported having exhibited at least one symptom of burnout.
Physician burnout is a serious issue. A 2017 study in JAMA Internal Medicine showed that not only does burnout undermine a physician's sense of purpose and altruism, but it can also lead to higher rates of substance use, depression and suicidality. According to the study, "physicians with symptoms of burnout are more likely to report having made a major medical error in the past three months and to receive lower patient-satisfaction scores."
These findings illustrate the importance of programs like the Cura Personalis Fellowship, an innovative formal mentorship program at Georgetown University School of Medicine that pairs clinicians with medical students from the very start of medical school in order to support student formation and well-being throughout their four years of medical school.
"Part of our goal, as a Jesuit institution, is to put our attention on wellness," said Stephen Ray Mitchell, MD, MBA, dean for medical education at the School of Medicine. " 'How can we be more intentional about professional identity formation … to make more thoughtful, caring doctors?' "
Dustyn Wright, co-director and member of the fellowship leadership team, along with director Maria Marquez, MD, associate dean for reflection and professional development, and co-director Kristi Graves, Ph.D., associate professor of oncology, responded by developing a program designed to fit within the curriculum.
"Reflection is the core competency throughout this work. It's really about giving students intentional time to reflect on their journey throughout medicine, and connecting them with mentorship to guide them through that process," said Wright.
Through the use of an e-Portfolio, in-person group sessions and individual check-ins, student mentees regularly interact with their clinician-mentors, who serve as personal identity formation coaches. Students also respond to prompts, articles and videos (all housed within the e-Portfolio) based on three core learning domains: leadership, mindfulness and well-being, and lifelong learning.
For example, in a unit on mindfulness and well-being, students may engage a cognitive behavioral therapy (CBT) based worksheet in small groups on setting reasonable expectations and standards for one's self, develop an action plan and reflect within the e-Portfolio (which is only accessible to the student's personal identity coach), and later check in with their coach on progress.
"Despite his busy schedule, [my professional identity formation coach] makes himself available whenever I reach out with a question or issue, and he always has a word of advice/guidance to offer," said Hailey Roumimper (M'21).
An Opportunity to Grow Professionally and Give Back
In addition to providing mentoring for students, the Cura Personalis Fellowship also gives fellows the opportunity for professional development through monthly development meetings, professional enrichment seminars, and the opportunity to mentor the medical students.
"For me, [the fellowship] is an additional opportunity to interact with the medical students, which is something I really enjoy. But it is also learning things about myself and for myself in order to develop strategies in my own life," said Catherine Broome, MD, professor of hematology and oncology. "They're teaching us as we're helping the students, so it's a really inclusive program that benefits so many levels beside the student level."
The interactions and rich discussion among the fellows have also provided valuable insight for the program participants.
"It's a diverse group in terms of experience. What makes us all the same is the desire to help the students, the desire for mentorship. While a number of people in the group may not have 20 or 30 years of experience in medicine, they are closer to the student experience and add a lot to our perspective. You need that mix," said Michael Moxley, MD, professor of clinical obstetrics and gynecology and director of medical education at Virginia Hospital Center.
Focusing on Physician Well-Being
Building connections is one of the goals of the program, according to Mitchell. "Our goal is to find a system that keeps everyone connected," he said. "We don't want anyone to slip through the cracks. … You want students to feel that they have someone there because you really can't predict who'll get burned out."
Broome echoed those sentiments. "The leaders of the program are hoping that by introducing students to this early in their journey of being a physician that perhaps they will develop healthier habits and more mindfulness strategies than my generation of physicians," she said.
The program starkly contrasts with Broome's experience as a medical student. "I can honestly tell you that, when I went to medical school, not a single person asked me if I was OK," she said. "It was basically, 'You're here and you need to do this.' There wasn't this attention and focus on the health and well-being of the physicians themselves and it's a really important part of it. We can only provide the best care to our patients if we're at our best."
The ultimate goal for the program, Mitchell said, is for "medical students to learn to become more mindful and reflective, for their own fulfillment, but also better care of their patients."
Several fellows expressed that, for the students, simply knowing someone is there makes a world of difference. "When you're stressed out like these kids are, you need a hand to lift you up and say, 'Hey, you know, I'm here for you.' You bring their spirits up," said Morarji Peesay, MD, associate professor of clinical pediatrics.
Learn more about the Cura Personalis Fellowship here.
Giuliana Cortese
GUMC Communications