Training the Next Generation of Researchers in Movement Disorders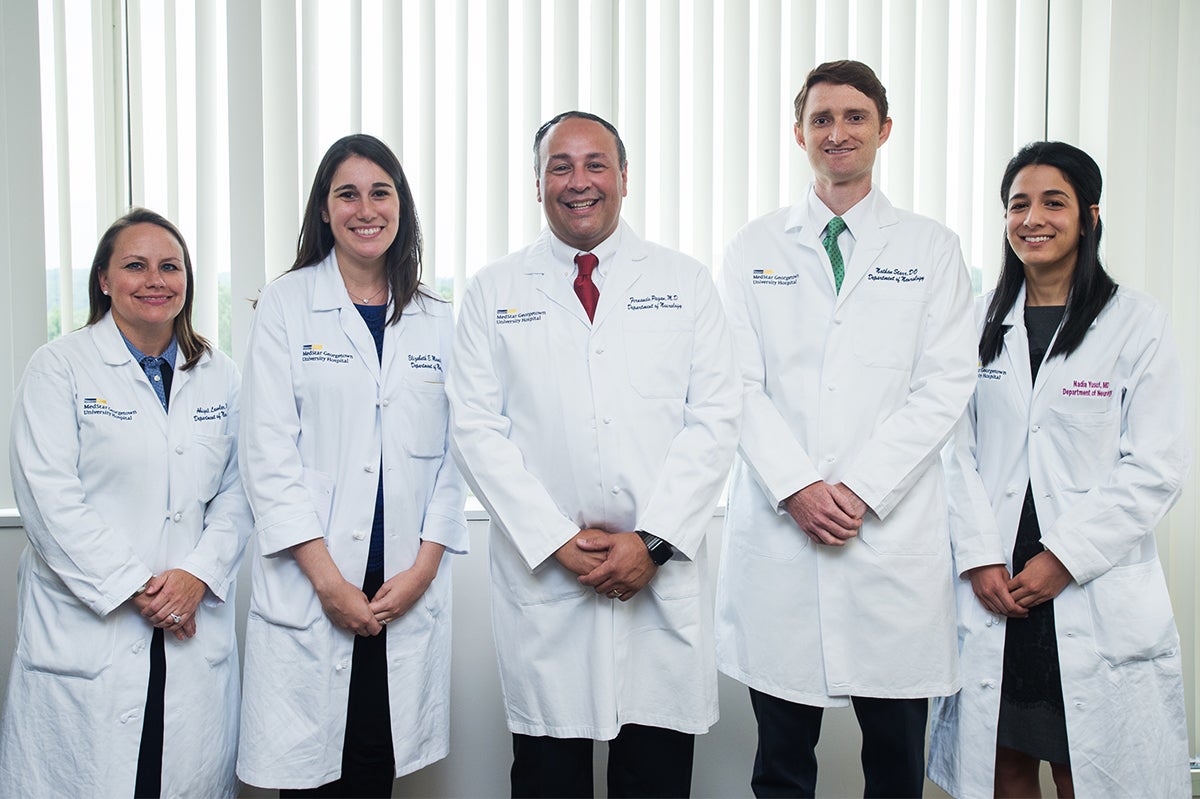 Posted in GUMC Stories | Tagged brain, mind, neurology, Parkinson's disease, School of Medicine
(February 8, 2019) — After she first developed a tremor in her right hand, years went by before Pam Cota was diagnosed with Parkinson's disease by Fernando Pagan, MD (M'96, R'00), director of the MedStar Georgetown University Hospital Movement Disorders Clinic. The number of Parkinson's disease patients expected to grow to 1.2 million by 2030, according to the Parkinson's Foundation, and as that number increases, so too does the need for movement disorders specialists like Pagan.
"As people are living longer, more and more people are developing age-related illnesses like Parkinson's disease," says Pagan, a professor of neurology at Georgetown University School of Medicine and medical director of Georgetown's Translational Neurotherapeutics Program. "Parkinson's is widely misdiagnosed and most patients do not have access to a movement disorders specialist who has the best training to treat them."
To address the growing dearth of movement disorder specialists, a two-year fellowship program at MedStar Georgetown trains new doctors in diagnosing and treating movement disorders, as well as participating in research to help find new cures. The program is a win-win for the MedStar-Georgetown collaboration, enabling physicians to treat more patients while conducting clinical research that will lead to advances in the field.
Addressing a Growing Need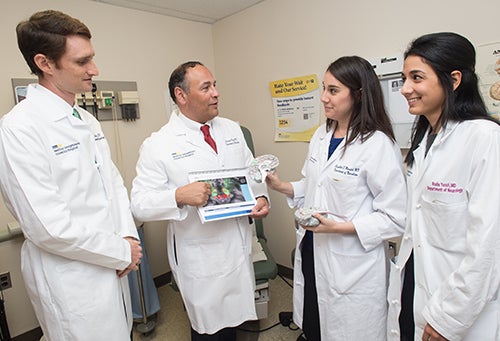 An otherwise fit and healthy retired singer and actress, Cota simply resigned herself to writing less when she developed a tremor and "let it go for a couple of years." But one night, she fell and couldn't move her legs or feet. After a trip to the emergency room, she spent three months in a rehabilitation facility relearning to walk and seeing several doctors without getting a diagnosis. "It took me two months just to go 200 feet with a walker," Cota says. "I was so determined to get out of the facility that I did as much exercise as I could."
Her doctor finally referred her to the movement disorders clinic where she met Pagan. "Nobody knew what I had," Cota said. "Dr. Pagan managed to nail it." After diagnosing her with Parkinson's disease, he immediately gave her some treatment options that have made her symptoms manageable and have now kept her active for more than four years.
Like Cota, most patients visiting the movement disorders clinic have already seen several doctors about neurological symptoms that have been going on for months. Or if they already have been diagnosed, they are not offered the newest and best medications for controlling their symptoms. That's partly because most doctors do not have specialized training in treating Parkinson's disease and other related neurodegenerative disorders, Pagan says.
In 2005, Pagan started the fellowship, funding two fellows per year. When some of his patients and their spouses decided they wanted to contribute to the program in appreciation for the movement disorders clinic, Pagan suggested they raise money to fund additional fellowships.
'Fund a Fellow Doubles the Number of Fellowships
Since the "Fund a Fellow" program was created in 2013, it has raised more than $1.3 million and has funded an additional 13 fellows. The program has now graduated a total of 27 movement disorders specialists who are helping patients around the country.
Abigail Lawler, MD, graduated from the movement disorders fellowship in 2017, and is now part of a large practice in San Diego. Out of 40 neurologists, there is only one other with specialized training in movement disorders and treating Parkinson's disease, Lawler said.
The difference in the way a general neurologist treats Parkinson's disease versus the way a movement disorder specialist does is "night and day," Lawler says. A specialist is more likely to understand how the disease impacts various organs and systems, such as knowing that a patient with high blood pressure may be under-medicated for low dopamine levels.
"There's a lot of stuff that can get overlooked.," she said. "Some people have been written off and recommended for hospice, and I have completely turned them around just by using different medicines."
Fellows' Training in Research Helps Search for New Treatments and Cures
In addition to seeing patients, fellows also participate in research. As a fellow, Yasar Torres-Yaghi, MD, worked with mentors Pagan and Charbel Moussa, MBBS, PhD, director of the GUMC Laboratory for Dementia and Parkinsonism, on the design and implementation of phase I and phase II clinical trials to test drugs originally used to treat cancer, including nilotinib.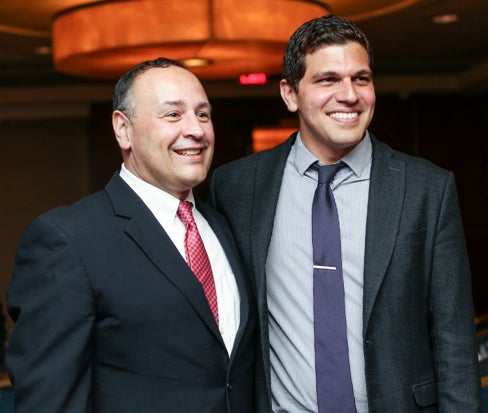 Now an assistant professor of medicine at Georgetown's School of Medicine and director of the Parkinsonism and Dementia Clinic at MedStar Georgetown University Hospital, Torres-Yaghi is a primary investigator for several clinical trials. "The stereotype is that neurology is high in diagnostics and low in therapeutics," Torres-Yaghi says. "But it has come a long way in the last 10 years."
Elizabeth Mundel, MD, a current movement disorders fellow, has helped recruit patients for clinical trials and will soon contribute to analyzing the data of the latest trial, a double-blind study of nilotinib's effectiveness in patients with Parkinson's disease.
"Even in the past year, the number of new treatments and clinical trials that have become available has been remarkable," Mundel says. "I think it's an exciting time — in my lifetime, the treatment for Parkinson's disease will become so different."
Training Tomorrow's Specialists Today
After completing the fellowship, Drew Falconer, MD, and Sean Rogers, MD, PhD, helped launch the Inova Movement Disorders Program in northern Virginia in 2015. The program now sees more than 3,000 patients a year, about a third of whom have Parkinson's disease.
Before the program started, many of those patients didn't have access to specialists, so they were seen by general neurologists "who treated them in the way we used to treat Parkinson's, and not the way we should," Falconer says. Some of his patients drive more than five hours from West Virginia to his clinic in northern Virginia so they can see a specialist.
"Our patients are incredibly educated and invested in learning about their disease," Falconer says. "They know they want the best care, and are frustrated when they can't get it."
Kathleen O'Neil
GUMC Communications
Note: Pam Cota would like to express her appreciation to Dr. Allan Azarion of Kaiser Permanente of Gaithersburg for encouraging her to see a movement disorders specialist and referring her to Dr. Pagan.