Toretsky Looks to 'Outsmart Cancer Cells' with Help From Hyundai Hope on Wheels Award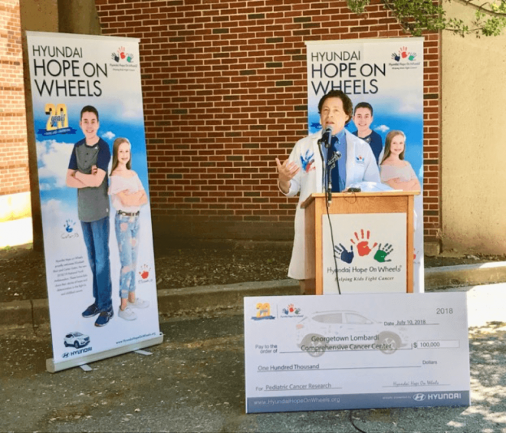 Posted in GUMC Stories | Tagged cancer, cancer research, Ewing sarcoma, Georgetown Lombardi
(July 12, 2018) — Several children, some survivors of cancer and others still battling it, each dipped their hands in multicolored paint and placed their handprint on a white Hyundai parked outside the Medical-Dental Building during a ceremony hosted by Hyundai Hope On Wheels.
Hyundai Hope On Wheels is a nonprofit organization funded by Hyundai Motor America committed to finding a cure for childhood cancer. This year, Jeffrey Toretsky, MD, a pediatric oncologist and researcher at Georgetown Lombardi Comprehensive Cancer Center, is a recipient of its $100,000 Hyundai Impact Award.
As part of its tradition, Hyundai brought a car to the event for pediatric patients from Georgetown Lombardi to decorate with handprints.
"Each child's handprint is unique and represents their journey, hopes, and dreams," said Mike Donahoo, senior manager of regional merchandising for Hyundai Motor America at the event.
Toretsky is among 21 other recipients of the Hyundai Impact Award this year, which is awarded to pediatric oncology departments at medical centers throughout the United States. Hyundai Hope On Wheels has awarded over $1.4 million to Georgetown Lombardi alone over the years, which includes the last two recipients, Todd Waldman, MD, PhD and Aykut Üren, MD.
"Our goal at Hope On Wheels is to provide these doctors with the grant funds they need to perform their lifesaving work," said Scott Fink, chairman of the board of directors for Hyundai Hope On Wheels.
Louis M. Weiner, MD, director of Georgetown Lombardi, extended his gratitude to Hyundai for their ongoing involvement with the cancer center.
"We are so grateful for Hyundai's support," Weiner said. "These are diseases that we need to eradicate from the face of the earth, and the progress that has been made in the field of pediatric oncology is just breathtaking—but the job is not done yet and that's why we are here."
Toretsky Plans For Something New
Toretsky is responsible for some powerful breakthroughs in Ewing sarcoma, a rare cancer of the bone and soft tissues that mostly affects adolescents and young adults. He discovered the molecule known as TK216, which is currently in the mid-to-late stage of Phase I in clinical trials.
With Hyundai's support, Toretsky said he plans to continue to deliver on drugs that can "outsmart cancer cells" using innovative targeting mechanisms, this time with an interdisciplinary approach.
He believes the incorporation of biophysics into the understanding of the molecular and genetic basis of cancer will illuminate new paths toward treatments.
"If we don't aggressively go after novel approaches to creating drugs that are most important for targeting childhood cancer, nobody will. I think that is a major responsibility of physician-scientists in pediatric oncology," Toretsky said.
Toretsky was awarded funding from Hyundai for the first time in 2015. He used that funding to learn more about how Ewing sarcoma metastasizes, which led to his search for an agent that could slow the disease's progression.
In speaking about this second Hyundai award, Toretsky emphasized that unlike the major funding bodies, the Hyundai Impact Award allows him and his lab to be more imaginative, even if the approaches fail.
Hyundai awards have been the driving force behind other projects at Georgetown Lombardi, such as the 2011 launch of a nutrition program for pediatric patients which continues today.
Similarly, Toresky wants this award to have a lasting effect through the discovery of a drug that targets cancer with more precision— both to increase overall survival rates and decrease toxic effects of therapy.
Toretsky is co-founder of Oncternal Therapeutics, Inc., which is currently conducting a clinical trial with TK216. Toretsky's early laboratory research led to the development of TK216. Georgetown has licensed the underlying technology for TK216 to Oncternal and Toretsky is now a paid scientific advisor to the company.
Seren Snow
GUMC Communications