This Is Your Brain Having Fun
Posted in GUMC Stories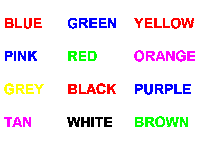 Karen Gale, Ph.D., professor in the Department of Pharmacology at Georgetown University Medical Center (GUMC), asked the visiting group of 7th graders from nearby Hardy Middle School, "How many of you have fun at school?" About half raised their hands. "How many of you think science is fun?" Almost all of them raised their hands. "Wow," she said, "more of you like science than school."
"Well," Gale continued, "science is fun. You get to have fun being wrong all the time, and then doing experiments and discovering what you didn't expect." And so began a day of "brain fun" at Georgetown—part of Brain Awareness Week, a global campaign to increase public awareness of the progress and benefits of brain research for people of all ages.
Graduate student members of GUMC's Interdisciplinary Program in Neuroscience manned a series of "learning stations" throughout the medical center, each offering a different insight into neuroscience research. Visiting students rotated through the stations in small groups learning about such things as how to keep your brain healthy, visual adaptation and plasticity, molecular neuroscience, and—in the neuroanatomy lab—an up-close look at real human brain specimens.
In one exercise illustrating how the brain attempts to manage conflicting information, the 7th graders took the Stroop test. They were asked to identify color names printed in another color, such as the word "orange" printed in green ink. Typically, the brain slows down when trying to handle this task, a phenomenon called the Stroop effect, which demonstrates that the brain reads words faster than it identifies colors—thus the lag.
Gale considers Brain Awareness Week the science equivalent of a "visit to the firehouse" for the kids. "Kids who decide they want to be a fireman do so because the firehouse seems like a fun place with cool tools and equipment," she says. "By visiting our labs, the kids see how much cool stuff we have to "play" with, and by meeting our graduate students, they see scientists who are approachable, friendly, energetic, and fun — no creepy "mad" scientists here!"
When asked by Gale, who studies glutamate and GABA-mediated influences on epileptic seizures and memory, to name brain disorders they may have heard about, the young visitors quickly came up with the following list:
Attention Deficit Hyperactivity Disorder, Cerebral palsy, Parkinson's disease, Alzheimer's disease, Huntington's disease, Multiple Sclerosis, Asperger's Syndrome, Dyslexia, Down's Syndrome …
"Wow," said Dr. Gale. "Maybe some of you would like to consider a career in neuroscience."
Says Gale, "This experience is a terrific way to shape positive attitudes about science in general, and neuroscience in particular. I am always thrilled to see how excited the kids get when they participate in the activities — how they ask great questions nonstop, and how their attention stays riveted during their several hour visit! This definitely goes a long way to boosting a positive attitude about science."
By Frank Reider, GUMC Communications
(Published March 26, 2012)