Teaching Health Informatics and Its Ethical Implications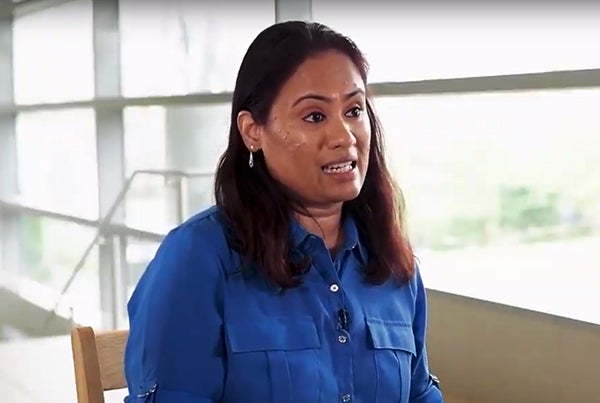 Posted in GUMC Stories | Tagged biomedical informatics, data science, health information technology, ICBI
(March 1, 2019) — In 2025 — just six years from now — the amount of information generated in the field of genomics alone will equal a zettabyte. Known as a ZB, a zettabyte is 10 to the 21st power, or 1,000,000,000,000,000,000,000 bytes of data. Put another way, it has been estimated that 1 ZB will just fit on 250 billion DVDs.
That prediction is often mentioned in the classroom by Yuriy Gusev, PhD, faculty member at Georgetown's Innovation Center for Biomedical Informatics (ICBI), which is nationally known for its expertise in data science, clinical informatics and health information technology.
Making sense of that data is part of the mission at the ICBI, where Gusev directs a team developing pipelines to handle and analyze all that big biomedical data. He is also part of a new effort at Georgetown that will train researchers to use big data to unlock new insights and answer challenging questions in health and medicine.
Gusev is the curriculum director for the new master's degree in health informatics and data science (HIDS), a program approved by the Georgetown University Board of Directors earlier this year.
The program will debut in fall 2019.
Responsible Use of Big Data
While there are dozens of health informatics programs with various strengths around the country, one unique aspect of the Georgetown program is that students will be taught to view the data they analyze from an ethical perspective.
"Our ultimate goal is to teach how to use data science to improve health, health care outcomes and reduce costs, all with broader purposes in mind, such as global health, public policy and social justice," says Subha Madhavan, PhD, ICBI director and GUMC's chief data scientist.
"We aim to develop responsible users of health informatics," says Madhavan, who also helped conceptualize and create the HIDS master's degree and serves as its director. "We want to train our students to be good citizens of the world — individuals who ethically handle the digital data in day-to-day clinical practice, research and health tech innovation."
Apart from core courses in health analytics, artificial intelligence applications and population health data, students in the new master's degree program will consider the ethical implications of direct-to-consumer genetic testing, health disparities and the affordability of digital technologies, and the use of data to predict future health for cost reduction.
Real-World Applications
The new master's degree will be a "very personalized program. Like many other master's degrees offered at Georgetown, it will be face-to-face, very hands-on," says Adil Alaoui, MS, MBA, co-director of the program. It will also be industry-driven, says Alaoui, who directs the program's industry capstone.
"Leaders in the field are helping us with guidance on employment needs and core skills and competencies required to be successful in the health informatics and data science domain," he says. "Students will master new and emerging technologies and concepts that can inform the health care industry, supporting the advancement of precision health, cancer moonshot, value-based payment and more. They will also learn to comply with new health care policies and legislation, and gain hands-on experience using cloud computing, data analytics, machine learning and artificial intelligence."
"Faculty will use case studies, real-world datasets and hands-on experience to ensure skills are translated to real-world applications," says Kristen Miller, PhD, associate professor of emergency medicine at Georgetown University School of Medicine and scientific director of the National Center for Human Factors in Healthcare at MedStar Health. Miller will lead a course in human factors and patient safety for the program.
The master's is a 12-month accelerated program that includes 32 credits aligned with the core competencies for training in the field of medical informatics by the American Medical Informatics Association (AMIA). Students will complete the program with a capstone project that involves working with industry or government agencies.
"There are a host of federal agencies and private organizations in the D.C. area that offer students a wonderful opportunity to work on a capstone project," says Madhavan. "Students will be mentored by both a Georgetown faculty member and a specialist from agencies or industry. They will critically analyze a real-world problem, and will design, conceptualize and implement a solution that applies the knowledge and skills acquired during the master's program.
"We expect our students will look across big data to analyze information for actionability and to create impact for their organizations and society as a whole," she says.
The program is now accepting applications for fall 2019.

Renee Twombly
GUMC Communications