Supporting St. Baldrick's with Superheroes, Sumo Wrestling and More
Posted in GUMC Stories | Tagged cancer, cancer research, community outreach, day of service, School of Medicine, service to others
(April 15, 2018) — With live music, a silent auction, pie- and donut-eating contests, sumo wrestling, superheroes, speeches, head shaving and more, the 2018 St. Baldrick's fundraiser, organized by the School of Medicine, was more festive than ever. Yet at the end of the day, the event is just another example of the students doing what they always do, said Susan Mulroney, PhD, professor of pharmacology and physiology and director of the Special Master's Program (SMP).
"It's just a completely natural extension of what the medical students and the current SMP students are doing on a regular basis, which is doing good in health care," she said. "They always rock and this year, they're rocking it even more."
This year's event raised more than $25,000 for the St. Baldrick's Foundation, an organization that supports pediatric cancer research. "It's really touching to see how valuable the work that the organization does is and how strong the children are," said organizer Kevin Chang (SMP'17, M'21). "It just gives so much more value to my education. I can't imagine spending my time any other way."
From Attendee to Grantee and Shavee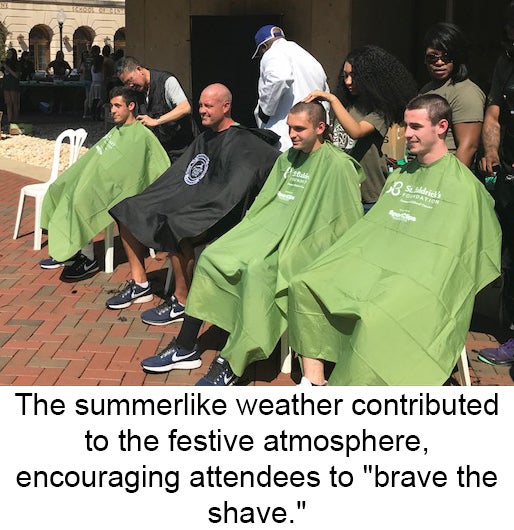 Jessica Haladyna (M'20) learned about St. Baldrick's when she worked in pediatric cancer research at the University of Colorado – Denver. At her first head-shaving event, she saw how empowered the pediatric cancer patients felt when people shaved their heads in solidarity.
"I saw where all of the money was going as a research assistant and I saw the difference it made for the survivors," she said. "I knew wherever I went to medical school if they didn't already have a head-shaving event, I needed to be the pioneer."
Coming full circle, Haladyna received a grant from St. Baldrick's last year for her work in the lab of Jeffrey Toretsky, MD. In 2017, she also organized the School of Medicine's St. Baldrick's fundraiser and had her head shaved with a pediatric cancer survivor — her brother. "It was so great to share that experience with my little brother and he's ultimately my inspiration for the event and for being in medical school," she said.
Superheroes and Sumo Wrestlers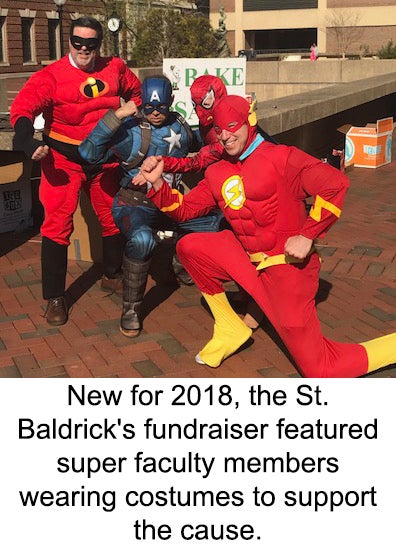 Since her brother's diagnosis, Haladyna's family has come to own five superhero costumes, which they use to raise money for organizations fighting cancer and celebrating survivors. Haladyna put her own twist on the idea to raise money for St. Baldrick's by inviting School of Medicine faculty members to wear the costumes. Her fellow students nominated a list of willing participants and for $1 per vote, students and faculty voted for their favorite faculty to wear the costumes.
"The top five faculty members who receive the most donations win the title of 'superhero faculty' and are celebrated in a dance-off at the event," Chang said. "It may be a little embarrassing in the name of charity. But it's all in good fun and it's definitely something we're looking to continue in the future."
The day before the event, Mulroney was one of the top five vote recipients. "I've managed to get through my academic career without having to do anything like that and I think I might have gotten caught this time," she said.
Sumo wrestling is another St. Baldrick's activity that's new for 2018. For $5, attendees can rent sumo wrestling suits and wrestle their friends in a ring for 10 minutes. "This year we went on a binge to raise awareness by doing something fun that the students have never seen before," Haladyna said. "I am very interested to see how that goes over."
"… my way of covering my grey"
Typically, students make up the majority of those getting their heads shaved at the St. Baldrick's fundraiser, but this year, the shavees were joined by Jessica Jones, PhD, associate professor and director of graduate studies in the department of biochemistry and molecular and cellular biology.
Jones planned to donate her long hair to Locks of Love, an organization that provides hairpieces for children suffering from long-term medical hair loss. "I wear my hair pulled back every day so I've been imagining the ponytail not being there," she said. "I have joked with some people that shaving my head is my way of covering my grey."
In addition to having friends who are currently going through chemotherapy, Jones was motivated to brave the shave by the opportunity to connect with her students. "I like the idea that I'm raising money for childhood cancer and I like the idea that I'm interacting with the students in a really meaningful way," she said. "I'm not just going to give money. I'm really going to do this."
Donate here in support of the School of Medicine's St. Baldrick's fundraiser.
Kat Zambon
GUMC Communications