Students Embody 'Cura Personalis' Through Random Acts of Kindness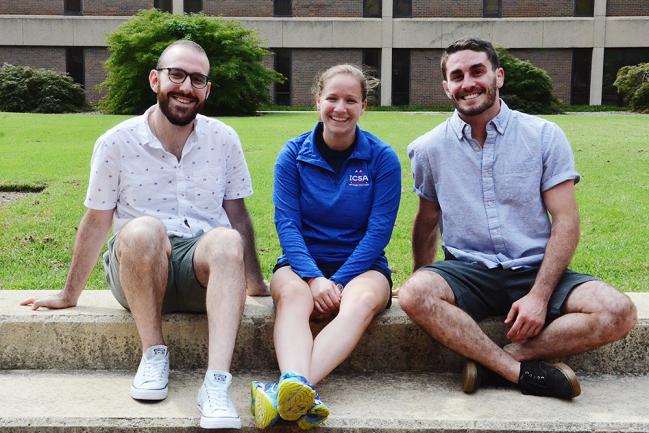 Posted in GUMC Stories | Tagged School of Medicine
(September 8, 2018) — While most students set out for the library to study during finals, members of the Random Acts of Kindness (RAK) Club at the Georgetown University School of Medicine (GUSOM) head to the library for an entirely different reason — to hand out candy and compliments.
"We line up a lot of our events during times when the student population is the most stressed. When there's an atmosphere on campus that's anxious, like during exams," said Zachary Tanenbaum (M'21), a co-founder of the new club along with Sydney Karnovsky (M'21) and Tamir Sholklapper (M'21).
The three students started the GUSOM RAK Club in the spring of 2018 after having a conversation on how simple it could be to cheer up their classmates and help "create an environment that's conducive to well-being and academic success."
Sholklapper had started a RAK club in both high school and in college at UCLA. Given the stress that comes with medical school, he knew it would be beneficial to start one on the Hilltop too.
"In college, there were a lot of people stressed out and it was so simple to give people compliments and candy. The three of us were talking about how contagious happiness can be, and [the idea for a GUSOM RAK Club] started from there," said Sholklapper.
Karnovsky also emphasized how seamless the process was to get the club started at Georgetown.
"Even though it's not a club that's related to academics or medicine, we had no pushback and we got funding easily," she said. "It's really cool that the administration is open to ideas that will make this a better environment for everyone."
Brightening Up Medical School One Compliment At A Time
To date, the GUSOM RAK Club has handed out candy-grams for Valentine's Day, raised money with baked goods for the St. Baldrick's Foundation and given compliments, candy and "smile cards" during exams.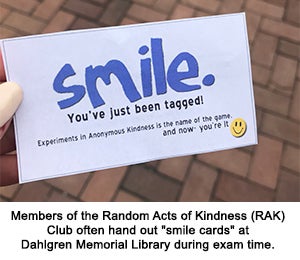 What is a smile card, exactly?
"They're cards that have a positive quote on them and say: 'Smile. Hope you have a great day. Pass it along,'" said Sholklapper. His hope is not only that the smile cards will brighten someone's day, but also that they will catch on among the students themselves.
"Let's say someone gets one during finals and says, 'Wow, that was nice. I really needed it. I'm going to give it to someone else who I know really needs it,' " he added. "I'm hoping that it creates a ripple effect."
Karnovsky also hopes that random acts of kindness will contribute to overall wellness on campus.
"I hope it makes an impact on people's day-to-day lives. That it gives them a second to stop, take a moment, de-stress and realize that there's more to life outside of work," she said.
When asked how they've managed to balance medical school and starting the RAK Club, the three co-founders shared a similar sentiment. It's fun and refreshing because it's "completely different from academics or medicine," and it helps to uplift their peers.
"It's been super rewarding for me," said Tanenbaum. "Anytime I can brighten someone's day or be a part of a group that can help spread the love and change an atmosphere for the better is something awesome to be a part of."
Future Acts Of Kindness At GUSOM
The 2018-2019 academic year will be the first full year of the RAK Club, and the group has already expanded to a total of 80 people as of the student activities fair on August 24.
"We're getting more and more of a response with each event we do. It started out small with the three of us and some of our friends," said Karnovsky.
"At the student activities fair, people came up to me and were like, 'Oh, you're the random acts of kindness person,' " she added. "People know who we are now."
In less than a year, the RAK Club has made an impact with the activities they started last spring. However, with new members joining, they hope to host even more events in the future.
"For me, the biggest thing would be having more regular RAK events. If there was a way to get a couple people to have a positivity event every other week — something that could happen on a regular basis — I think that would be the dream and what we're building toward," said Sholklapper.
Want to get involved with the RAK Club?
"It's not too late," said Karnovsky. "They can reach out to Zack, Tamir or me to be added to the email list."
She added, "It's great to have more people help out and bring ideas. We just want to make the world and Georgetown a happier, kinder place."
Giuliana Cortese
GUMC Communications