Students Act as CSI-type Forensic Investigators, Medical Examiners
Posted in GUMC Stories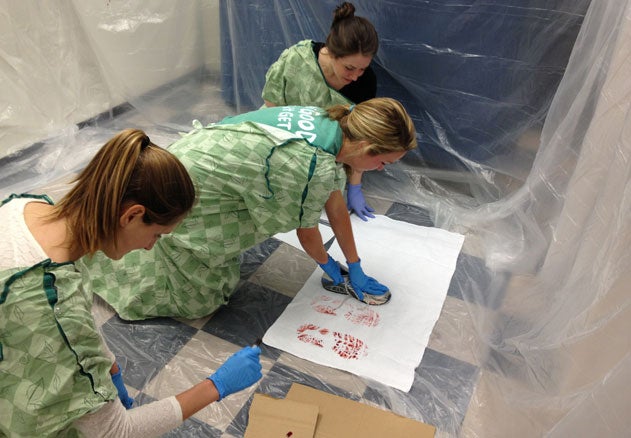 A Georgetown professor recently turned the clinical simulation lab at theSchool of Nursing & Health Studies (NHS) into what looked like the set of the popular TV series CSI: Crime Scene Investigation.
As part of her forensic analysis course, Katherine Nash Scafide (NHS'00)created stations – using makeup, mannequins and props – for her students to analyze blood splatter, take hair samples, document wounds with sketches and photos and compare teeth marks, among other forensic skills.
"Each station covered a different forensic concept," says Scafide, an assistant professor of nursing at NHS. "The students were getting a taste of a range of different applications."
The stations were set up within NHS' O'Neill Family Foundation Clinical Simulation Center.
New Perspectives
Lucas Iannaccone (NHS'14), a health care management and policy major, says the class has helped his work as an EMT.
"It gives me a different perspective when looking at patients who might be the victim of interpersonal violence – physical or psychological," he says.
Alumna Jessica Lau (C'11), a psychology major who took Scafide's class as an undergraduate, now volunteers as a teaching assistant.
"This class gave me the knowledge of both the legal and medical sides of forensics," says Lau, who plans to practice criminal law after attending law school. "This course was what helped me decide to become a lawyer."
Crime Scene
The professor requires her students in the current class to develop a presentation on topics that require forensics expertise, such as human trafficking or blood splatter. 
They also write a scholarly paper about a high-profile crime in the news and visit the National Museum of Crime and Punishment, which includes a crime lab.
To assess what the students learned during the forensic stations exercise, Scafide sets up a realistic crime scene, also within the school's simulation center.
Every Detail Matters
"They do this incredibly detailed crime scene report that includes an evidence log, a crime scene sketch and photographs," she says.
The students had only 30 minutes to visit the crime scene and conduct their analyses. They have until the end of the semester to turn in the report.
"Every detail matters," notes English and sociology major Mark Vargas (C'14).
Forensic Research
Scafide says she became interested in forensics when she worked as an emergency room nurse.
"As a trauma nurse, I'd see a lot of car accidents," she says. "But I'd also see gunshot wounds, intimate partner violence, and elder abuse and neglect.  I wanted to provide better care to these patients. That's what got me interested in forensics."
The Georgetown alumna went on to complete her master's degree and doctor of philosophy in nursing at Johns Hopkins University, where she developed her current research interest in bruise detection and healing.
She says she's glad to be back at Georgetown. 
"I always loved the school," she says. "I wanted to bring my expertise in forensics to campus as a way of giving back to the school."
By Bill Cessato, NHS Communications
(Published April 24, 2013)