Student Research Day Showcases Wide Breadth of Biomedical Research at Georgetown
Posted in GUMC Stories | Tagged biomedical research, student research
OCTOBER 18, 2017 — Students in the Biomedical Graduate Education (BGE) (new window) program study a diverse range of topics including biohazardous threat agents & emerging infectious diseases, biostatistics, neuroscience and more. So when BGE holds their annual Student Research Day, the presentations run the gamut.
This year's event consisted of 9 oral presentations and a poster session with 31 research projects.
"Student Research Day is a great way to practice communicating science, because you are explaining your work to someone who isn't in your niche field," said Sikoya Ashburn, PhD candidate in the Interdisciplinary Program in Neuroscience and president of the Medical Center Graduate Student Organization (MCGSO). "It's also an important opportunity to receive feedback from judges and to improve your presentation."
Twenty faculty members and postdoctoral fellows acted as judges and awards were given to the top three presenters in each category.
'Every Year is Different'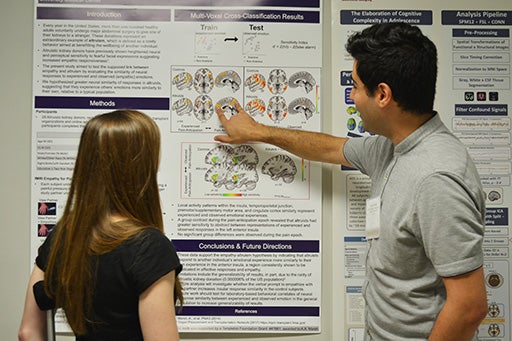 Shady El Damaty, a fifth-year graduate student in the Interdisciplinary Program in Neuroscience, won first place for the poster presentation in behavioral, cognitive, circuits, & network dynamics.
"This was my fifth Student Research Day and every year is different," El Damaty said. "This year stood out to me because there were even more diverse projects than usual."
El Damaty studies the development of impulse control in the brains of teenagers. Specifically, he measures the maturation of neural connections between the prefrontal cortex, which is responsible for the formation of impulse control and the striatum, responsible for behavioral responses to anticipated rewards.
Alongside El Damaty's poster, students presented posters on breast cancer, antidepressant efficacy and more.
Collaboration Across Institutions
There was diversity among the projects presented at Student Research Day, but the multidisciplinary theme was also present within the research.
"Something that I really noticed this year was that many students are working on their projects with collaborators," said Caleb McKinney, PhD, assistant director of career strategy & professional development at BGE. "Many projects had multiple principal investigators within different departments at Georgetown and other institutions."
This was true of El Damaty's research, which was done in collaboration with colleagues at Pennsylvania State University.
"The department that we collaborate with at Penn State is the family studies and health program, and they're almost purely behavioral and large-scale social psychology," said El Damaty. "We are very deep into methods of neuroimaging and cognitive neuroscience, so it has been a fruitful synthesis to work with a team that can see the big picture and that is constantly working with big picture data."
Finalists
Oral Presentations:
1st Place: Mackenzie Fama, IPN
2nd Place: Zeus De Los Santos, Chemistry  
3rd Place: Amrita Pai, Cell Biology
Poster Category 1: Behavioral, cognitive, circuits, & network dynamics
1st Place: Shady El Damaty, IPN
2nd Place: Stephanie Sloley, IPN
3rd Place (tie): Sara Djemil, Pharmacology
3rd Place (tie): Adam Caccavano, IPN
Poster Category 2: Cellular & Molecular
1st Place: Erin Conn, Cell Biology
2nd Place: Chinyere Agbaegbu Iweka, IPN
3rd Place: Bonnie Carney, Biochemistry
Leigh Ann Sham
GUMC Communications