Georgetown Goes Bald for a Cause on St. Baldrick's Day
Posted in GUMC Stories
MARCH 30, 2014 — Georgetown University Medical Center (new window) faculty, staff, students, parents and siblings came together for St. Baldrick's Day on Friday, March 28, many of them going bald to show pediatric cancer patients that they aren't alone in their fight. The event raises funds for the St. Baldrick's Foundation (new window), with a portion of proceeds benefiting pediatric cancer research at Georgetown Lombardi Comprehensive Cancer Center. (new window)
More than 60 participants shaved their heads to demonstrate solidarity with children fighting cancer who lose their hair during treatment.
St. Baldrick's funds childhood cancer research and gives kids around the country access to the latest in research and clinical trials, says medical student Ashley Sharp (C'12, M'16), who organized the event along with fellow students Shaila Patel (M'16) and Abby Keogh (M'16).
"At Georgetown, St. Baldrick's provides research grants, including funding for students to work in pediatric oncology research labs over the summer," says Sharp.
The organizers set a fundraising goal of $20,000. By the day of the event, they had already surpassed their goal by more than $8,000. The fundraiser brought in just over $35,600 total.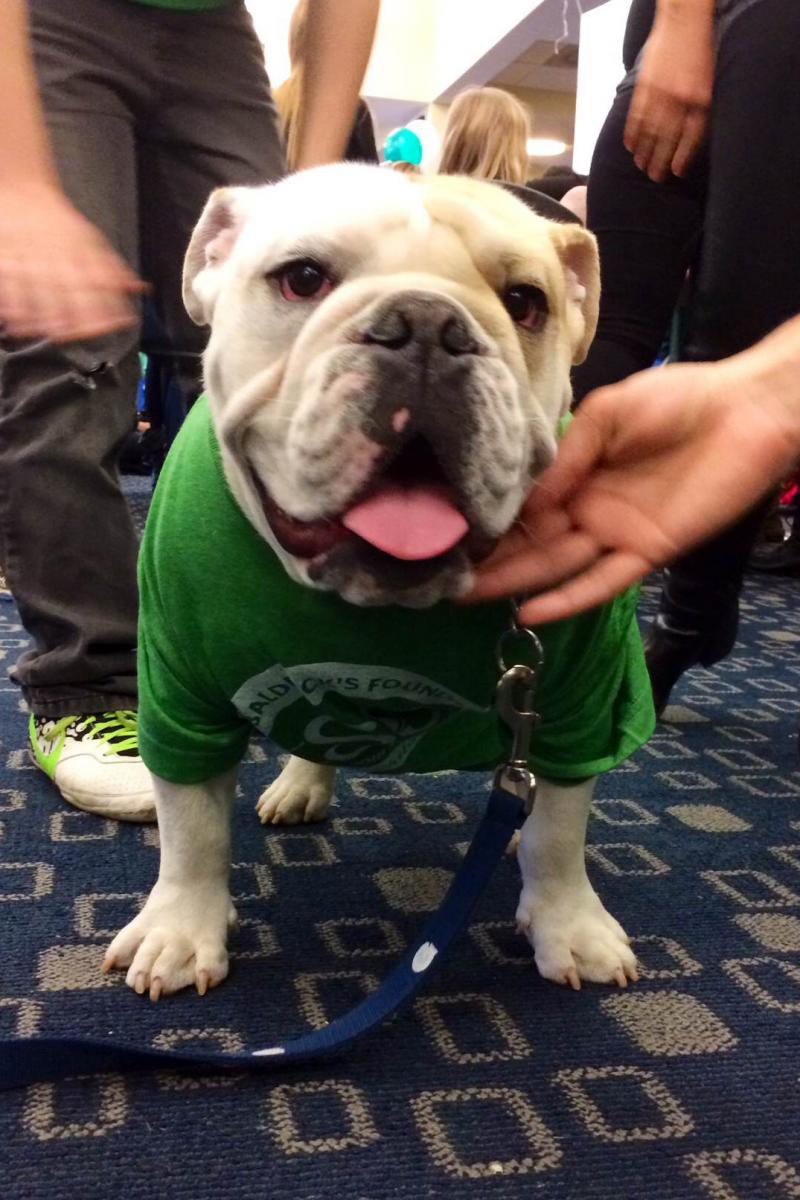 Event highlights included a musical performance by Joseph Timpone, MD (new window), associate dean and director of the Office of Student Research at Georgetown's School of Medicine, a bake sale, a bone marrow drive and a silent auction. Members of Georgetown's men's soccer team (new window) joined in on the fun and shaved their heads and Jack the Bulldog (new window), Georgetown's iconic mascot, also made an appearance.
A group of cancer patients and survivors gave their thanks and remarks to the St. Baldrick's Foundation, including a current Georgetown College (new window) student.
Bassam Sidiki was diagnosed with cancer during his senior year of high school in February 2011. He took a year off and then came to Georgetown, he says.
 "Eventually I want to go to medical school because I want to be able to treat patients who are going through what I've gone through," says Sidiki. "I'm happy that St. Baldrick's is doing things like this. It helps bring awareness to childhood cancer and hopefully the fundraising will help find a cure."  
Drawn By Passion
Sharp became familiar with St. Baldrick's Day in her first year as a medical student when she was undergraduate liaison for the event. She was immediately drawn to it because of her passion for oncology, as well as the event's compassionate mission and engaging platform, she says.
"I would be hard-pressed to find another event that brings out such selfless, spontaneous, inspiring actions in a community," Sharp says.
By Sarah Reik
GUMC Communications