Stoto Named AcademyHealth Senior Scholar
Posted in GUMC Stories
In August, Michael Stoto, Ph.D., professor of health systems administration at NHS, begins his work at the 4,300-member organization that seeks to use health services research to improve health care.
Stoto, who will be on an academic sabbatical during this period, said he is excited for the opportunity to join the organization's senior scholars program and to engage in the policy process in a new way.
"For me, it's a chance to spend focused time meeting and working with decision-makers and thought leaders in Washington, learn about new issues, and consider and inform my research agenda based on those contacts and experiences," he said.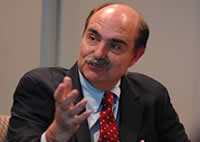 Senior Scholars Program According to the organization, the program provides an opportunity for AcademyHealth members who are leaders in the field of health services research to experience first-hand the role that health services research can play in informing national policy issues.
The program has three goals:
To provide an opportunity for the senior scholars to deepen their understanding of how health services research informs national policy,
To bring new and innovative thinking and research to national policy discussions, and
To increase interactions between AcademyHealth members and AcademyHealth staff in order to increase their mutual understanding of key health issues and to help them better serve the field.
Diverse Expertise
Lisa Simpson, MB, BCh, MPH, FAAP, president and CEO of AcademyHealth, says the program builds upon and supports the organization's vision to improve health and health care by generating new knowledge and moving knowledge into action.
"It's an opportunity to showcase the deep and diverse expertise our members offer to the national policy discussions while offering the senior scholar outstanding opportunities to collaborate, advise, network, participate in AcademyHealth programs and projects, and take advantage of opportunities that only exist in Washington, D.C.," she said.
Stoto will focus on improving the awareness, understanding, and application of his and others' research to policies and practices that improve health and health care. He will also assist AcademyHealth to further develop its initiatives in the priority area of public and population health.
By Bill Cessato, NHS Communications
(Published July 3, 2012)