School of Medicine Reflects on 20 Years of Training Doctors Abroad
Posted in GUMC Stories
MARCH 14, 2014—Two decades ago, an international program was born at Georgetown's School of Medicine (new window). Now, more than 1,300 medical students have gone abroad to immerse themselves in a local language, culture and health care system—and the experience leaves a lasting imprint.
On Saturday, March 1, current and former students and international directors came together to celebrate the twentieth celebration of the program, which was founded and has been carefully cultivated over the years by Irma Frank, DDS (new window), senior associate dean for international programs.
Started in 1993, the Office of International Programs (new window) sponsors electives abroad for fourth-year medical students, as well as summer opportunities for rising second-year students.  Students typically spend four to eight weeks in their host country, and spend the majority of their time working closely with an in-country supervisor to gain hands-on practical experience working with doctors and patients in another country—often where resources are scarce.
'Different Kind of Physician'
Those who attended the anniversary event, including Georgetown University President John J. DeGioia, PhD (new window), and School of Medicine Dean Stephen Ray Mitchell, MD (new window), lauded Frank for her vision and stewardship of this program.
Mitchell said Frank has played a pivotal role in shaping "a different kind of physician" at Georgetown. He cited students who were struggling to figure out their professional paths until they went abroad through the program, and then came back with a renewed focus and an enhanced understanding of what it means to be a physician.
Mitchell presented Frank a print of a painting that hangs in the medical school lobby of Donald Knowlan, MD, a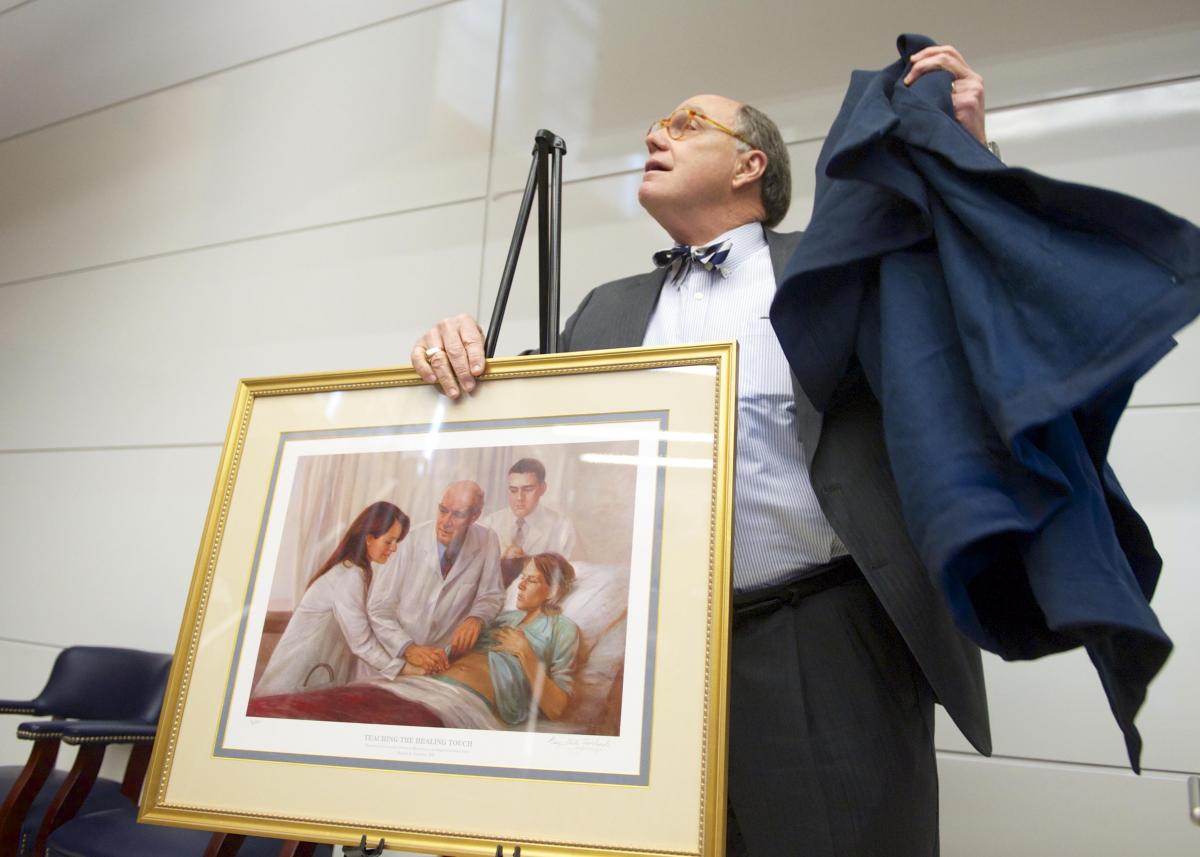 belovedemeritus faculty member who is known for teaching students the importance of the personal "healing touch" between physician and patient.
"I would submit that no one, bar none, has had more of a contribution in teaching the healing touch than Dr. Irma Frank," Mitchell said as he presented the print.
DeGioia described how the Georgetown tradition of educating "men and women for others" is actively embodied by the international programs.
The programs have shaped students who are "actively committed to sowing justice in the world, to being agents of change in our society."
"This is an opportunity to celebrate the extraordinary work that has been led by one woman over the course of these two decades, who had made an incalculable contribution in the lives of our students and those they have served, as well as in the life of this university, by helping us to understand what it means to be most authentic to our tradition," DeGioia said.
The Poverty Gap
For Frank, the international program provides a window to the world that "prepares students to be active in solving the problems of this century—the gap between wealth and poverty."
"There are many advances in medicine today, but there are still many people in the world who don't have access to the basics of health care. That is why we want these students to be prepared to face this challenge," Frank said.
Students who participate have the advantage of having been exposed other systems and values, for example through immersion in rural medicine, socialized medicine and alternative medicines.
The program has grown considerably over the years—what started with a handful of students in just a few countries now attracts somewhere between 30 and 40 percent of medical school graduates. Programs span the globe in approximately 20 countries.
One aspect has never changed, says Frank.
"Our top priority is safety. We always monitor travel warnings and the political situation in each country to make sure the place is safe," she said.
Frank also personally interviews every student who applies to the program to ensure a good fit. Her main objective it to ensure that that every student is motivated by a desire to learn and grow academically.
"They are not medical tourists," she says. "They are there to immerse themselves, and to learn and to contribute."
Becoming a Better Doctor
The celebration event involved panel discussions of current and former students who had traveled abroad, as well as of three program directors who were visiting from the Dominican Republic, Ecuador and Spain.
"You don't know anything when you are a doctor if you don't know who you are as a person, and if you don't connect with your patients," said Jordan Trezza (new window) (M'16), who traveled to the Dominican Republic the summer after his first year of medical school. "The international program is one of those things that will make you into the kind of doctor you want to be. Your medical education is something you need to take personally—this gives you that opportunity."
Frank Duggan, MD (C'89, M'95, R'00), who now runs Health Care Volunteers International (new window), a nonprofit organization that facilitates and implements health care projects in developing countries, said his experience abroad set the course for his entire career.
"It created in me a sense of confidence in exploring my capabilities outside my area of training, and cultivated an ability to adapt," Duggan said. "The drive to be a better doctor comes from the values-based system [at Georgetown] that encourages us to help others and to expand what we are doing to people in need."
By Lauren Wolkoff
GUMC Communications