SNMA Connects, Informs and Empowers Underrepresented Students
Posted in GUMC Stories | Tagged Black History Month, School of Medicine, SNMA, student experience, student support
(February 19, 2022) — In celebration of Black History Month, medical students in Georgetown's chapter of the Student National Medical Association (SNMA) planned "Melanin in Medicine: Liberation Through Black Identity," a series of events including virtual study halls, a documentary film screening and Q&A panel discussions on issues impacting Black clinicians.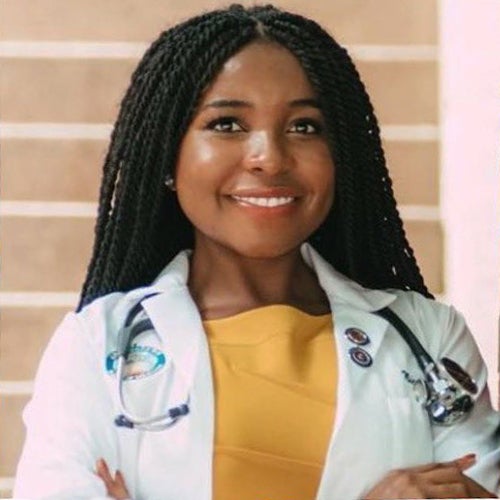 The annual programming is just one part of what SNMA does. "We're not just here for Black History Month," said Nicole Utah (M'25), vice president of SNMA at Georgetown. "We continue programming. We continue providing those resources."
Being part of SNMA was a transformative experience for many underrepresented minority physicians, including LaTasha Seliby Perkins, MD, assistant professor of family medicine and faculty advisor for SNMA at Georgetown.
"My medical school career was made by my experience with SNMA, so when I got here, I wanted to see what the students were doing and support them as much as possible," said Perkins, who served as an SNMA national officer as a medical student. "Our membership is small, but they do big things."
Complementing Cura Personalis
Founded in 1964 as a part of the National Medical Association, the SNMA "is committed to supporting current and future underrepresented minority medical students, addressing the needs of underserved communities and increasing the number of clinically excellent, culturally competent and socially conscious physicians."
That mission aligns with Georgetown's dedication to cura personalis, or care of the whole person. "The type of students we attract are altruistic and want to enact change outside of themselves," Perkins said.
Some observers incorrectly view SNMA as an organization that is just for African American medical students, said Kitara Smith (M'25), president of SNMA at Georgetown. "It's dedicated for all underserved communities in medicine."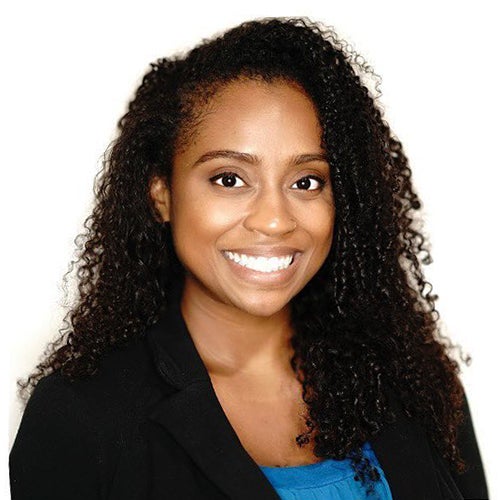 Until recently, SNMA at Georgetown was led by first-year medical students without the assistance of a faculty advisor, said Mariama Jallow (M'22), M4 board liaison and past president of Georgetown's SNMA chapter. "Having a faculty advisor really helps with that continuity, as well as having an upperclassman be involved," she said. "It's been a really effective model, and I've been pleased to see it continue."
"Students are now fully supported," Perkins said. "This isn't some small auxiliary club that was started at Georgetown. SNMA is a national organization that has been around for some time, and now the institution knows the value of having a robust fully supported SNMA with the right faculty and administrative support."
From MAPS to SNMA
SNMA supports future underrepresented minority medical students through the Minority Association of Premedical Students (MAPS), which focuses on premedical and post-baccalaureate students. Georgetown University Minority Association of Pre-Health Students (GUMAPS) brings together aspiring health professionals and is sponsored by SNMA.
Utah went to her first SNMA conference as an undergraduate student through MAPS. "It was very inspirational, and I saw medical students that I looked at and thought, I want to be just like them," she said. "That was a promise that I made to myself."
Ana Torres (M'25), secretary of SNMA at Georgetown, also became involved with SNMA through MAPS. "One of the first events that I ever went to was a MAPS event," she said. "That was where I got my connection to premed students who looked like me and got information about being premed and what that looked like."
Going to the SNMA Annual Medical Education Conference through MAPS was pivotal for Torres. "It was a very hard experience to explain," she said. "Just being able to be in a room where everyone was Black or brown in some way was really surreal."
'A Leadership Pipeline in Addition to a Physician Pipeline'
As an organization that is run by medical students even at the national level, SNMA offers unique leadership opportunities. Former SNMA members include White House fellows, the former chief health officer for the Department of Veterans Affairs and the chair of President Biden's COVID-19 Health Equity Task Force. "It's a leadership pipeline in addition to a physician pipeline," Perkins said.
Planning for Black History Month at Georgetown is one way in which SNMA members receive leadership experience, an opportunity that helped push Utah out of her comfort zone.
"We were the ones reaching out to the physicians and the panelists ourselves," she said. "That was just us learning how to network, how to branch out and form those connections. I think that was a big learning experience for me, because sometimes I can feel a little shy, so that was one of the biggest things I've learned this year."
Connecting over Coursework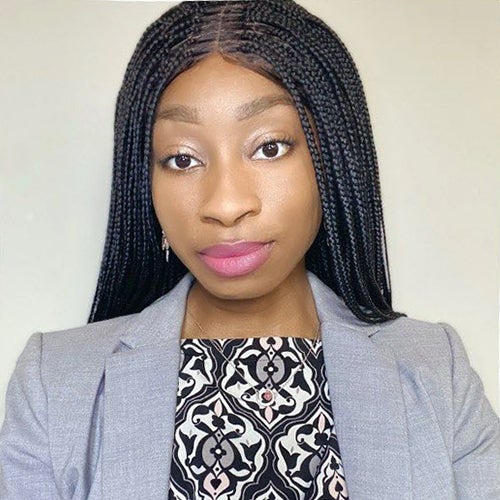 This year's Black History Month events started with virtual study halls, inspired by tutoring sessions for underrepresented minority students started by Jallow, a peer tutor and Teach for America alum. "I see group tutoring as a really effective strategy for starting to address the gaps that are impacting academic success," she said.
Being able to learn from peer groups and mentors who looked like her and came from similar backgrounds contributed to Jallow's success in medical school, giving her a safe, nonjudgmental space to ask questions. "I wanted to replicate that in a more organized format," she said.
In addition to helping them absorb course content, the tutoring sessions have given students in different classes time to connect with each other. "Now I know that those are people I can reach out to if I have questions," Torres said. "Even in our M1 class, just building those friendships and knowing that we're going through this together."
"Just being able to provide more networks for other people on campus who look like me, this has been something," Smith said.
Kat Zambon
GUMC Communications