School of Medicine Class of 2017 Celebrates Match Day with Blue, Gray and Green
Posted in GUMC Stories
March 17, 2017 - Held on the third Friday in March, Match Day 2017 fell on St. Patrick's Day, making the celebration even more festive than usual for members of Georgetown University School of Medicine's Class of 2017, as well as the thousands of medical students and graduates taking part in the match process.
Surrounded by faculty members, family and friends, the students at Georgetown wore green t-shirts, sparkly stickers and beaded necklaces as they waited to tear open the green envelopes that would reveal their assigned residencies.
As executive director of the Georgetown University Alumni Association, Bill Reynolds (C'79, P'10, P'13) encouraged the future School of Medicine alumni to reach out to the 108,000 alumni worldwide. "Wherever you go, we are Georgetown, so welcome!" he said. 
Stephen Ray Mitchell, MD, dean for medical education at the School of Medicine, shared general information about where the students matched before leading the final countdown. Internal medicine was the most popular specialty that students were matched with, followed by general surgery, emergency medicine, pediatrics and anesthesiology.
"You are going to like these envelopes," Mitchell said. "We are so proud of you and I think, if I'm not mistaken, it's time." After he led a countdown seconds before the opening of the envelopes, the students and their well-wishers filled the room with hugs, high fives, cheers and happy tears.  
The 2017 Main Residency Match was expected to be the largest in history, according to the National Resident Matching Program (NRMP), the private, nonprofit organization responsible for matching applicants with programs based on the lists of residency program preferences submitted by applicants and program directors. According to the Association of American Medical Colleges (AAMC), 94 percent of US applicants matched to residency positions, including 78 percent who matched to one of their top three choices. In all, more than 30,000 future doctors learned where they will be completing the next step of their medical training. 
A Journey from Nepal to New Haven
Dora Dhakal was matched with her first choice program in internal medicine at Yale – New Haven Hospital in Connecticut.  "I didn't think I was going to get my first choice," she said. "I thought it was a long shot."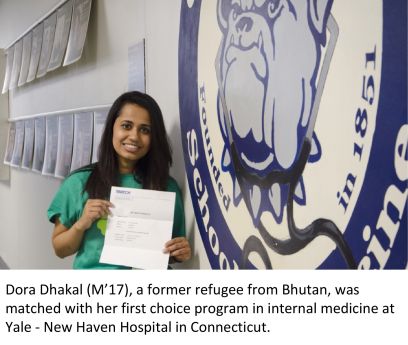 The program appealed to Dhakal's interest in global health, which grew out of her experiences as a former refugee. When she was 4 years old, Dhakal and her family fled their home in Bhutan to escape persecution by the government. After living in a refugee camp in Nepal for more than a decade, her family came to the US and settled in Clarkston, Ga.
Home to refugees from more than 40 countries, Dhakal described Clarkston as "the Ellis Island of the south." Before starting at Georgetown, she volunteered as a tutor for resettled refugee children and worked on suicide prevention projects focused on refugees. Dhakal started her medical education as part of the Georgetown Experimental Medical Studies (GEMS) program after graduating from Emory University.
At Georgetown University School of Medicine, Dhakal served as co-president of the International Health Interest Group and planned events that exposed medical students to global health careers. Next week, she will travel to Ecuador for an international rotation to gain experience working as a health care professional abroad.
As a resident, Dhakal plans to take advantage of the global health program offered by Yale – New Haven Hospital. "The number one thing that attracted me was this global health program" at Yale, she said. "It just sounds like an awesome program. They also have a refugee clinic."
Ultimately, Dhakal is interested in using her medical training to help refugees and immigrants in the US. "That's the population that always draws me," she said. "I understand the barriers that they face. I think I can have a big impact."
Kat Zambon
GUMC Communications