School of Medicine Celebrates 166th Graduating Class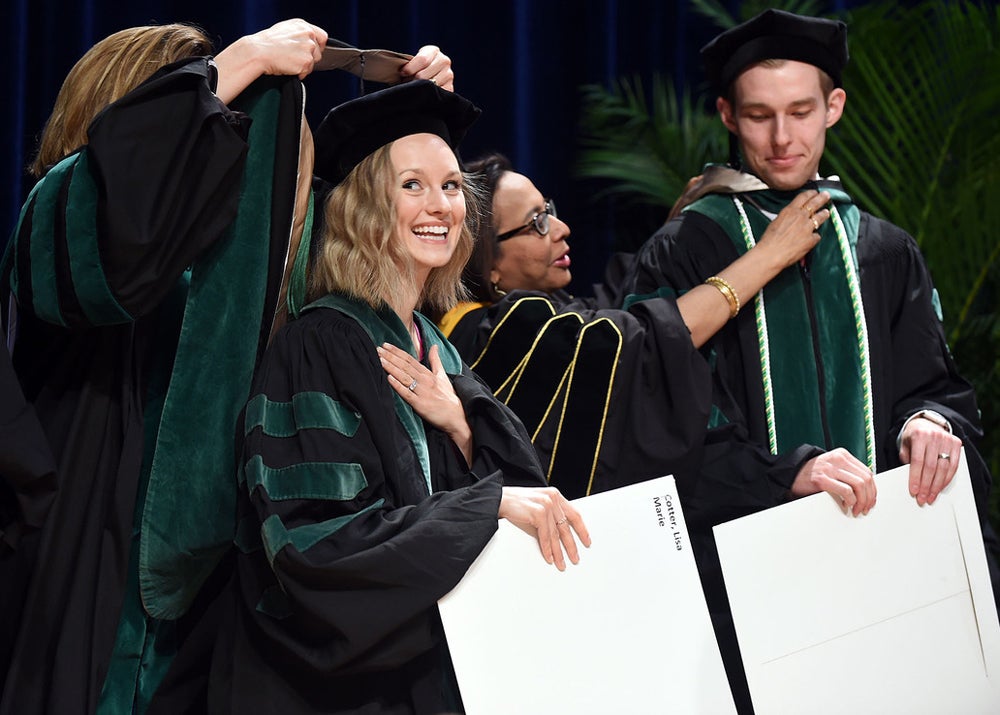 Posted in GUMC Stories | Tagged Graduation 2018, School of Medicine
(May 21, 2018) — Out of the 13,000 aspiring doctors who applied to be part of the Georgetown University School of Medicine Class of 2018, few were accepted. On Sunday, 181 of these students received their medical degrees as members of the School of Medicine's 166th graduating class at DAR Constitution Hall in Washington, D.C.
"I have the pleasure, on behalf of these faculty gathered behind us, to present to you the Class of 2018," said Stephen Ray Mitchell, MD, MBA, dean for medical education at the School of Medicine. "It's a remarkable group of men and women who leave this school better than they found it. Remarkable for vision, selfless leadership and passion."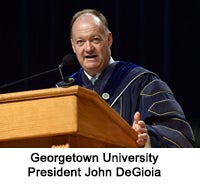 The graduating medical students represent a cross-section of the nation as a whole, Mitchell said, with 31 states represented, led by California, New York, Pennsylvania, New Jersey and Virginia. Ranging in age from 25 to 40 years of age, the Class of 2018 is composed of 95 men and 81 women. Twelve students are members of the armed services and 30 students have other graduate degrees.
"Today, we recognize and celebrate you for your hard work, for your service, for your deep commitment to the practice of medicine," said Georgetown University President John J. DeGioia, PhD. "Now as you commence, as you embark on a new phase in your lives, as you begin your vocation as physicians, this is a very special time in your lives. This is your time and we could not be more honored to share this moment with each of you."
"A Transformational Leader in Contemporary Medical Education"
Edward B. Healton, MD, MPH, executive vice president of health sciences and executive dean of the School of Medicine, introduced the commencement speaker, Thomas Nasca, MD, MACP, president and chief executive officer of the Accreditation Council for Graduate Medical Education (ACGME), calling him a "transformational leader in contemporary medical education."
"Under his leadership, ACGME now requires the training of young physicians in self-care so that they can not only serve the sick, but themselves survive the often debilitating challenges of their profession," Healton said.
In addition to giving the commencement address, Nasca received an honorary doctor of science degree, honoris causa, from the School of Medicine. "To receive a degree from this wonderful university, for me, is a dream come true," Nasca said. "Georgetown [College] is the only school that ever rejected me. True story — I applied early acceptance as a kid from Brooklyn and ended up going to that other Catholic university [Notre Dame]."
"Every Patient Has a 'Why' "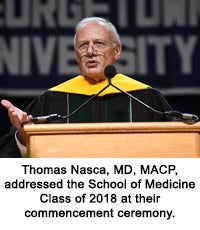 While their residency programs will teach the graduates the "how" behind the relief of suffering, Nasca implored them to learn the "why" behind their patients' persistence in the face of adversity. "You will learn about each person's unique [reason] why they want to live, that gives them the strength, the will to persist, to survive, to recover from life-threatening illness," he said. "Your soul will be enriched by each person you care for."
Thirty-nine years ago, Nasca learned the importance of understanding a patient's "why" while treating Elaine, a 30-year-old woman who had been battling Type 1 diabetes for nearly her whole life. Elaine had experienced nearly every complication from the illness, including heart attack and congestive heart failure, severe peripheral vascular disease, resulting in the amputation of fingers and toes and end-stage renal disease.
In talking to Elaine, Nasca learned that she came from a poor family and had been caring for her niece and nephew since her mother died three years earlier and her sister struggled with heroin addiction. "Elaine was angry about what had befallen her, but she saw each day of her life as a gift, bringing those two children one day closer to escaping the vicious cycle of poverty that her absence would certainly bring," he said. "You see, Elaine's dream was to be a mother, and in the midst of her personal suffering, she was fulfilling her dream."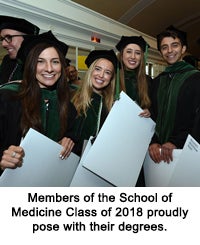 Knowing Elaine's story and her importance to her niece and nephew made Nasca feel more invested in her care. "The 'why' of her life was absolutely compelling for her and her 'why' became compelling for me," he said. "And I learned from Elaine that every patient has a 'why.' We need to listen, we need to hear it, so we can help them with the 'how' so that they can achieve it."
In addition to understanding the "why" behind their patients' lives, Nasca encouraged the young doctors to determine their own "why" and revisit it when they struggle. "Altruism is in your thoughts and hearts today. Remember it, nurture it and call on it when you are forced to make difficult decisions," he said. "Pursue your calling with vigor, with commitment, with kindness, and whenever in doubt, remember the 'why' that's in your hearts today."
Elaine lived for years after Nasca finished his fellowship training. "She did indeed give her niece and nephew a chance at a bright future," he said. At one point, Elaine asked Nasca about his goals.
"I told her that I wanted to teach others, to make medical education more humane," he said. "She looked at me and said, 'Please tell them about me.' And now I have kept my promise to Elaine once again and told another group of outstanding young physicians of her life, her why, her meaning in suffering. Please carry her forward in your hearts."
Kat Zambon
GUMC Communications