Schlegel Shares Updates on Preventing and Treating Cervical Cancer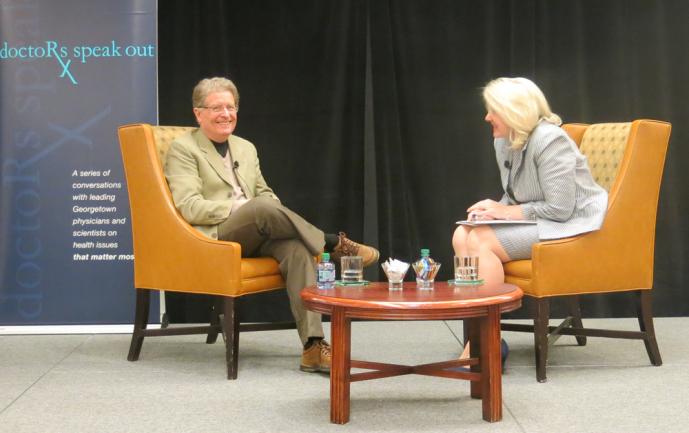 Posted in GUMC Stories | Tagged cancer, HPV
(May 11, 2018) — Developing a vaccine against the cancer-causing human papillomavirus (HPV) was a major step toward decreasing the global burden of cervical cancer, the second leading cause of cancer deaths in women. However, as Richard Schlegel, MD, PhD, said at a recent Doctors Speak Out, there is still a lot of work to be done.
Schlegel, professor and chair of the department of pathology and director of the Center for Cell Reprogramming at Georgetown University Medical Center, has spent more than 30 years working to reduce the incidence of cervical cancer. He is the co-inventor of the Georgetown-owned technology that led to the first HPV vaccine.
"You are looking at a medical hero, an international medical hero, and a pioneer," said Jan Smith, journalist and Partners in Research co-chair, as she introduced Schlegel at the April 30 event, where he spoke about the need to increase vaccination rates overall, but especially among boys.
The HPV vaccine has been strongly associated with preventing cervical cancer, so girls have been more likely to receive the vaccine than boys. In 2016, 65 percent of girls received their first dose of the HPV vaccine compared to 56 percent of boys. However, HPV also causes oral and other cancers. The Centers for Disease Control and Prevention recommends that all children receive the HPV vaccination when they are 11–12 years old. Not getting vaccinated puts males at higher risk of developing oral cancers, the incidence of which has been spiking in recent years.
"Clearly what's being recognized in the medical community is that the HPV vaccine is not just for girls," Schlegel said. "Now everyone recognizes it's for boys and girls. And especially in cases with oral cancers, where they're increasing in the male population, it's really important that we convert now to the second phase of HPV, from making vaccines to making sure the public knows what they're about, about their safety, and why boys need it."
Schlegel pointed out that researchers in Australia who helped develop the HPV vaccine also planned an effective public communications strategy to promote the vaccine. As a result, all children were required to be vaccinated and the vaccines were offered for free, leading to a nationwide vaccination rate of 80–85 percent.
"There's a phenomenon called herd immunity that kicks in and that is that if you vaccinate enough people, you decrease the transmission between them and then the incidence goes down over time," Schlegel said. "So if Australia keeps up with that rate and maintains it, they hope to eliminate cervical cancer from the country. And it is a very reasonable goal. And it is achievable."
A New Approach to Treat HPV
However, Schlegel acknowledged that achieving high HPV vaccination rates is unlikely in some parts of the world, making it important to improve treatments for cervical dysplasia, a pre-cancerous condition caused by HPV. In collaboration with other researchers, he is developing a treatment for cervical dysplasia with a repurposed anti-malarial drug called artemisinin.
"What we discovered years ago is it was very active in killing HPV-infected cells, pre-cancer and cancer cells," Schlegel said. "And so we've tested it out in the laboratory and it worked. It worked very well in killing the HPV cells and not the normal cells."
The treatment method Schlegel is testing would allow women with cervical dysplasia to treat themselves over five days by inserting gelatin capsules containing the drug that would be held in place with a tampon. In an ongoing clinical trial, the protocol appears to have cured a large proportion of women with cervical dysplasia without systemic side effects or potentially compromising the patient's fertility.
"Cervical dysplasia and early stage cervical cancer are typically asymptomatic so it's important for women who haven't been vaccinated to get regular Pap smears," Schlegel said. "But it's much easier to prevent the infection by vaccinating children than to diagnose and treat them later in life."
"The rate of incidence of cervical cancer in the U.S. has declined dramatically since the FDA approved the HPV vaccine," Schlegel said. "But it takes a while to catch up with the vaccine to see the effects," he added. "So if we can get our numbers up higher to 70–80 percent, I think we would be on our way to where Australia is essentially."
Kat Zambon
GUMC Communications
Disclosure: Georgetown University owns technology on which HPV vaccines were developed. Schlegel is a co-inventor. Georgetown University also owns technology related to the use of artemisinin for the treatment of cancer. Georgetown has several issued patents and pending patent applications in the U.S. and internationally related to this technology. The inventors on the IP are Schlegel, Hartmann and Astrid Baege.