Schlegel Honored for Research and Teaching with New University Award
Posted in GUMC Stories | Tagged biomedical research, Center for Cell Reprogramming, HPV, university awards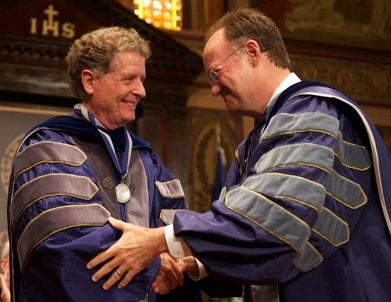 (October 17, 2013) — A Georgetown University Medical Center researcher received a prestigious award during the University's Fall Faculty Convocation held Oct. 15.
Richard Schlegel, MD, PhD, chair of the department of pathology and professor of oncology at Georgetown Lombardi Comprehensive Cancer Center, received the President's Award for Distinguished Scholar-Teaching.
Schlegel is in elite company; he was one of just two professors to be recognized with this new award for accomplishments in research and effectiveness in teaching. The other recipient, Der-Chen Chang, PhD, a professor of mathematics and statistics, conducts research using the Fourier analysis. Fields such as robotics, acoustics, medical imaging, video compression and other digital technology have ushered in uses for Fourier transforms, for which Chang's scholarship is recognized around the world.
"[The awardees] teach us every day that these two sides of an academic (research and teaching) are not in conflict, but can be jointly achieved," said Georgetown Provost Robert Groves before the recipients received their medals. "By naming these presidential fellows we hold them up as models for us all."
Georgetown President John J. DeGioia lauded Schlegel for his contributions in mentorship and teaching.
"[The students] have nominated Dr. Schlegel for the title of graduate student professor of the year, asked him to serve on their thesis committees and continually sought his advice as they pursued their undergraduate, MDs and PhDs," DeGioia said during the award presentation.
Schlegel is renowned for his seminal contributions to creating vaccines for the human papillomavirus (HPV) – one of the main causes of cervical cancer throughout the world. His more recent research accomplishments are focused on new ways to grow and study cells in the lab with the goal of improving the precision of drugs for diseases such as cancer.
The importance of a new cell culture technique developed under his leadership – which has come to be known as the Georgetown Method by others in the field – was formally recognized last year when GUMC created the new Center for Cellular Reprogramming and tapped Schlegel as the director. In addition, Georgetown is participating in a new biotechnology company, Propagenix, recently formed to commercialize aspects of this methodology.
"With so many excellent researchers and professors at this University, it's a wonderful honor to be recognized at this level," Schlegel says. "But honestly, the research component of this award is a reflection of the quality of my intramural and extramural collaborators and students who have been involved in our research program."
Georgetown University is the owner of intellectual property that is part of the basis for the HPV vaccines. Schlegel is one of the inventors of this technology. Georgetown receives financial benefit from commercial sales of the vaccines.
In addition, Georgetown University has filed a patent application for the cell culture technology mentioned here on which Schlegel and Xuefeng Liu are inventors; the patent currently is under exclusive option to a startup company, in which the University and Schlegel own equity, for commercial development. In addition, Georgetown and the University of Miami jointly have filed a patent application on related technology on which Schlegel is among the inventors.
The research described is funded partly by support from Georgetown University's Department of Pathology. Other support for the research is provided by
the National Institutes of Health (R01 OD011168), the Department of Defense and the National Cancer Institute (P30-CA051008 and CA129003).
By Lauren Wolkoff and Nia Hightower