Schlegel Honored at GUMC Convocation with Lifetime Contribution Award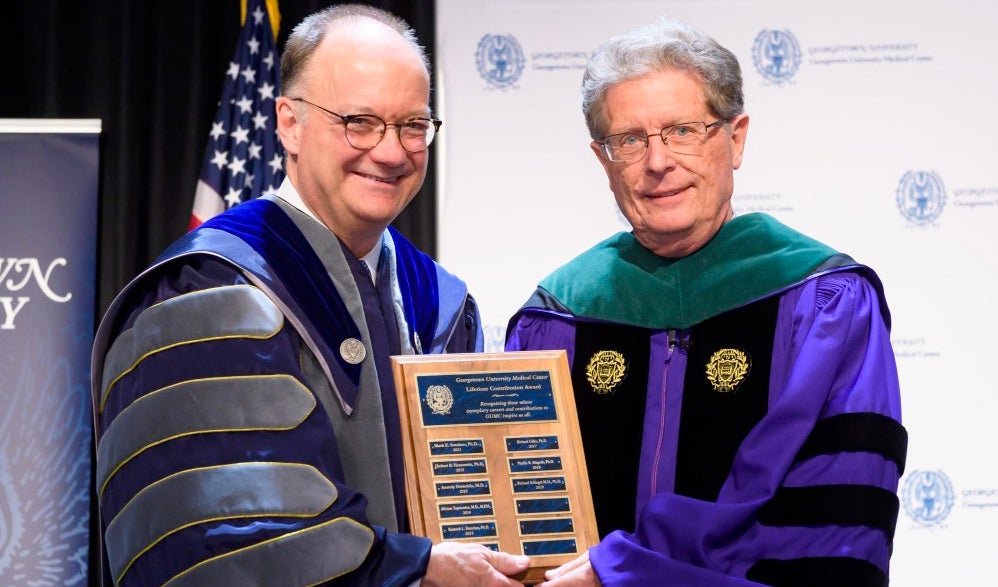 Posted in GUMC Stories | Tagged Convocation 2019, Georgetown method, HPV, university awards
(November 26, 2019) — At the Twelfth Annual GUMC Convocation, Richard Schlegel, MD, PhD, was honored with the Lifetime Contribution to GUMC Award for his decades-long dedication to decreasing the incidence of cervical cancer worldwide. Demonstrating his continuing commitment, Schlegel is currently focused on two research priorities to help cancer patients. One: continue testing a non-surgical method to treat early cervical cancer, a leading killer of women globally. Two: to see a method he helped develop to grow, in a lab, a patient's own tumor and normal cells indefinitely move out of the research realm into clinical use.
Taking on one cancer, specifically, and all cancers, generally, are no small tasks.
Schlegel has won many Georgetown awards: the Georgetown University President's Medal in 2006, the Patrick Healy Award in 2011 and the President's Award for Distinguished Scholar-Teaching at Georgetown in 2013. But the Lifetime Contribution to GUMC Award is the highest honor given to faculty at GUMC. It recognizes a career of sustained contributions and service to Georgetown, including leadership in scholarship, teaching and service. In short, it is given to a member of the Georgetown community "for being an inspiration to us all."
"I have been very fortunate to have worked with many superb investigators at Georgetown, and to be recognized by them with this award is truly gratifying," Schlegel says.
Preventing Cervical Cancer
When asked about his achievements, Schlegel, chair of GUMC's pathology department and a member of Georgetown Lombardi Comprehensive Cancer Center, demurs, saying "it takes a diverse ensemble of investigators to develop the science behind most medical advancements." Since 1984, when a German professor Harald zue Hausen, MD, found a link between human papillomavirus (HPV) and cervical cancer (and who was awarded a Nobel Prize in Medicine in 2008), Schlegel had long been on the hunt for a method to develop an HPV vaccine. More than a half-million cases of cervical cancer are diagnosed globally — about 90% of which occur in low- and middle-income countries. The high 55% mortality rate makes cervical cancer the fourth leading cancer killer of women, according to the World Health Organization.
However, cervical cancer is not the only cancer caused by HPV, which also plays a critical role in the development of vaginal, anal and oral cancers. In the next 10 years the incidence of oral cancers, especially in males, will surpass that of cervical cancers.
Schlegel and several GUMC colleagues, A. Bennet Jenson, MD, and Shin-je Ghim, PhD, published seminal papers in 1992 and 1995. These findings were critical to the eventual development of a vaccine, for which a number of international patents were issued to Georgetown. This bench science was supplemented by a number of research and clinical groups outside of Georgetown, including the University of Queensland, the University of Rochester and the National Institutes of Health. An HPV vaccine, one of two now on the market, was tested and approved for use.
Surgery-Free Early Treatment
While the HPV vaccine has been a game-changer, it's not a silver bullet due, in part, to lack of accessibility globally and acceptance by the population. Schlegel is developing a treatment for cervical dysplasia, which are abnormal, precancerous cells that precede cervical cancer. Currently, women diagnosed with this condition undergo surgery that removes a substantial portion of the cervix, which can make it difficult for some women to become pregnant.
In the U.S., tens of thousands of women receive a diagnosis of cervical dysplasia annually. About 13,000 women will develop invasive cervical cancer, and more than 4,200 will die from the disease.
Schlegel wanted to find a way to treat cervical dysplasia without surgery. In collaboration with fellow Georgetown scientist Dan Hartmann, PhD, they discovered a potential answer — a derivative of the anti-malarial drug artesunate.
The drug works by targeting cells that have an abnormal amount of iron. Schlegel and Hartmann reasoned that the agent might also work against abnormal cervical cells, which also contain an overload of iron.
"We thought this would be a great drug to treat the cervix because it is nontoxic and so could be applied topically in high concentrations," Schlegel says. "We tried it in our tissue culture system and it had a very dramatic effect."
The approach is now being tested clinically. Frantz Viral Therapeutics, LLC, licensed the use of artemisinin to treat cervical dysplasia from Georgetown.
"Testing looks good so far. Use of a drug like this would be a great step forward for treatment of cervical dysplasia," says Schlegel. "The idea is that women around the world, especially in areas where there is little care available and where the burden of cervical cancer is greatest, could send to a lab a simple swab of cervical cells. If the test comes back positive, they could treat themselves with a five-day course of vaginal suppositories embedded with artesunate. No doctor, no surgery, need be involved."
Taking on All Cancer
While working on the problems of HPV, Schlegel's lab happened on another revolutionary discovery that addresses an issue that has specifically plagued cancer research.
Many of the cancer cells that investigators use for their research are so mutated beyond the original tumor source that they don't adequately represent the cancer's biology. For example, HeLa cells are cervical cancer cells taken from patient Henrietta Lacks in 1951 that were established into a cell line. However, that cell line has diverged extensively in terms of its genetics, and many different "sublines" have been propagated that differ dramatically from the original isolate, Schlegel says. "In order to successfully understand the development of cancer and to define appropriate drug targets and therapies, it is important to have more suitable cell models for human cancer," he adds.
Schlegel and his team, which includes Xuefeng Liu, MD, discovered a way past HeLa. They found that if they used a special formulation of "feeder" cells in laboratory culture, along with specific protein kinase, they could coax both tumor and normal cells to propagate indefinitely — and very quickly. The technique, called conditional reprogramming, or CR, can work with frozen cells or cells from a liquid or needle biopsy and produce about 1 million cells in a week.
The utility of conditionally reprogrammed cells, or CRC, was presented to the world in a 2012 study in the New England Journal of Medicine. Schlegel and his team demonstrated they could remove tumor cells from a patient with deadly recurring HPV-linked growths, grow them using CR, compare them with the patient's normal cells, and then test them with several drugs until they found one that was effective. It led to a clinical success the patient had not experienced before.
Next Generation Cancer Models
The National Cancer Institute is now sharing the CR technique, also known as the Georgetown Method, on a very grand, international scale as part of its Human Cancer Models Initiative.
As part of the program, CR cells are being biobanked to allow investigators worldwide to study them for their research opportunities, such as to define essential basic and cancer biology pathways, and for clinical value — the ability to test which drug will work in advance, which is the essence of precision medicine — and regenerative ability.
"It may be possible to propagate a lot of fresh skin cells for a burn patient, or to correct damaged cells from lungs or other organs, replacing diseased cells. The potential uses of CRC are endless," Schlegel says.
But, he adds, "In order to usher in truly personalized medicine, there will have to be a lot of solid science experimentation to validate the methodology prior to FDA approval for clinical use."
---
Disclosure: Georgetown University owns technology on which HPV vaccines were developed. Schlegel, Jenson and Ghim are listed as co-inventors. Georgetown University also owns technology related to the use of artemisinin for the treatment of cancer. Georgetown has several issued patents and pending patent applications in the U.S. and internationally related to this technology. The inventors on the IP are Schlegel, Hartmann and Astrid Baege.
Georgetown University has issued patents and patent applications in the U.S. and internationally on the CR technology described. Schlegel and Liu are inventors on the patent. The technology is licensed to a company for commercial development. The research was funded by a grant to Schlegel from the National Institutes of Health (R01 OD011168), a Department of Defense Prostate Synergistic Idea Development award and an RO1 National Cancer Institute grant (CA129003).