Inaugural Sarah Stewart Lecture Series Continues
Posted in GUMC Stories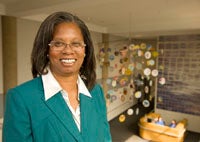 The next lecture in this year's Sarah Stewart Student Research Lecture Series will be given by Lucile L. Adams-Campbell, Ph.D., professor of oncology and associate dean for community health and outreach and associate director, Office on Minority Health and Health Disparities Research at Georgetown-Lombardi Comprehensive Cancer Center. Adams-Campbell is an epidemiologist who specializes in community health research, interventions, and outreach. With a focus on prevention, she studies issues that affect populations at the greatest risk for developing cancer.
The lecture is scheduled for Thursday, January 19, 2012 at 5:00 p.m. at the New Research Building Auditorium. To RSVP, contact Margarita M. Abaunza (mma43@georgetown.edu).
This annual lecture series is named for Sarah Elizabeth Stewart, who was the first woman to graduate from the Georgetown University School of Medicine, receiving her M.D. in 1949. She was a pioneer in viral oncology at a time when oncology was not the purview of microbiologists, and virology was of little interest to oncologists. In 1953, working at the National Institutes of Health (NIH) in the lab of Dr. Bernice Eddy, she described the polyoma virus, which she and Eddy succeeded in growing in tissue culture. Importantly, the SE polyoma virus (named for Stewart and Eddy) was shown to cause a variety of tumors in mice.
Stewart returned to Georgetown University School of Medicine in 1971 as a professor of pathology. Georgetown's School of Medicine Dean S. Ray Mitchell said, "Sarah Stewart always had students in the lab, she always supported education for medical research, and it's appropriate to have this lecture series named for her. This series was designed not only for our students but for all of us to see the scientists and the work that's going on."
(Published January 16, 2012)