Sandra Swain: Helping Regionalize Cancer Research and Care
Posted in GUMC Stories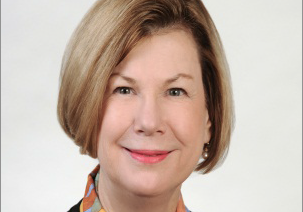 There have been two common threads throughout the career of medical oncologist Sandra Swain, MD. One is her desire to cure breast cancer through translational medicine and clinical trials. The other is her location — Swain has been based in the Washington, D.C., area for 30 years, since her first days as a medical oncology fellow at the National Cancer Institute. 
Swain, the medical director of the Washington Cancer Institute at MedStar Washington Hospital Center and professor of medicine at Georgetown University Medical Center, has led a strong research program at the Cancer Institute for the past 6 years. While in this position, she has also partnered with researchers from around the region to increase patient access to clinical trials and ensure adequate enrollment. 
Now, these collaborations are becoming more structured and synergistic.  
Swain has joined forces with Louis M. Weiner, MD, director of Georgetown Lombardi Comprehensive Cancer Center, to establish an even more robust clinical trials system within MedStar's 10 hospitals — with Georgetown Lombardi serving as the flagship and research hub. It is called MedStar Georgetown Cancer Network.
Swain serves on the executive committee for Georgetown Lombardi Prior to joining MedStar, Swain served at the National Cancer Institute as deputy director of the Medicine Branch, chief of the Cancer Therapeutics Branch, and led the intramural breast cancer clinical research effort of the NCI's Center for Cancer Research. Much of her national and international research at the NCI was conducted through the agency's cooperative research group, the National Surgical Adjuvant Breast and Bowel Project.
In addition, Swain is the current president of the American Society of Clinical Oncology (ASCO), the world's leading professional organization representing more than 30,000 physicians and other health care professionals from more than 100 countries who care for people with cancer.
The development of the MedStar Georgetown Cancer Network into a potential clinical trials powerhouse mirrors research trends that Swain sees within ASCO. 
"About 97 percent of patients with cancer do not go onto clinical trials, which are the critical stepping stones to making progress in cancer.   Clinical trials successes require an extensive network," explains Swain. "It is important to work with as many centers as you can to be able to complete the trials in a timely manner."
The MedStar Georgetown Cancer Network is doing more than centralizing clinical trial research. It is also, with Swain's assistance, standardizing cancer treatment among its centers. "Because we are 10 hospitals, we can make programmatic efforts to provide consistency in treatment," Swain says. "That means that treatments for the same cancer at different sites is identical, or if one site doesn't treat a particular cancer, a patient can be referred to a center that does.
"We are becoming much more regionalized and working much more collaboratively with each other," she says. "Regionalization of oncology services avoids duplication of services and really streamlines things. It is the wave of the future — and the future has arrived."
Swain also hopes that the other issues she is working on with ASCO will soon be felt throughout the network — such as making sure all patients with cancer, including those using Medicaid and Medicare, have access to quality care and affordable medications. Her push at ASCO to eliminate disparities in cancer care comes from her experience at Washington Cancer Institute, where many patients are dependent on federal insurance.  
"We treat a lot of patients who are older or who are economically less fortunate, and I think these people are the ones that get caught when health care expenses are high," she says. "My time at the institute really has informed me about this issue and my position at ASCO has allowed me to elevate this concern."
Swain looks forward to devoting more of her time to the evolution of the MedStar Georgetown Cancer Network after she steps down from the ASCO presidency in June.
"It is exciting and interesting, to create regional solutions to the kinds of issues and challenges ASCO sees on an international scale," she says.  "My own backyard will be a great proving ground."
By Renee Twombly, GUMC Communications
(Published April 03, 2013)