Lombardi's Dr. Sandra Swain Delivers Presidential Address at ASCO
Posted in GUMC Stories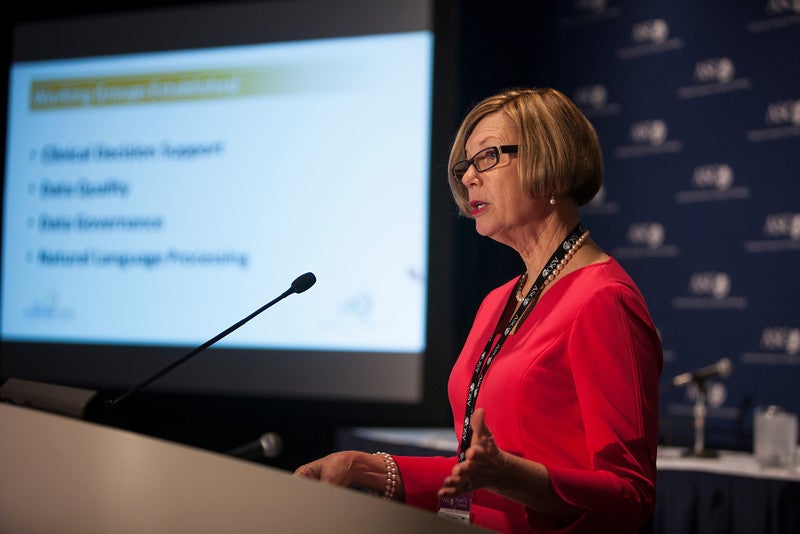 Sandra Swain, MD, FACP, a member of Georgetown Lombardi Comprehensive Cancer Center, delivered her presidential address at the 2013 annual meeting of the American Society of Clinical Oncology (ASCO) on June 1. She served as 2012-2013 president of ASCO, the world's leading professional organization representing physicians who care for people with cancer.
Swain, a breast cancer specialist, is medical director of the Washington Cancer Institute at MedStar Washington Hospital Center and a professor of medicine at Georgetown University Medical Center.
"This is an extraordinary time — especially in oncology," Swain told hundreds of conference attendees at the McCormick Place convention center in Chicago. "An explosion of new data comes weekly. The digital age is changing our world at a rapid pace, democratizing both information and education. There has never been more opportunity and there has never been a greater need to collaborate."
Swain pointed out that worldwide, cancer kills far more people than HIV, TB and malaria combined. "Cancer is a global crisis, and we must respond as a global community."  
She emphasized that a major focus should be given to global health equity, strengthening future generations of leaders and practitioners, and employing a rapid learning system in oncology.
"The solutions for all three have at their core the need for connection," Swain said, elucidating the theme captured in the title of her talk, "Building Bridges to Conquer Cancer: Connect to Empower."
More than 30,000 people from 100 countries attended the four-day conference.
"I am excited to be part of this age of discovery," Swain concluded, "but robots and other technology — as wonderful and important as they are — can never replace the interactions that we as oncologists are so fortunate to have with our patients."
A video of Dr. Swain's speech and her transcript is available here.
By Karen Mallet, GUMC Communications
(Published June 05, 2013)