Researchers Discuss Cognitive Function and Aging at 2nd Annual Healthy Aging Symposium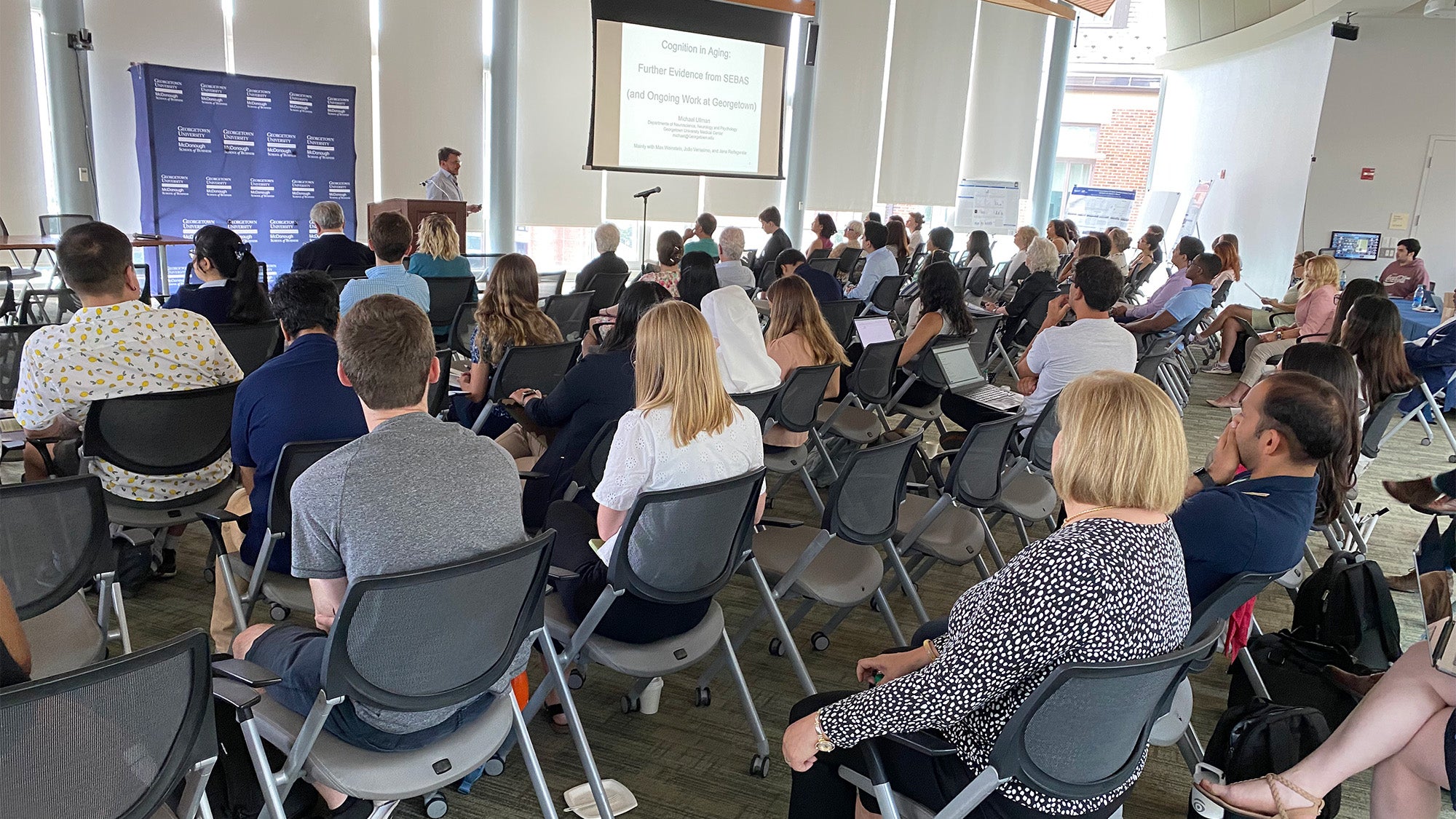 Posted in GUMC Stories | Tagged aging, Center for Healthy Aging, Healthy Aging Symposium, mind, neuroscience, research
(July 28, 2023) — When considering age and cognition, many people may only be familiar with some of the downsides: increased forgetfulness, lack of acuity or inability to multitask. But as neuroscientists know, that's not the whole story.
Michael Ullman, PhD, professor of neuroscience, neurology and psychology, said that some cognitive functions remain stable or improve in aging people, dispelling a popular myth related to cognition and aging.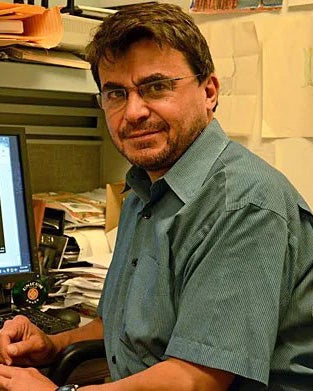 "Not all cognitive functions have the same trajectories," Ullman said. "Many decline, but some improve."
Ullman presented his research during a plenary session on aging and cognition at Georgetown's second annual Healthy Aging Symposium, which was held on July 12 via Zoom and on campus in the Fisher Colloquium room in the Hariri Building.
About 150 participants registered for the symposium, which featured panel discussions on neuroscience, cancer, and healthy aging in the community, as well as poster presentations, a wine and cheese reception, a networking lunch and breakout sessions.
The symposium was sponsored in part by the Center for Healthy Aging, which launched about two years ago with a goal of bringing educators, scholars and researchers together around the topic of aging, from bench to bedside to the community.
"These symposia established a way for the greater DC community to learn from one another at Georgetown and other prominent institutions," said G. William Rebeck, PhD, professor of neuroscience and a member of the Center for Healthy Aging. "This year, the symposium grew to include breakout rooms to encourage research collaborations between researchers around topics like cancer and aging, aging-related educational programs, scholarly publishing and community outreach."
Cognitive Decline Moderated by Experience and Social Engagement
Cognitive decline associated with aging ultimately has a neurobiological basis, Ullman said, noting that declines in declarative memory, the ability to learn new facts, are associated with declines in the hippocampus, while declines in working memory, such as keeping a telephone number actively in mind, are associated with declines in the prefrontal cortex.
However, not all aspects of cognition decline. For example, Ullman and his colleagues found that orienting (shifting attention to a given spatial location) and inhibition (detecting and inhibiting conflicting information) actually improve with age.
These improvements are likely due to experience, Ullman said. "For example, we're constantly inhibiting distracting information, which can lead to improvements in this ability over time," he said.
Cognitive decline is also moderated by social activity, according to Maxine Weinstein, PhD, distinguished professor in the Graduate School of Arts & Sciences and director of the Georgetown Center for Population and Health. "We found that greater social activity predicted better cognition," she said. "Being socially engaged helps preserve cognitive function, at least as far as we can tell."
Moreover, in her research, Weinstein saw that worse cognitive abilities were linked to a higher probability of dying within the follow-up period, a finding that was consistent throughout the different age groups studied. "This serves as an early warning marker for risk of death," she said. "Better cognition predicts lower mortality."
Research Challenges
Since 2004, Weinstein has led a Georgetown subproject of the National Institute on Aging Midlife in the United States (MIDUS) study, a longitudinal study initially launched in 1995 with support from the MacArthur Foundation. In January, the MIDUS study received an $8.2 million renewal allowing its continuation for the next six years. Weinstein is looking for researchers to use the MIDUS study data to continue this important work into the future.
One challenge with conducting longitudinal population research is that subjects simply drop out of the study over time, a problem Weinstein has worked to address by sending participants periodic updates on the study.
"We try very hard to keep our participants engaged," she said. "We have pretty good luck keeping our participants."
Data gathered from longitudinal studies may be impractical because the participants who stay involved in the study may simply be healthier than those who drop out, Ullman said. In addition, participants might perform tasks better with repetition, making it challenging for researchers to measure a decline in their abilities.
Ullman encouraged the use of continuous age designs in aging research rather than simply dividing participants into a younger group and an older group, because looking at only two data points provides limited information.
"We're really happy with the turnout for this year's symposium," said symposium organizer Pamela Saunders, PhD, associate professor of neurology and director of the aging & health master's degree program. "The conversations that took place, particularly in the breakout rooms on neurodegeneration and cancer & aging, were very productive, and we at the Center for Healthy Aging plan to continue those conversations throughout the coming year."
Kat Zambon
GUMC Communications