Remembering John C. Rose 1924-2013
Posted in GUMC Stories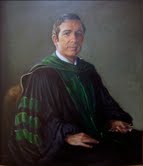 John C. Rose, MD (M'50, H'73), considered by many as the "architect" of the modern School of Medicine at Georgetown University, died November 11 at the age of 88.
Rose was a foundational figure of the medical school, becoming dean at the age of 38 and leading a major period of growth in terms of physical buildings, faculty and programs.
Formative Years
Born December 13, 1924, in New York City, Rose developed an interest in biology as a young boy, collecting fossils and specimens at summer camp in Vermont.
In 1936 at the age of 11, he was accepted several years early into the inaugural class of Fiorello H. LaGuardia High School of Music & Art and Performing Arts. There, he learned illustration, a skill that served him well as a scientist and teacher throughout his medical career.
Military Service and Education
In 1940, he entered Fordham University, majoring in biology. He turned 18 in his junior year and left Fordham to enlist in the U.S. Army Air Force. During World War II, he served as navigator of a B-24 on supply missions in the Mediterranean Theater of Operations and was awarded the Air Medal.
After World War II, he continued his education under the G.I. Bill, receiving his bachelor's degree from Fordham in 1946. He graduated magna cum laude from Georgetown School of Medicine in 1950.
After graduating from medical school, Rose undertook a fellowship with the late Edward Freis, MD (new window), the Lasker Award-winning physician-scientist whose research on hypertension led to life-saving drugs to treat high blood pressure.
Pioneering Work
A pioneer in the field of interventional cardiology, Rose performed the first cardiac catheterizations at MedStar Georgetown University Hospital. His research helped establish the subsequent adoption of this diagnostic procedure in clinical practice.
"The field of cardiology stands indebted to Dr. Rose for his pioneering work on heart disease risk factors, and innovations on diagnostic methods in heart disease, both of which stand as founding principles for most of modern cardiology practice," says Allen J. Taylor MD, professor of medicine at Georgetown School of Medicine and chief of cardiology at the MedStar Heart Institute (new window).
"At MedStar Georgetown University Hospital, we continue to honor and embody Dr. Rose's love and emphasis on education, and his relentless pursuit of advancing the science and practice of cardiology," Taylor adds.
In 1963 at the age of 38, Rose became dean of Georgetown's School of Medicine after serving as chair of the department of physiology. He led the school for 10 years through a major period of growth, helping to develop programs including the Special Master's Program (new window), the Georgetown Experimental Medical Studies (GEMS) Program (new window) and clinical teaching relationships with key programs at INOVA Fairfax.
Rose served a second term as dean from 1978 to 1979. In 1984, he was named vice chancellor of Georgetown University Medical Center.
Dedicated Editor
One of the areas where Rose left a major imprint is on American Family Physician (new window), a widely read medical journal (previously known as GP) that is based at Georgetown and published by the American Academy of Family Physicians. He started as an assistant editor, and then served as editor for 27 years.
According to Jay Siwek, MD (new window), professor and vice chair of the department of family medicine who took over as editor when Rose stepped down, Rose made the journal "one of the most popular medical journals in the country," all while serving in his roles as dean and vice chancellor.
"In 1981, I was extremely fortunate as a junior faculty member to have John take me under his wing, show me the ropes about running a medical journal and be a mentor for so many years. He not only changed my career, he changed my life," Siwek says. "I am forever grateful."
Architect and Giant
Rose retired in 1991 as emeritus professor of medicine, physiology and biophysics.
"There have been gigantic people at Georgetown, and John Rose is one of them," said Milton Corn, MD, who was the school's dean in the 1980s. "I think he was the single biggest architect of the modern Georgetown School of Medicine." Corn is now deputy director for research and education at the National Library of Medicine.
Accolades
Among his many awards, Rose received an honorary doctorate of science from Georgetown University, an honorary degree from Mount St. Mary's College, the 1964 Alumni Achievement Award from Fordham University and the 1988 Scientific Achievement Award from the American Hospital Association.
He received four prestigious awards from the Georgetown University Alumni Association: the inaugural Founders Award, the John Carroll Award, the University Service Award and the Centennial Award.
Rose died with family at his side. He leaves his wife of 65 years, Dorothy Donnelly Rose, a 1943 graduate of Georgetown University's School of Nursing (now the School of Nursing & Health Studies) and four surviving children, Nancy Rose Rogers of Lakeland, Fla., John C. Rose Jr., of Houston, Richard D. Rose of Poolesville, Md. and Christopher R. Rose of New Orleans. He was also "Dandad" to eight grandchildren.
Remembrances
Rose was remembered at the annual GUMC Convocation the morning after his death.
"A true mentor and leader, Dr. Rose will be remembered for his devotion to this institution and his passion for teaching," said Howard J. Federoff, MD, PhD, executive vice president for health sciences at Georgetown University Medical Center and executive dean of Georgetown University School of Medicine. "He greatly enriched Georgetown during his time here, and he will be missed."
In an email to GUMC faculty and staff, School of Medicine Dean Stephen Ray Mitchell, MD (new window), said, "I most remember his mentorship—and dedication to making this place great. We will miss his smile, his wit, his courage and his vision, but we are better for his dedicated presence."
Read more and watch a 2008 interview with Dr. Rose archived as part of Georgetown's Witness to History project. (new window)
GUMC Communications
(Published November 21, 2013)