Putting the Patient First
Posted in GUMC Stories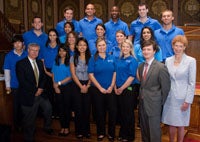 Health care providers must work in teams to improve patient safety and support quality health care, several experts said at a major lecture at Georgetown University on Tuesday, June 5.
The Inaugural Dr. Amitai Etzioni Lecture – named in honor of the renowned sociologist – took place in Gaston Hall and covered the topic, "Putting the Patient First: Providing Health Care That is Patient Safe and Patient Centered."
The event featured keynote addresses by Carolyn Clancy (H'08), M.D., director of the Agency for Healthcare Research and Quality, and Donald Berwick, M.D., M.P.P., FRCP, former administrator of the Centers for Medicare and Medicaid Services (CMS) and former president and CEO of the Institute for Healthcare Improvement (IHI).
Teaming Up for Safety
Stephen Evans, M.D., vice president of medical affairs at MedStar Georgetown University Hospital, welcomed the audience and underscored the hospital's commitment to patient safety.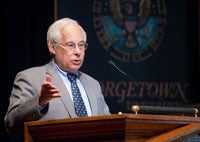 "It requires a small army – a guiding coalition," Evans said. This includes participation by physicians, nurses, administrators, patients, and other health professionals.
Eleven innovative quality improvement projects are currently underway through Georgetown's IHI Open School chapter.
Georgetown IHI, founded in 2010, is led by Eileen Moore, M.D., assistant dean for community education and advocacy at the School of Medicine, Patricia Cloonan, Ph.D., chair of the Department of Health Systems Administration at the School of Nursing & Health Studies (NHS), Bernard Horak, Ph.D., professor of health systems administration at NHS, Georgetown University School of Medicine, and MedStar Georgetown University Hospital.
The chapter brings together leaders from the hospital's Center for Patient Safety with students and faculty from the School of Medicine and the Department of Health Systems Administration at the School of Nursing & Health Studies.
Artair Rogers, IHI Open School member, MHSA '13 and Mark Fischer, IHI Open School Chapter Leader, MHSA '13, are graduate students who have taken part in this enrichment program and helped spearhead the inaugural lecture.
"We have found the training from IHI to be invaluable to our development as future health care administrators. IHI provides real-world application to the lessons learned inside the classroom. The addresses from both Dr. Berwick and Dr. Clancy from the Inaugural Etzioni Lectureship instill within us the responsibility to advocate for quality improvement now and in the future," Rogers said.
Together, these teams work on projects such as handoff communication among residents during shift changes for the prevention of DVT's (blood clots).
Howard Federoff, M.D., Ph.D., executive vice president for health sciences at Georgetown University Medical Center, reaffirmed the need for interdisciplinary teamwork at the event.
"We believe that interdisciplinary health care will indeed be the paradigm for the future," he said. "This morning's lecture inaugurates a medical innovation series on our campus that furthers Georgetown University's mission to educate physicians, scientists, nurses, and health care administrators committed to the care of others and the health needs of society."
Changing the Culture
Later, Clancy and Berwick provided distinguished inaugural keynote addresses at the morning event with insightful ideas on the role of academic medical centers in putting the patient first and providing care that is safe and patient-friendly.
Clancy noted the importance of academic medical centers in spearheading a new culture in safety and care.
"Academic medical centers are one of our greatest resources," she said.
But, she noted in her lecture, there must be a culture change in the way health professionals are educated.
"Patient safety is by definition a team sport," she said. "We're going to have to allot real estate in the health care curriculum for interdisciplinary work."
Educating caregivers early in appropriate safety techniques will also insure best practices in the health care community, she said.
Clancy's take away messages of teamwork and education at an early stage in medical training have proven examples of success, she said, from the Keystone Project in Michigan to virtual training tools such as WebM&M, an online resource for cases of error in care, each providing forward steps toward progress.
No Better Time
Berwick focused on care that is patient-safe and patient-friendly, using different forms of implementation to provide the best possible care.
"When you are in a storm, you need a compass," Berwick said. "In health care we are lucky, you've got one."
Berwick implored the many health care providers in the audience to take the success of care into their own hands.
"We know the what, we know the problem, but the next question is how. How do you make something better?" he asked the audience.
Berwick answered the question with the first law of improvement, that every system is perfectly designed to achieve exactly the results it gets. So, if we expect different results then we need to alter the system.
"There has never before been a better time, or a more important role, for health care professionals to lead the reform and improvement of American health care as a system," Berwick noted.
A powerful call to action.
By Katherine Brazauskas, GUMC Communications
(Published June 6, 2012)